Jet black has been one of the most popular new colors for the iPhone 7 ever since it first went on sale in mid-September. Despite it being incredibly easy to scratch, its popularity meant it quickly sold out, leaving many buyers waiting to get their fix.
But according to iStockNow, which tracks the in-store availability of iPhones in real-time, it's now back in stock at most Apple stores around the US.
The site offers a handy map showing the locations of Apple stores and which phones they have in stock. You can sort by phone model, carrier, color, and storage capacity. A quick search for stores carrying the jet-black iPhone 7 shows that numerous locations around the US and Canada have the phone back in stock. (You can check for other colors, too, if you want.)
Quartz spot-checked several of the results against Apple's website, which allows you to determine if a certain phone model is available in-store. In each instance, Apple's website confirmed iStockNow's data.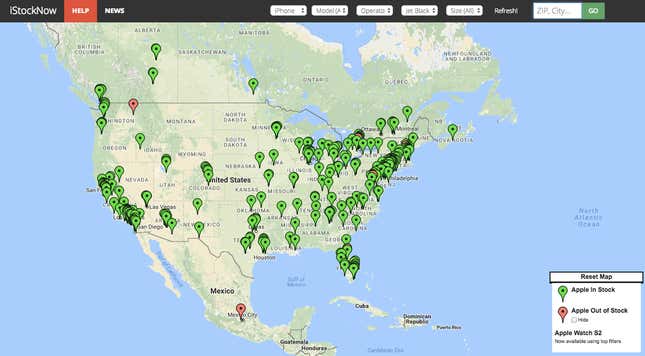 Not every store has every version of the jet-black phone though, so check for the specific model you want before making the pilgrimage. (Apple also recommends reserving one for pick-up via their website.) Availability varies depending on which phone you want—the iPhone 7 or the iPhone 7 Plus—carrier, and storage capacity.
If you're one of the many anxious shoppers who have been waiting to get your hands on a shiny black new iPhone, now may be your chance. But be quick: Going by their previous popularity, the stores' stock levels are likely to quickly deplete.