Bots first entered the 2016 election cycle by crowding into social media channels. Without any direct coordination with campaigns, the snippets of code were spewing out rank partisan propaganda. Even a novice programmer could slap one together, and start choking off a reasonable conversation on Twitter and comment boards. By the second presidential debate, they were taking over the conversation: a Oxford University study (pdf) found almost 25% of the nine million tweets about the debate in the days leading up to the event were issued by bots.
But bots are shedding their reputation as mere social media bullies. They're now doing real work to move the needle in this year's presidential election and may even be handing an electoral advantage to Democrats for years to come.
It turns out bots are really good at getting people to register to vote. They were not just a little bit effective, says Tiffiniy Cheng, co-founder of the nonprofit Fight for the Future which built the voter-registration app HelloVote. They've proved better than anything tried before.
Online registration methods typically yield completion rates around 40%, she said. People abandon online forms, or get lost in the many steps needed to process the forms. Direct mail is even worse—it's considered a success if 8% of those contacted fill out their forms.
HelloVote, on the other hand, is reporting completion rates of 70% or more. By combining SMS messaging with bots who do the heavy lifting by filling out registration forms for potential voters, the service removes one of the biggest points of friction from the process. With text messages boasting average open rates around 98%, it has proved unbeatable.
"This is one of the most viral, organic voter registration tools we have," says Cheng. "If you want to run voter registration in modern era, then you have to make it by text."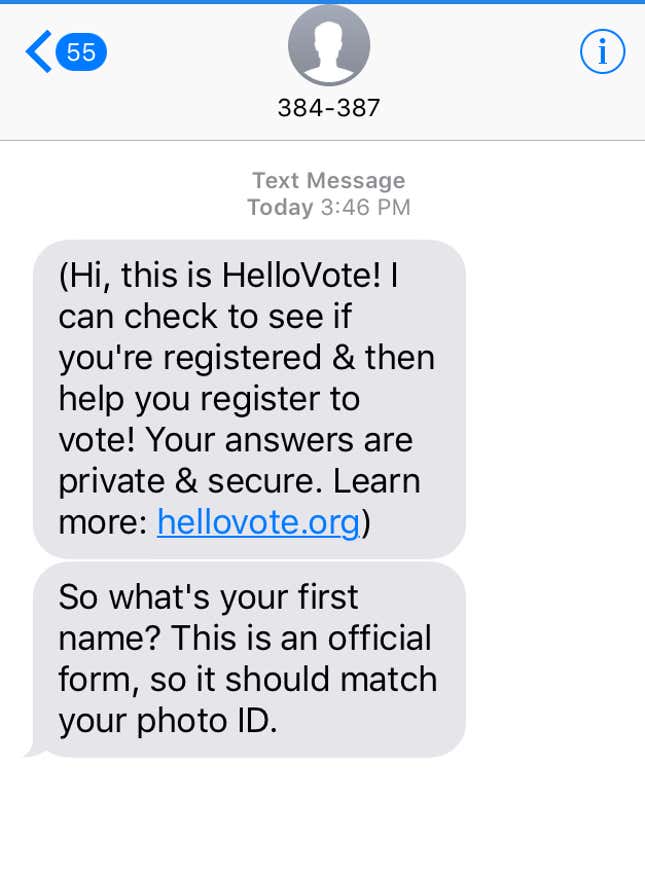 HelloVote's core technology hides states' byzantine voter registration systems behind a conversational interface. To start the conversation, you can either go to HelloVote's website, send an SMS to 384-387, or jump on Facebook Messenger. After collecting your name, address, and birthdate, the bot checks voter records to see if your registered, and fills out the form if not. The whole process takes just a few minutes to complete. Then you get pre-filled registration form via, or mailed out to you along with a pre-stamped envelope. All you need to do is sign the form and drop it in your local mailbox.
Cheng says HelloVote racked up more than 23,000 registrations in the first four days when it launched last month. The service has now held conversations with more than 120,000 people over 2.7 million SMS messages.
Another chatbot, HillYEAH! is trading get-out-the-vote phone calls for social media messaging. It's Facebook Messenger app lets voters send pro-Clinton messages such as graphics and profile overlays to friends in their network, and help them register to vote.  "We wanted to do something to engage millennial voters," says Lynn Fischer, one of the app's creators.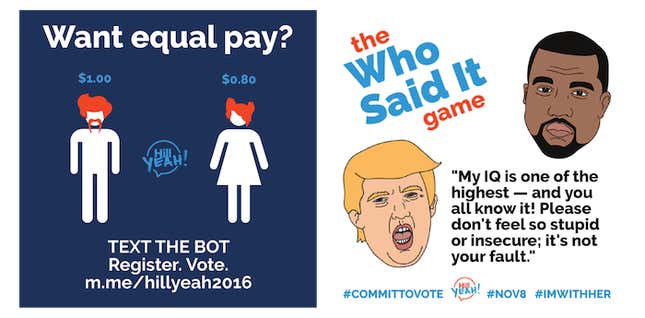 Built independent of the Clinton campaign, HillYEAH! is using the same methods proven by president Obama's 2008 and 2012 campaigns to turn out young voters in swing states: solicit a commitment to vote, pass along key deadlines, set reminders, and generally keep voters engaged until election day. HillYEAH! says it now has 4,100 registered voters in its system.
This election marks a shift from top-down messaging to personal peer-to-peer sharing, says Ben Stein, director of product for Twilio, a communications company that powers SMS and digital messaging services, including HelloVote. "We saw campaigns adopt messaging four years ago," says Stein. "It was kind of novel, but it's expected at this point. Every campaign has to have a mobile strategy. It's not even called a mobile strategy at this point. It's just called a strategy."
Right now, technology vendors say embrace of the new technology seems to diverge along party lines. The Trump campaign only offers basic sharing capabilities on its app and did not return queries emailed earlier this week. The Clinton camp said it was mounting a massive outreach initiative through its iOS and Android mobile apps allowing users to synch their entire address book and text message friends, as well as building a last-minute Facebook messenger app to register voters, similar to HelloVote.
The effects of voter registration technology in this election will be felt for years, if not decades, says David Radloff of Clarity Campaigns, a consulting firm offering modeling and analytic services to Democratic candidates. And the partisan advantages will be acute. Voter rolls in America hit a new high in 2016, exceeding 200 million people for the first time, reports Politico. Most of the new voters in 2016 lean Democrat (42.6%,), reports TargetSmart, a Democratic political data firm. Only 29% lean Republican, and 28.4% favored independents.
This gap is set to transform future elections, says Radloff. "Once someone is registered, it makes someone much more likely to vote, even in off-year elections, which is where Democrats tend to dip." In a world of limited resources, a cheaper way to register voters creates a sweeping advantage for parties that could affect every level of government.