The amount of coffee cups thrown away around the world is enough to make anyone jittery–the caffeine-guzzling US alone throws an estimated 60 billion away each year. But while you might consider a cup of Joe cheap, its environmental cost is considerable. The thin layer of plastic around the cups which prevents them from disintegrating makes them almost impossible to recycle, with each cup taking around 30 years to break down.
And it's only going to get worse. Global coffee consumption is at an all-time high and is expected to keep growing, says International Coffee Organization spokesman Vicente Partida, as emerging markets like India and China start drinking more and more of this energy elixir.
One British charity is trying to solve this global problem by designing coffee cup-shaped trash cans with large lettering urging people to recycle. Having separate bins for the cups makes it easier to send them off to recycling plants which have technology to deal specifically with the material.
Last week Hubbub, the environmental charity behind the cans, placed eleven of these bins around Manchester as part of a pilot program to see whether they would catch coffee-drinking locals' eyes. They are hoping to recycle at least 20,000 by the end of the year, which they will then turn into 15,000 plant pots for communal gardens, as part of efforts to make the city greener.
"It just seemed to us an absolutely chronic waste and there are no viable schemes to recycle them that we could see," said Trewin Restorick, CEO and founder of Hubbub. The scheme has funding from McDonalds, KFC, Nestle, Pret a Manger, and others, with no public money being spent on it, Restorick says.
Britons clearly need some incentives to get rid of their coffee cups properly. Peter Goodwin, the owner of Simply Cups, the UK's only coffee cup recycler, estimates that less than 1% of the 2.5 billion coffee cups used in Britain each year end up being recycled. A number of coffee chains found themselves in hot water in Britain this year when anti-waste campaigners alleged they were misleading customers about how easily their cups could be recycled. Starbucks, one of the companies under fire, has since begun testing a fully recyclable cup.
Hubbub has previously used other creative ideas to get people to be green, such as asking smokers to vote for the world's best soccer player by dropping their used cigarettes in bins under their names, instead of on the street.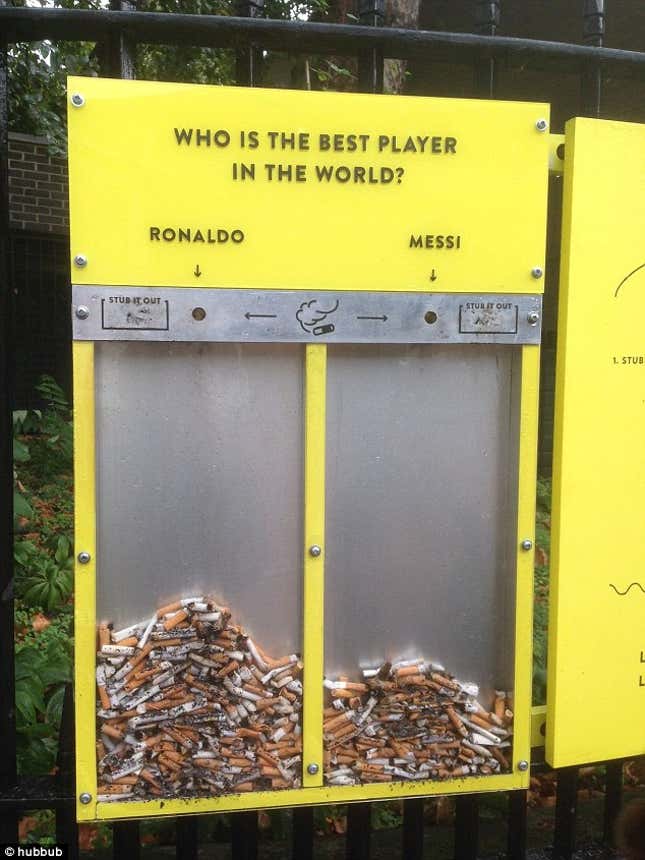 If the Manchester trial succeeds by getting near the 20,000 mark, the charity plans to grow the campaign with 50 trash cans in Central London next year.