Indonesia's economy grew at just 6.02% in the first quarter of 2013, compared with the previous year. That's the slowest growth in two years, and it's in large part due to flagging export demand.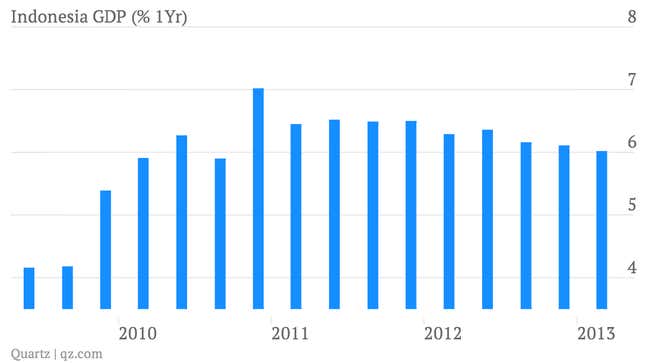 "Exports are still underperforming and government spending is still not up to speed," Euben Paracuelles, a Singapore- based economist at Nomura Holdings Inc, told Bloomberg. That's after the Indonesian government revealed last week that March overseas shipments were down the most in seven months.
But Indonesia is demanding less from other countries as well: Imports fell the most since 2009 in March—a trend that's hurting other countries' exports. And that phenomenon is not letting up. Purchasing managers' index data out of Europe today highlighted that global demand for exports continued to erode in April. The flash estimate for euro zone PMI suggested that overall output has fallen for 15 consecutive months, dragged down by an ongoing drop-off in new business orders (pdf).
"Strong downturns in France, Spain and Italy have broadened out to encompass Germany again, with slumping domestic demand exacerbated by export losses due to a weakening of economic growth in other countries, such as the US and China," said Chris Williamson, chief economist at Markit, which publishes the data. Here's a look at that: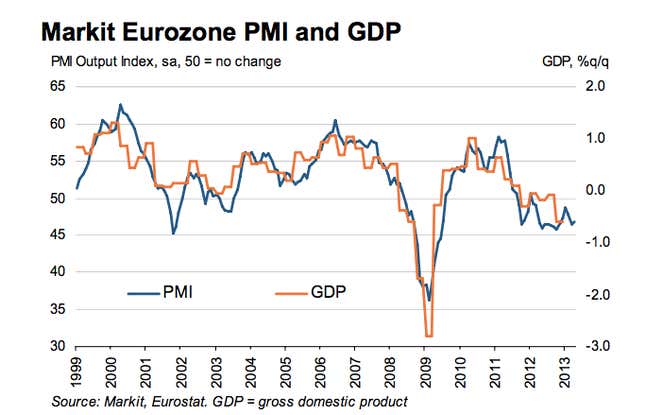 Meanwhile, a Reuters poll confirms the slumping demand from China. While China's exports have picked up slightly, its import demand is falling. And even the pickup in exports belies a softening of global demand, as the uptick economist projected for April comes off a low base.
"Recent data including Korea's exports data and global leading indicators have been indicating weaker external demand growth momentum," wrote Yu Song, China economist at Goldman Sachs, in a note to clients, reports Reuters. Korea's exports rose only 0.4% year-on-year in April, below estimates, as its imports fell 0.5%.