To enter the Wing, a new women's co-working space and social club in Manhattan's Flatiron district, is to walk into a rose-tinted world where the people are kind and hard-working; the coffee is strong; and someone always has a hair tie.
On Oct. 10, The Wing opened with a flurry of fawning press, over 20,000 Instagram followers, and 1,300 applications pending, beyond its current membership of 250 women.
The brainchild of two not-quite-30 native New Yorkers, Audrey Gelman and Lauren Kassan, The Wing represents a new kind of exclusive club that taps into the needs, ambitions, and aesthetics of a certain kind of New York woman. We're feminists. We like nice things, but dislike pretension. Many of us don't have offices. We meld work and play, and lightly stalk the online presence of women whose work we admire. And we never thought we'd join a members-only club.
The Wing occupies a penthouse on 20th Street that's flooded with natural light and buzzes with the optimistic, Instagram-ready energy of an expensive hair salon. Danish modern silhouettes are rendered in a palette that recalls a bowl of Jordan almonds. There are low-lying pink sofas, peach-bulbed brass chandeliers, mint-green walls, and custom W-emblazoned terrazzo tables.
A wall of books, which includes titles by Rosa Parks, Clarice Lispector, and Danielle Steele, is organized by color; and watercolors by the artist and author (and member) Leanne Shapton adorn the walls. There are shower stalls fitted with oversized gold-tone shower-heads, and vanities stocked with hair products for all types. The Wing's front desk and café are staffed by fresh-faced young women in white t-shirts and jeans, with mint-colored bandannas knotted around their necks.
The photographer Quartz sent to shoot the space sent a text after arriving: "I want to live in this place."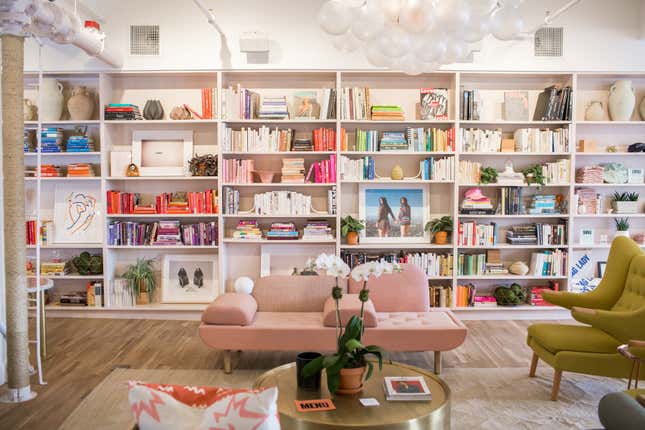 A new expression of an old idea
I discovered The Wing the way many people did: on Instagram. A former colleague who I deeply admire and like posted a photo of her membership card, with a caption stating her pride at being a founding member. Immediately, I tapped through to The Wing's profile, and fell into the virtual inspiration board of The Wing's Instagram feed, displaying its penchant for pastel colors, sharp-taloned feminist humor, and retro photos of muses including Fran Leibowitz, TLC's T-Boz, and Madonna drying her underarms with a hand dryer in Desperately Seeking Susan.
There's a subtle call-back in that Instagram feed to the time when women were shut out of country clubs, conference rooms, classrooms, and cigar bars—not to mention voting booths—and organized groups of their own.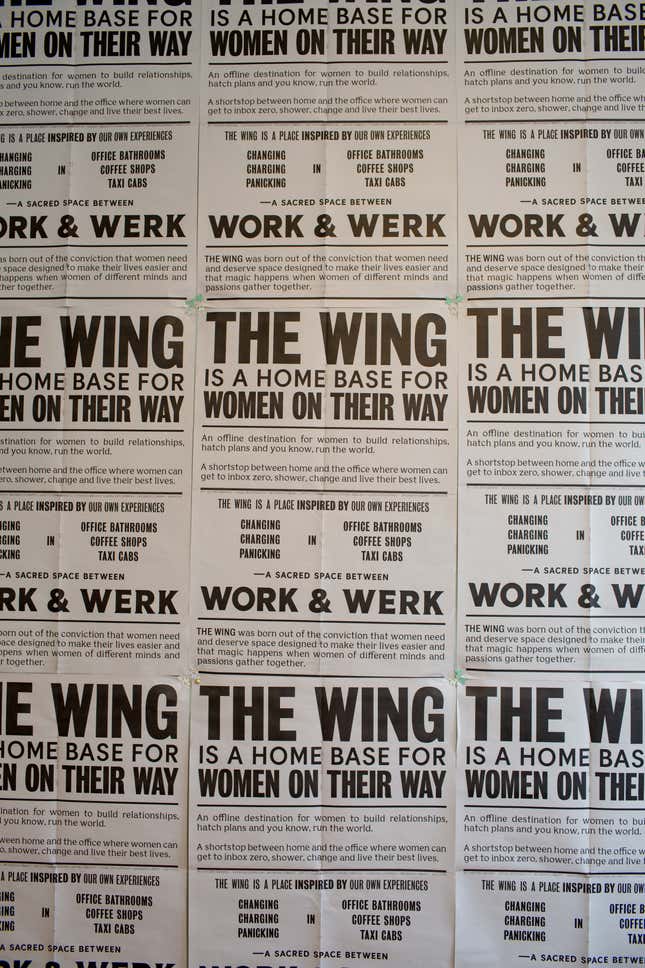 Some of those groups had a political bent. Suffragists, of course, fought for women's right to vote. Others, especially during the post-industrial progressive movement, saw women tackling the consequences of economic inequality in urban immigrant communities. Often these groups organized among racial or religious lines, the National Association of Colored Women (NACW) and National Council of Jewish Women (NCJW) among them.
But perhaps the most direct predecessor to The Wing was Sorosis, a women's club founded in 1868 by Jane Cunningham Croly, an accomplished journalist who wrote a column for the New York Tribune under the pen name Jenny June.
Like The Wing, the organizing identity of Sorosis was not one of political, religious, or professional affiliation, but gender.
The Wing woman
Creating a society of sturdy, upstanding, forward-thinking women in the age of Instagram looks quite different. This aims to be a social club for women who don't gravitate to the snobbery and exclusion of social clubs. "We don't have a target woman," said Gelman, a petite brunette with a pillow of wavy hair atop her head, a t-shirt that read A woman's place is in the house…and the senate, and a tattoo above her elbow that says Killa. "Women are our target women."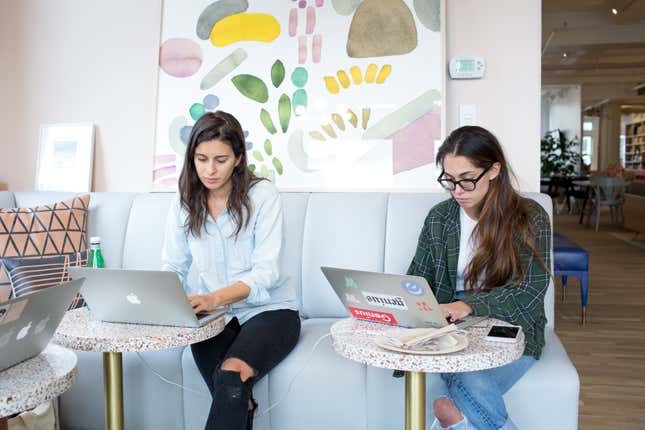 That said, the Wing's founding members are hardly underachievers, and its opening party included such impressive New Yorkers as Glossier founder Emily Weiss, model and trans activist Hari Nef, and the rapper Remy Ma.
Gelman herself, at a relatively young age, made her name in politics and public relations as a spokeswoman for Manhattan Borough President (and later New York City Comptroller) Scott Stringer. She was often photographed with her then-boyfriend, the polarizing fashion photographer Terry Richardson, and made cameos on her friend Lena Dunham's HBO series, Girls. (Dunham, who is a close friend of Gelman's and founding member of The Wing, is said to have based her show's Marnie character on Gelman.) In 2013, Gelman was the subject of a New York Times profile that lauded her ability to meld the worlds of culture and politics.
Unlike other social clubs, such as London's Groucho Club or New York's Neuehouse, which aim to attract members from creative fields, The Wing doesn't gear itself toward a particular professional sector. Its members' ages range from 22 to their 70s, and cover a wide range of professions, and Gelman stresses that the club aims to support women at various stages of their lives and careers.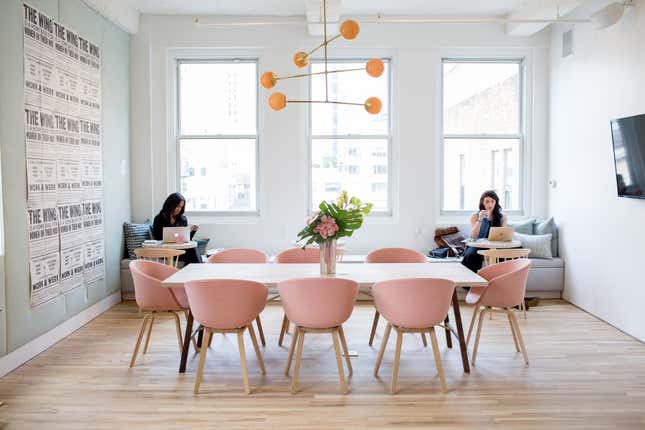 "We want you to come here if you're having the best day of your life," said Gelman,  on a recent Monday afternoon at The Wing. "Or having a panic attack and need to go in the freakout room."
The "freakout room," with its cushy chair and wallpaper featuring Joana Avillez's whimsical illustrations, is also a space for breastfeeding or pumping in private.
I would have killed for a place like the Wing before I took a staff job, when I was a freelancer working from home: no dishes in the sink to distract me, a variety of couches on which to arrange myself with my laptop, and a menu of coffee, quinoa bowls, and cocktails when necessary. The $185 per month would have felt steep but to be included in the Wing would have meant the world to me, at a time when it felt like no publication would put me on its full-time payroll.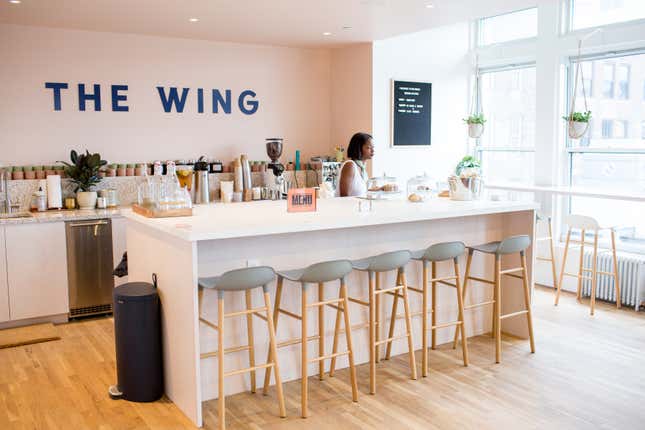 The thing is: I might not have been accepted. The space itself is anything but snooty; on the contrary, it exudes an enveloping warmth familiar to any woman who has experienced the strength, silliness, and support of an all-female crew. But with only 3,500 square feet, sharing that feeling will likely be the Wing's greatest challenge. Naturally, a lot of women want in. And at least for now, member spots are limited.
A new kind of exclusivity
When I discovered the club's existence, I'll admit to experiencing a distinctly adolescent pang of: Why wasn't I invited?
Jessica Lakin, a social psychologist who has studied human behavior in response to social exclusion, says that's 100% natural. The need to belong is deeply rooted: Thousands of years ago, the lone hunter had a minimal chance of access to the food, shelter, or mate necessary to survive and reproduce.
"We are very literally evolved to feel bad when we're excluded," said Lakin.
But a members-only club is by its nature exclusive. And a members-only club with a 1,300-person waitlist in its third week might be considered very exclusive—no matter how inclusive its vibe.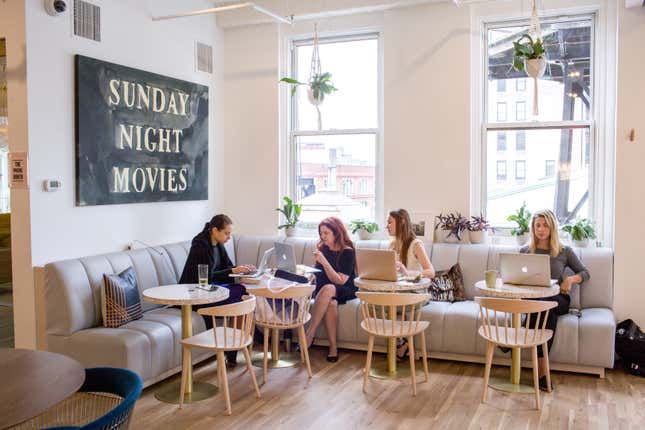 In some ways, The Wing is a victim of its own success; it can't possibly include everyone. Its Instagram, which started a year ago, clearly struck a chord.
"We started this Instagram, and it was really like, 'Okay, this is an exercise in the brand voice,'" said Gelman. For the first few months, The Wing's Instagram didn't even specify what the Wing was to be—a physical place and a membership organization.
Instead, it just said, subtly: If these images speak to you, you're one of us. "They thought it was an online magazine, or they just weren't sure," said Gelman, of The Wing's early enthusiasts. "They were buying into a vibe."
Which is to say, many of The Wing's followers bought into the concept before they knew exactly what the concept was. The images spoke to intelligent, ambitious, stylish, urbane, funny, and successful women—the "cool girls" of New York City, not that they would ever describe themselves that way.
Part of what The Wing is selling its members is entry to that cabal. The flip side of that inclusion, of course, is exclusion. But in 2016, it's like Fight Club: The first rule of exclusivity is you don't talk about exclusivity.
"I've been to a bunch of social clubs, and there's always like, a super tall model who's at the desk," said Gelman.
"I always just feel like 'I don't belong here,' and like I'm not, whatever it is—skinny enough, rich enough, accomplished enough—all of these things I think we beat ourselves up for a million times a day anyway," she said. "We wanted to create an environment where those kinds of stratifications didn't exist, and the only real constraints we have are just the amount of space."
Beyond its initial 250 members, The Wing is still calculating how many people it can support.
"We are way beyond where we thought we'd be in terms of applications," Gelman said. "And so it warrants us starting to look for a second space."
One only needs to visit The Wing to see it's a lovely place designed to tap into the needs of women—and not our insecurities. Some will join it for the convenience, or as a place to hold meetings. Others, who want to make new friends outside their existing communities, might come after work for cocktails or events. Currently on its calendar, The Wing has an election night watch party, braid night, and book club meeting.
"I think they want to carve out a part in their life that feels separate from men," said Gelman, "It's about building really rich and meaningful relationships with other women."