The Afghan refugee whose portrait became one of National Geographic's most iconic covers has been arrested in Pakistan for obtaining a fake ID.
Sharbat Gula has been under investigation by Pakistan's Federal Investigation Agency since February 2015, when she and two men she claimed were her sons were found to have obtained Pakistan's national ID cards. Gula supplied false documents and information to the country's National Database Registration Authority (NADRA), using the name Sharbat Bibi, The Guardian reported. Her arrest comes after a two-year probe, and authorities are still trying to hunt down the three officials who issued those ID cards in April 2014. If convicted, Gula could face a $5,000 fine and up to 14 years in prison.
Gula's haunting green eyes captured the world's attention in 1985, when her photo was taken by world-famous photographer Steve McCurry in a refugee camp in Pakistan and published on the cover of National Geographic. Hers became the face that defined conflicts in Afghanistan during Soviet Occupation of the 1980s. Years later, McCurry joined a National Geographic film crew to track Gula down; they found her in 2002 in a remote Afghan village, where she lived with her family, and McCurry shot an updated portrait.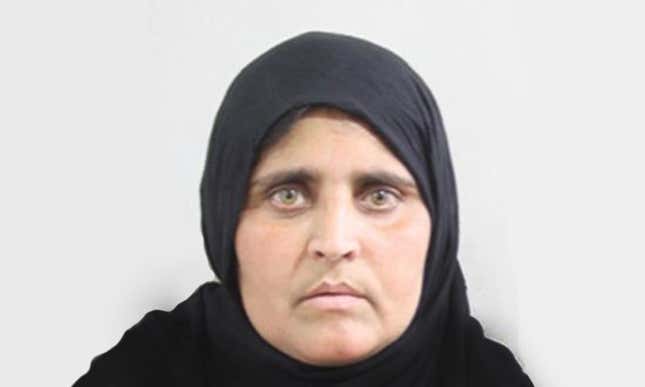 Now Gula has new photographs in the public eye, which seem to complete a tragic trilogy of life as an Afghan refugee. This week, Pakistani authorities released the photo she used on her fraudulent ID application form, as well as a mugshot taken before a court hearing.
In recent years, Gula has been living on alternating sides of the Pakistan-Afghanistan border. "She lives here. We travel between Pakistan and Afghanistan depending on the security situation," one of her relatives told Dawn, an English newspaper in Pakistan.
Gula is just one out of the estimated 60,675 foreign nationals holding fake Pakistani ID cards, many of whom are Afghan refugees. Those refugees, who now number 2.5 million, are increasingly unwelcome in Pakistan, when a 2014 Taliban attack prompted the government to call for their repatriation.