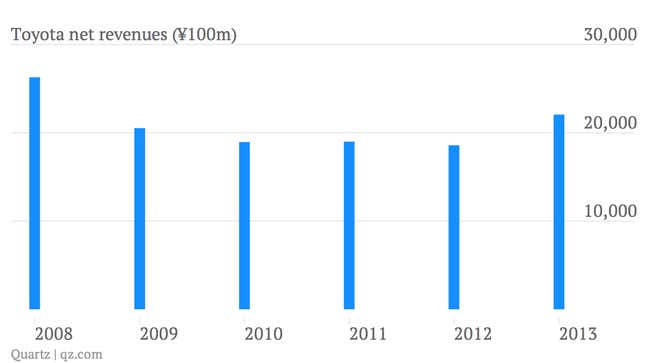 The numbers: Just, wow. Net profit for Toyota's fiscal year (which ended in March 2013) came in at ¥962.1 billion ($9.7 billion), roundly trouncing analyst forecasts for ¥912 billion, while sales for the year were ¥22 trillion, up nearly 19% on the year before. And operating profit, at ¥1.32 trillion, was the best in five years (paywall). For the most recent quarter, Toyota reported net profit of ¥313.9 billion, more than doubling the ¥121 billion it made in the first quarter of 2012.
The takeaway: Abenomics, of course, is a big help. The yen has slumped nearly 20% since November on the expectations (followed by the reality) of aggressive monetary and fiscal stimulus. Toyota's operating profits increase about ¥35 billion for each yen shed against the dollar. Akio Toyoda, the company's president, called Abenomics "a wind that's blowing to push us forward."
What's interesting: It's not all down to yen magic. The company has firmed things up since a series of setbacks over the last few years, like the implosion of global demand, the earthquake in 2011, flooding the same year that wreaked havoc at its production facilities in Thailand, and a slew of high-profile car malfunctions and resulting recalls. As part of its efforts to trim spending and streamline production, Toyota has shifted a lot of its production abroad; in 2012, it made nearly 20% fewer cars in Japan than it had five years earlier. It continues to expand existing overseas production lines—though it has vowed to open no new plants for the next three years—and to source more parts regionally.