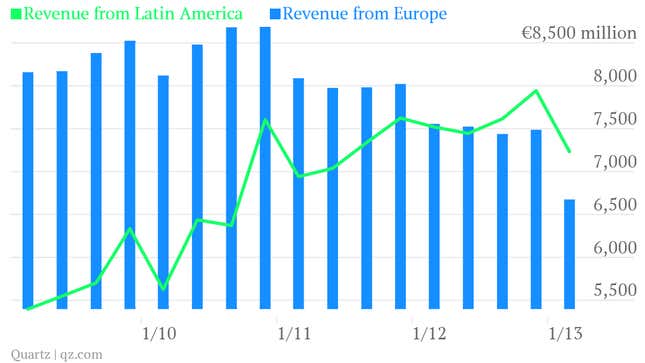 The numbers. Spanish telecom Telefónica took a hit in the first quarter of 2013. Revenue from its Latin American operations fell to €7.2 billion ($9.5 billion) from €7.5 billion a year before, and revenues from Europe fell to €6.7 billion from €7.6 billion in Q1 2012. Total revenues fell 8.8%.
The takeaway. Latin America might have been down, but it looks way better than Europe. Despite steep currency devaluations in Argentina, Venezuela, and Brazil, Telefónica's Latin American unit is what's keeping the company afloat. In Spain, the company has tried offering cheaper packages of voice, TV, and internet to target struggling consumers, but its margins are being undercut by low-cost rivals.
What's interesting. Telefónica managers better start learning Portuguese. Revenues from Brazil now exceed those of any other single country, even Spain, at €3.3 billion for the first quarter.