With Hillary Clinton still the favorite to win the 2016 elections, the possibility that a woman will become president of the US seems closer than ever. But over the last month, the historic importance of having a woman hold the most powerful office in the world has been overshadowed by Donald Trump's sexism. The conversation moved from empowerment and feminism to having to explain why it is not OK to objectify and assault women. Even so, Hillary Clinton remains, as she likes to say, the biggest crack in the glass ceiling, no matter the outcome of the race.
Clinton's achievement would be a first—for America, that is. While the world is certainly nowhere near gender equality—in political representation, or otherwise—women have been elected to run countries for years, all over the world. With the exclusion of monarchs, over 170 women have been elected, appointed, or acted as heads of state or government in the modern era, beginning with Yevgenia Bosch who, in 1917, briefly functioned as acting leader of the Soviet government of Ukraine. She was followed in 1940 by Khertek Amyrbitovna Anchimaa-Toka of Tuva, a partially recognized state in territories that were once part of imperial Russia. Anchimaa-Toka was the first female head of state in the modern era who had not inherited her title.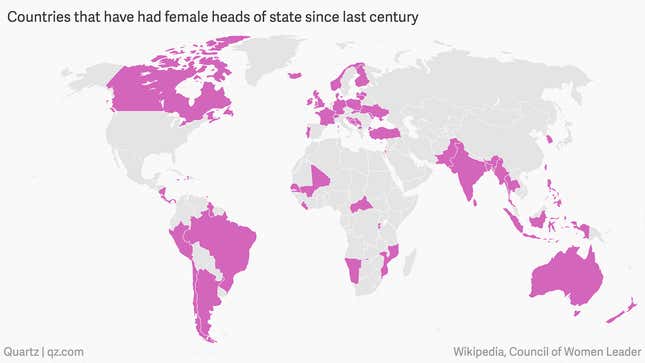 Several of these women were appointed, rather than elected or, like Bosch, only acted temporarily as prime minister, or president. Yet, the count of women who have been effectively leading countries—as heads of state, heads of government or, as it would be in Clinton's case, both—is larger than some may think.
Overall in modern history, 77 women have been outright elected to serve as prime ministers, presidents, and, as in the case of Janet Jagan of Guyana, both. American-born, Jagan became prime minister after the death of her husband, the country's president, in 1997; in the same year, she ran for president, winning the election. Today, 12 countries have a woman as chief executive of the government, commander-in-chief, or both.
The trend also appears encouraging for female leadership. In the 1960s, only three women led countries. The first, Sirimavo Bandaranaike in Sri Lanka (then Ceylon) was elected in 1960, followed by India's Indira Gandhi in 1966 and Israel's Golda Meir in 1969. By the 1990s, that number was up to 22—and in the 2010s so far it's already 30.
(Data via: Council of Women World Leaders, Wikipedia, Worldwide guide to women in leadership)
Update: The table has been updated to include Jennifer M. Smith, premier of Bermuda. The map was updated to include Indonesia.