Polls show Republican US presidential candidate Donald Trump still well behind Democrat Hillary Clinton, but his campaign insists he can win. Why? Because when called by pollsters, some Trump supporters won't admit that they're voting for Trump.
"It's become socially desirable, if you're a college-educated person in the US, to say that you're against Donald Trump," Kellyanne Conway, Trump's campaign manager, recently said.
Thanks to these "undercover" or "shy" Trump voters, as they're known, the businessman and reality TV star has broader support than the polls suggest, she argues.
Conway appears to be right about these "Shy Trumpers." That's according to the latest analysis from Morning Consult, which shows that Trump performs worse among college-educated voters interviewed by phone, compared with online polls—while Clinton's results are the reverse.
College grads aren't the only shy ones. So are wealthier voters.
Why would certain Republicans be shy about their Trump support?
Morning Consult pioneered the "Shy Trumper" theory (pdf) back in December of 2015, in the thick of the Republican primaries. "[I]f you're a highly-educated or engaged Republican voter, it turns out that you're far less likely to tell another human being you want Trump as president," explained Kyle Dropp, Morning Consult's chief research officer, at the time.
Since Trump won the Republican nomination, however, many pollsters and pundits have pooh-poohed the phenomenon. After all, if the Republican Party can nominate him, how embarrassing can it really be to tell a random stranger on the phone that you support Trump?
Plenty, it seems. Morning Consult's results come from a poll of 2,075 likely voters, conducted between Oct. 27 and Oct. 30. About three-fifths of the respondents were randomly selected to complete a brief live phone interview; the remaining respondents were given a short, identical online interview.
A similar pattern emerged in the run-up to Brexit, the June 2016 referendum on whether the UK should leave the European Union, according to YouGov UK, a polling firm. Online polling turned out to be the superior predictor of voter behavior.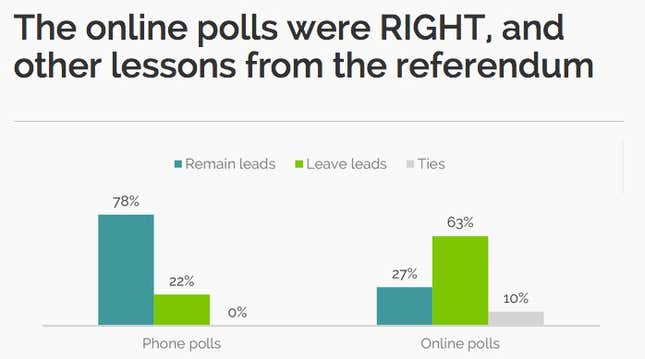 Could a Brexit-style upset be in the offing? It's possible, of course. But if that happens, Shy Trumpers probably won't have much to do with it. There aren't enough of them to influence the election, says Morning Consult.
For one thing, those who vote in Republican primaries tend to be wealthier and better educated than the overall Republican base. Add in the less educated and lower-earning Republicans (and independents), and the proportion of Shy Trumpers shrivels.