As the 2016 race to the White House comes to a close on Nov. 8, both Hillary Clinton and Donald Trump are making last-minute appeals at events in battleground states across the country.
Americans are mainly concerned this election cycle with the economy, terrorism, foreign policy and health care, according to Pew Research. Less is known about what matters to as many as 8.7 million Americans living abroad. The expat voting bloc could play a key role in this year's outcome, according to Katie Solon, Chair of the group Democrats Abroad, which works to mobilize progressive expat voters.
"With the polling margins so small, it could very well be Americans living abroad who determine the next President of the United States," Solon said in a statement.
Are you an American expat? We want to hear from you about what it's been like to follow the 2016 election from another country.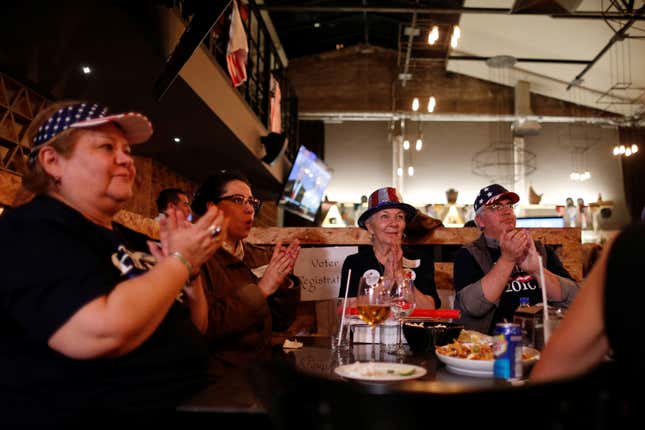 Here are two responses, collected by the Quartz newsroom in Hong Kong:
Living abroad in China has made me see that people are people. In the USA educated white Americans mostly meet with similar people. When you travel you meet everyone. You see the similarities and differences.
Trump has threatened China with trade wars. Protectionism brought the Great Depression around the world and he could cause that again. If he cuts off China from selling consumer goods to the USA, there will be huge inflation in the USA. Chinese factories will go bankrupt. Tens of millions will lose their jobs. The whole world could go crazy.
The USA has citizens who don't have a clue. There is an underclass of uneducated Americans who are being replaced by lower paid global work force and robots. They will no longer benefit from the American dream.
—  Jeffrey Firestone, a semi-retired lawyer from Chicago who advises law firms in China
When was the last time a policy discussion took place? Forget politics, or sexual harassment, and you're hard pressed to think of any time that has happened.
I think more than being overseas, being a professor impacts my view. My students are generally afraid to talk politics, or at least unused to doing so, but my colleagues from China say, "Please tell me Trump isn't going to win."
There is definitely interest in and a looking towards the US for world leadership, for how a country is run respectfully between political enemies, and it is just not there. Watching the debates and news events during this campaign, it has been hard not to go "Oh my god, this is nothing more than a high school food fight."
— Christopher Balding, a professor of economics at Peking University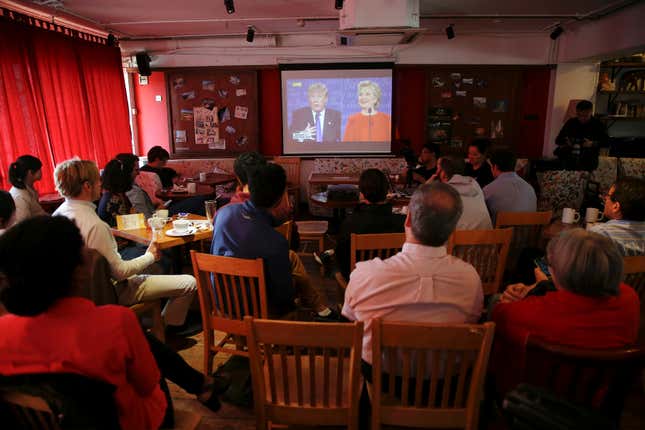 Are you an American living abroad? Quartz wants to know: which candidate are you supporting, and why? What has it been like watching this cycle from another country?
Share your experience with the Quartz community here.
Josh Horwitz and Heather Timmons contributed reporting.