The massive cargo ship operators responsible for moving goods across the world could be nearing the end of a years-long rough patch. Many shippers attempted to bulk up their fleets to meet rising consumer demand in the years before the recession, only to find that demand gone by 2009 and 2010, when the ships they ordered were finally delivered.
With too many ships to handle all the goods that needed to be transported, shippers have been forced to accept rock bottom rates for moving goods. Rates have been so low, in fact, that shippers have been willing to carry goods for free from a slow route to a more profitable one, so long as the company contracting the ship can pay most of the fuel costs.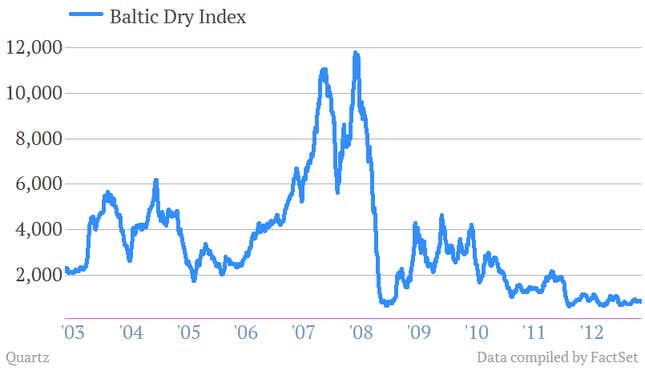 But the worst may be ending. Rates for shipping finished goods—at least on the most basic size of container ships—have stabilized somewhat over the last few months. They're still near all-time lows, but at least they're no longer falling.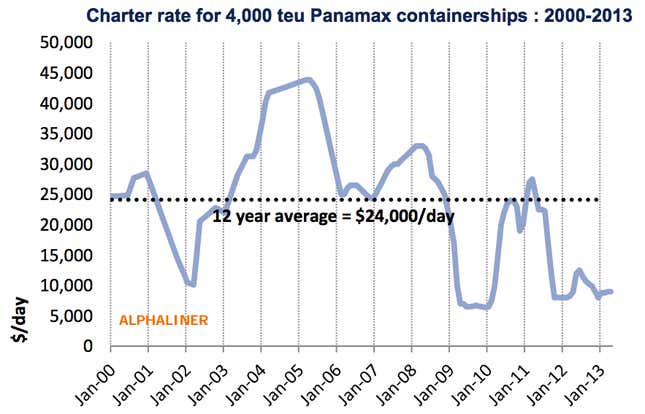 The volume of tonnage being taken out of the market on a yearly basis has also hit an all-time high. Shippers sell old ships to buyers in Southeast Asia and the Middle East, who break down the ships and sell down the parts locally—from the engines to the beds the crew sleep on.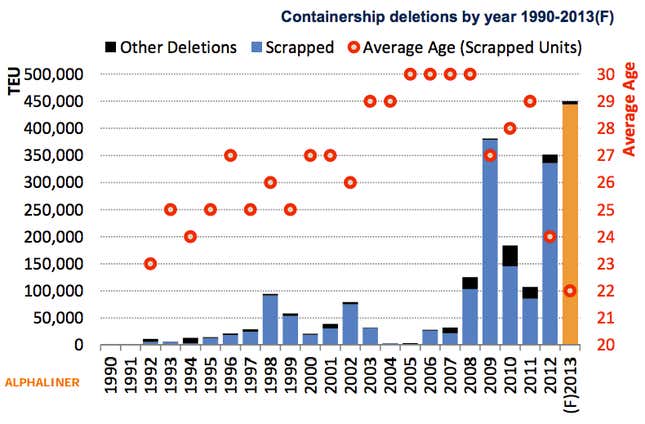 "The shipping industry is at an inflection point now,"  Geoffrey Cheng, head of transportation and industrial research at Bocom International Holdings Co. told the Wall Street Journal (paywall). Transport lender HSH Nordbank forecast a container shipping recovery in late 2014. Citi also predicted a recovery in raw materials shipping in 2014.
Even so, the new ships being delivered more than make up for the capacity that's being taken out of the market. The world's largest ships haven't even hit the market yet. And for financially secure shipowners, it's a great time to buy; the cost of a large vessel (13,400 TEU)  fell to four-year lows in January. "In the container market, you can make back the whole investment in 6 to 7 years," Seadrill's Tor Olav Trøim told investors at the Ira Sohn Investment Conference on May 8.
But if everyone buys ships, then everyone loses, writes Clarkson Research:
Any red-blooded male today wants to prove his worth and buy a cheap ship. The numbers are discouraging, but world economic recovery, heavy scrapping and brisk trade growth might clear the surplus. So, if you take delivery of your ship in 2015, you might not have too long to wait—it's just capital warehousing. That's fine, just as long as nobody else does the same.
Moreover, the volume of global trade also remains sluggish. Global exports declined 1.67% year-over-year in March, despite strength in the North American market.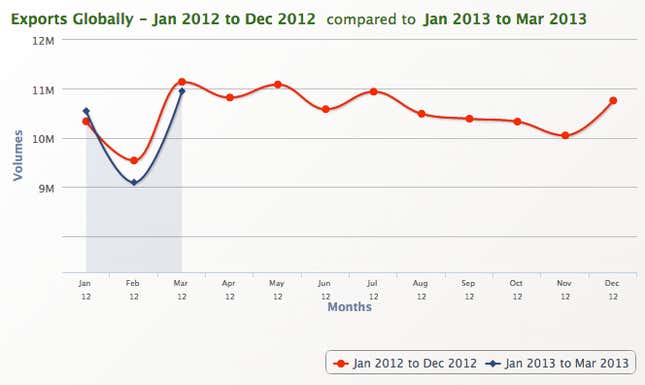 End in sight? Maybe. Then again…maybe not.