Fort Worth, Texas
Jesse Jimenez has been trying to get out the Democratic vote in Texas for more than 25 years. In all that time, he'd never been part of a political campaign that targeted registered Latino voters who don't regularly vote—until now.
Courting Hispanics in a state where their numbers are rapidly growing seems like a no brainer, particularly those who just have to dust off their registration card to vote. Yet, the return on investment of going after that category, known as "low propensity voters," has been perceived to be too low. It would take a lot of Latinos to turn deeply red Texas blue, and getting them to the polls is hard, so Democrats have put their money elsewhere.
This election is about to test that rationale, not just in Texas, but in other states that just a few years ago were out of reach for Democrats. Arizona, which hasn't elected a Democrat for president since 1996, has seen a surge in early voting by Hispanics. Record numbers of Latinos have also voted early in Florida, a state that just barely went for president Barack Obama in 2012.
In Texas, nearly half of the electorate voted early. The most populous counties, most of which lean Democrat and have lots of Latinos, registered big gains from 2012—though Republican-leaning counties also saw increased early voting. In Hidalgo, a heavily Hispanic county that borders Mexico, roughly the same number of people showed up to the polls during early voting as during the whole 2012 election, according to data from Texas's Office of the Secretary of State.
To be sure, the Lone Star state is likely to remain in the Republican column this election. But the race is the closest it's been since 1992, according to James Henson, director of the Texas Politics Project at the University of Texas at Austin. "There are  signs of life among the Democrats," he said. Even conservative Tarrant County, where Jimenez is working, is within range, though a Democratic win still remains a stretch, he added.
Democratic presidential nominee Hillary Clinton can partly thank Republican opponent Donald Trump and the unflattering descriptors he's used for people of Latin-American descent for increased Latino turnout in Tarrant and elsewhere. But she shouldn't underestimate the work of activists and organizers who are finally treating Hispanic voters like they count.
Sleeping giant
Democrats have been claiming the Hispanic community would turn Texas blue for a while, renewing their prediction that the "sleeping giant" was about to wake up with each passing election. Nearly 40% of all Texans are Latino, and they tend to lean Democrat. By next year, they are expected to outnumber non-Hispanic whites, and make up half of the state's population by 2037.
But their growing demographic clout has not translated into political power. Not only are their turnout numbers typically dismal, but Republicans have also drawn electoral district lines in a way that has reduced Latino influence. That has made it impossible for Democrats to compete at the state level—in fact, they haven't won a statewide office since 1994. So the focus for the party has been on local races, and its marching orders for activists such as Jimenez had been to bring out known supporters, not woo reluctant voters.
Changing the formula
Donald Trump made this election different. After Trump's infamous remarks that Mexican immigrants were rapists and criminals, Jimenez and other Latino democrats in Texas decided to make a personal investment to defeat him.
They knew their party needed to change its game if it was going to make any inroads with Latinos. So this summer they started a group in Denton County to recruit Latino voters, the first of its kind in the conservative district some 40 miles northwest of Dallas. Unlike other electoral efforts that peter out after the votes are in, Latino Democrats of Denton County works year round, said Jimenez. And aside from proselytizing, it's also trying to be an advocate for the Latino community, for example, by taking up its concerns about potholes or schools with local elected officials.
That's a long-term strategy. On the short-term, they are prodding Hispanic voters who haven't cared enough to show up at the polls during the past few elections to vote this time. "They're not in anybody's formula," he said. If they show up, they will represent a net gain that could decide a close election. And for a few days last month, it looked like it was going to be a close race when polls showed Democratic nominee Hillary Clinton just a few points behind Trump.
Jimenez switched his focus to neighboring Tarrant County, where Democrats believe their chances are better. In a matter of days, he had set up an office in Fort Worth, the county seat, with funding from a local business woman. It's a few blocks from the Fort Worth historic stockyards, a Disneyland-like recreation of Texas's legendary cowboy past. But it also happens to be right in the heart of the city's growing Mexican community.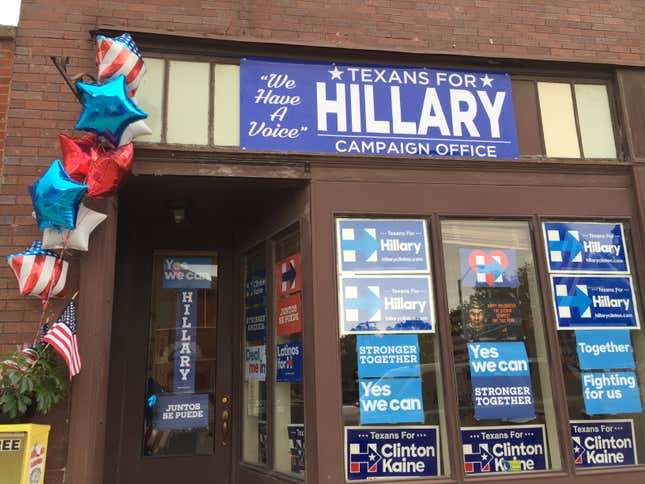 The number of registered Latino low-propensity voters in Tarrant County is 150,000, per Jimenez's analysis. Had they all voted Democrat in 2012, Tarrant would likely have gone for Barack Obama instead of 57% for Mitt Romney. So in the past few days, he's been deploying volunteers to hit every one of their doors.
Last push
Trump's lead has since widened to 12 points in Texas. Still, Jimenez and his team are not letting up. He's temporarily moved to Fort Worth to spend more time at the new campaign office and is taking vacation from his job as a distribution center manager for the final get-out-the vote push.
The Sunday morning before the election, several volunteers made calls and rolled up election materials to deliver to the unmotivated voters in their own neighborhood—Jimenez has carefully sorted their names by zip code. The Clinton campaign is paying volunteers $10 an hour for canvassing, but the rest of the effort is locally funded.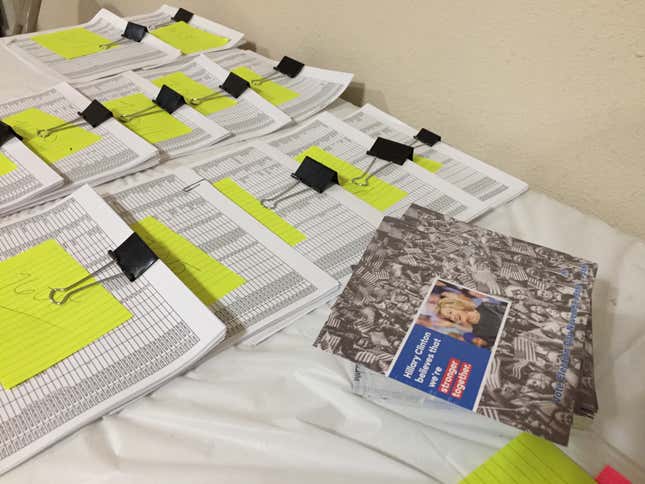 Martha Delgado, a GED teacher, showed up to the office after receiving a plea from help from her colleagues at LULAC, a civil rights organization she's part of. It's the first time she's doing political work since she arrived to the US 15 years ago from Mexico, but she's just the kind of trusted advocate to convince an indifferent neighbor to vote because she's been doing volunteer work for years, like handing out backpacks for kids or food to the poor. "To me, this is the same as other work I do to improve my community," she said. She has faith that Hillary will win the election in the end.
Lee Saldivar, an insurance salesman who was also pitching in, was more nervous. He says the Latino community is more energized than in previous elections, but some men have told him they can't support Clinton because she is a woman."They see themselves above women," he said. "They don't see them as equals."
Whatever the final tally is in Texas, Jimenez says that the slumbering giant is finally awake and is not going back to sleep. "If we don't win this year, it'll definitely be in 2020," he said.