We tend to talk about the United States presidential election in terms of halves. One half of the country voted for Donald Trump, the story goes, and the other half voted for Hillary Clinton. But that is not the case.
There's only one way to break the American electorate of 2016 into two discrete and (somewhat) even groups: those who voted, and those who didn't.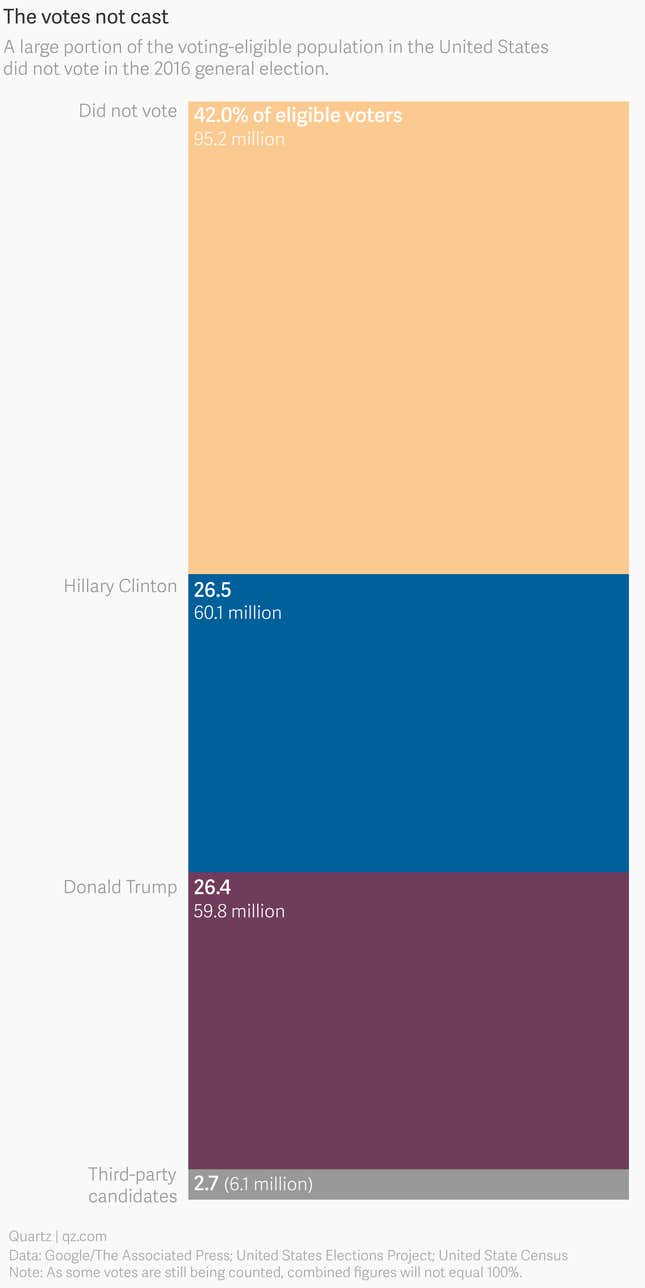 Of the 227 million eligible voters in the country, only about a quarter voted for Donald Trump, and a quarter for Hillary Clinton. A few voted for third-party candidates like Gary Johnson and Jill Stein, and the rest of the electorate just opted out of the whole thing.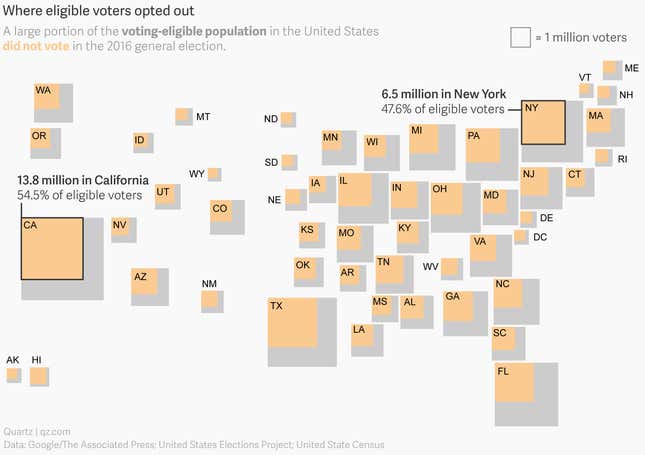 We know very little about the 95.2 million Americans who didn't vote. In some states, voters may have been affected by restrictions put in place after the Supreme Court struck down key parts of the Voting Rights Act in 2013. Some may have turned up to the polls only to learn that they weren't carrying the proper form of identification. Others may have simply had to work, and couldn't get to the polls before they closed.
And certainly, some amount of blame can be placed on apathy and disinterest. But in this election, it seems likely that frustration with the quality of both candidates played a major role in the weak turnout. Clinton earned fewer votes than Barack Obama did in 2012, and Trump earned fewer votes than Mitt Romney. The overall turnout this year was down by nearly two full percentage points since the last election.
When we talk about this election, it's important to use precise language. There are not two halves of this country that are diametrically opposed to one another. There is one large chunk of the voting-eligible population that is at odds with itself, and another, slightly smaller chunk, that doesn't want to take sides at all.
Note: The voting numbers referenced in this article and its charts reflect the tallies on the day of publication. As noted above, some votes were still being counted at that time.