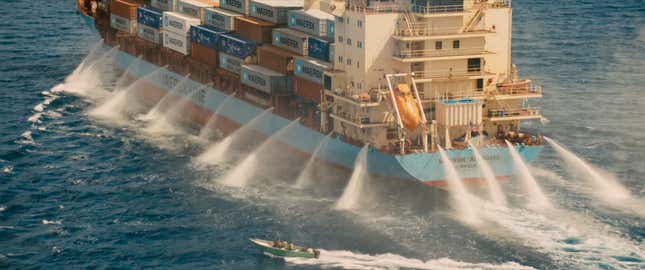 Maersk Line tweeted this photo of its container ship, the Maersk Alabama, shooting water into the ocean.
It's actually a shot from the movie Captain Phillips, which chronicles the ship's capture in 2009. The Maersk Alabama was the first US-flagged ship to be seized by pirates in 200 years.
Fire hoses are the first physical defense a massive ship has against attackers. A spokesman for Maersk Line said, "Part of the piracy-prevention measures is to fire pressurized water from fire extinguishing cannons." The idea is that the water will also deter or hinder attackers. "If you're coming over the edge you probably have your hands busy!" he said.
Spoiler alert: It wasn't successful. US Navy sharpshooters ended the hijacking with three shots after a five-day standoff. Three pirates were killed.
Traditionally, countries have discouraged mariners from bringing firearms on board. Now, armed private security guards are becoming more popular. Pirates actually attempted to attack the Maersk Alabama twice more after the 2009 hijacking, but a couple well-timed warning shots from its security staff were enough to fend off the assailants.
Pirate attacks are on the decline, but still quite frequent. "In the first three months of 2013, four vessels were hijacked, 51 vessels were boarded, seven were fired upon and four reported attempted attacks. Seventy five crew members were taken hostage, 14 kidnapped, and one killed," ICC Commercial Crimes Services reported last month.
Tom Hanks plays Captain Richard Phillips in the new flick, which premiers on October 11. Here's the trailer: