Fireworks are great. They tap into some Neanderthalic love we harbor for watching things on fire explode. But fireworks are also expensive, difficult to set up in large quantities, and can't be reused. What if you could replace them with drones?
Mickey is trying it out. Today, Disney and Intel are announcing that the two companies are partnering to create a new type of light show at Disney World in Florida, where 300 drones bearing multicolored lights will fly in unison, giving the impression of something akin to a fireworks display, or a massive, floating LED screen. The two are calling the drone performances "Starbright Holidays."
Intel first tested out a system to control multiple drones at once last year. It performed a light show in Germany with 100 drones performing a routine, all controlled by one computer. Since then, the company has broken a Guinness world record by controlling 500 drones at the same time, earlier this year:
Intel worked with Disney's engineering group in Los Angeles, referred to as Imagineers, to create a proprietary software and hardware for Disney's holiday celebrations. The show will incorporate 300 new drones, designed by Intel, that it's calling "Shooting Star" drones. The mainly plastic drones are each about the size of a volleyball, Intel's general manager of new technologies, Josh Walden, told Quartz. Each drone will have GPS and other sensors to help it position itself, but the drones will not be able to communicate with each other. Instead they will all be in constant contact with the single computer that will control them all. The entire setup can be controlled by a single person, who can press one button to safely return all the drones to earth if they encounter any issues.
The new system developed for Disney can emit 4 billion light and color combinations, Walden said, and it's much easier to set up than Intel's earlier drone shows. "It used to take six weeks to choreograph one of these shows," Walden said, "and now can be done in a few days." The drones can fly for about 20 minutes, and Disney's light show will incorporate 10 different scenes and holiday songs. They can also fly in light rain, meaning that warm Florida winters should be no problem.
The Shooting Star drones' flight control technology is based on the technology in Intel's Falcon 8 drones, created by the company's subsidiary, Ascending Technologies, Walden said. Intel has also invested $60 million in the Chinese drone manufacturer Yuneec, signaling the company's belief that robots—along with self-driving cars—are the next wave of computing. Intel, once the go-to manufacturer of computer chips during the desktop PC era, has fallen by the wayside somewhat after missing the smartphone revolution, and it layed off 12,000 employees earlier this year. Yesterday, Intel announced that it was also investing $250 million over the next two years to develop its self-driving car capabilities.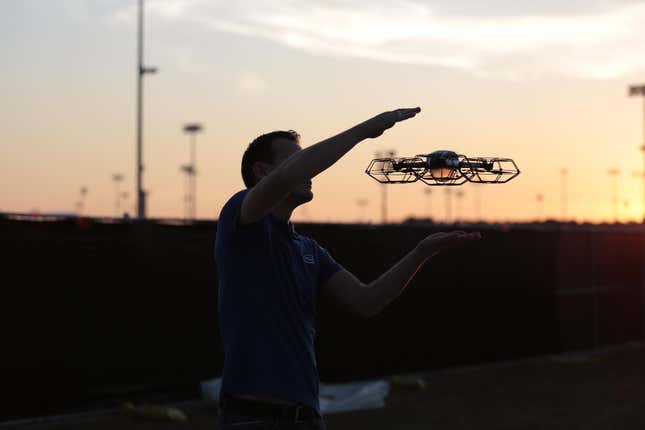 Walden told Quartz that Intel's Shooting Star drones won't necessarily replace traditional fireworks displays—they offer something different,  and can be used in conjunction with fireworks. But, he said, they are more environmentally friendly in the long run, as they can be used multiple times. They'll also likely set fewer things (or people) on fire than fireworks tend to. Walden didn't release numbers on how much Intel charged Disney to create its light show, but he said other institutions had expressed interest in doing something similar.
Beyond lighting up the night's sky in novel ways, Walden said this proprietary swarming technology could be used in other fields in the future. Strapping cameras on drones like these would allow them to be used in effective search-and-rescue missions, for example: Swarms of drones could be sent out to cover an area, with each drone sending back data in real time, to search for the missing person a lot more efficiently than a helicopter could.
The drone light show will take place daily at Disney World over the holiday season, and Walden thinks fans of Mickey will be be impressed with what they seen. "When you watch the expression of children watching it," he said, "it's absolutely incredible."