If you knew your day job could save hundreds of lives, would you swap the safety of ordinary life to help change the course of a major humanitarian crisis?
Until a year ago, lifeguard Albert Roma and his colleagues patrolled the beaches of Badalona, a charming slice of Catalonian coastline just outside Barcelona. A day on a Spanish beach is fairly incident-free. Tourists are caught in rips. Jellyfish sting exposed legs. And you can forget about sharks. But in 2015, as the world watched in horror as a modern human catastrophe unfolded in the Mediterranean Sea, Albert and his fellow lifeguards turned their sights toward more treacherous waters.
Boatloads of asylum seekers, fleeing war-torn Middle East and Africa, were drowning in droves as tiny boats loaded with men, women, and children gave way to the perilous seas between Turkey and Greece. Albert could not believe what he was witnessing. "I was watching TV as people drowned 15 meters from shore," Albert says. "I thought 'How can people take a boat so far only to drown so close to land?' It seemed so crazy."
Last September, Albert and a group of lifeguards took 15,000 euros-worth of their savings and set off for the Greek island of Lesbos. "It was simple," he says. "We thought we would see what we could do."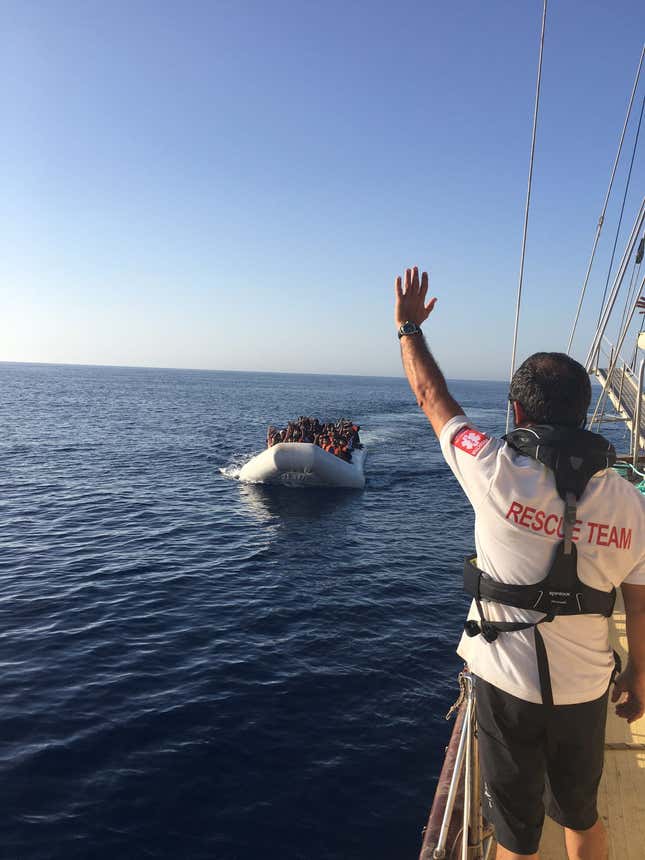 They found themselves in a race to save lives. Last year, 87% of the 900,000 migrants and refugees fleeing by boat to Europe arrived through Greece. After the EU clamped down on this route, the refugees started to find other routes, and Libya became the new springboard shortly thereafter. Albert and his fellow lifeguards realized they had to expand their search-and-rescue services to the North-African coastline, so they moved their efforts to the other side of the Mediterranean Sea.
There they set up a nonprofit organization called ProActiva Open Arms and appealed for donations. Their mission is to help those seeking a life free from war, torture, and oppression, and their work is funded entirely by private donations; public generosity helped it grow quickly, and one donor even gave them a luxury yacht called The Astral to use as a rescue vehicle off the Libyan coast.
Once they have rescued the boats, they hand the refugees and migrants to operations like Medecins Sans Frontieres and MOAS, the Migrant Offshore Aid Program. These organizations take them to centers in Malta as well as Greece and Lampudesa. From there, those who seek asylum travel overland to obtain refugee status in other EU member states. Unfortunately, refugees and migrants often face appalling conditions in these camps, and the closure of borders in the Balkans means another humanitarian crisis is now growing in places like Greece as asylum seekers lack the financial means to travel elsewhere. Returning home is not an option when there is no home to return to.
Despite being a relatively small NGO, they are now doing some of the most important humanitarian work in the Mediterranean alongside larger operations like SeaWatch, Médicins Sans Frontiers, and SOSMéditerranée. This is the first group of lifeguards in the world to work in a major refugee-rescue operation.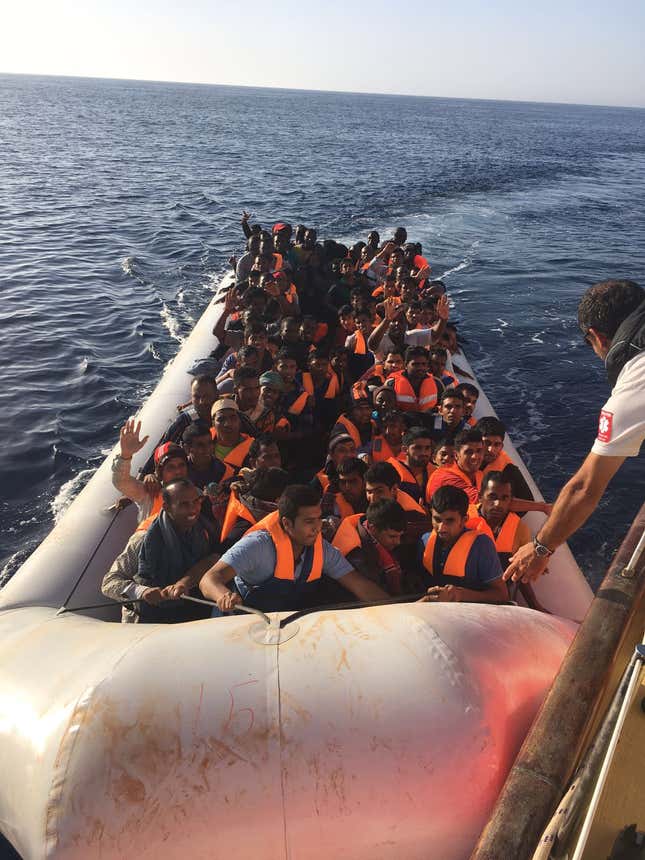 Crews of up to ten lifeguards spend a month at a time on The Astral before another volunteer crew takes their place. Every day is a challenge to rescue the struggling people who have been crowded into small boats. "People smugglers give the tiny boats fuel that lasts around 20 miles and yet they have 200 miles of sea to navigate," Albert says. "Those on board have no concept of the geography. The smugglers put them in the boat and just say to the designated skipper, 'Go straight.' It's devastating to see."
Most of the people the volunteer lifeguards encounter are from Afghanistan, Syria, and Sub-Saharan Africa. Albert says that their stories are incomprehensible for people from the West. "I rescued a man from Syria who'd returned home from taking his baby daughter to the doctor only to find his home in a pile of rubble. His whole family was dead. He carried his daughter for 21 days until they reached Turkey and then paid a smuggler to help them escape."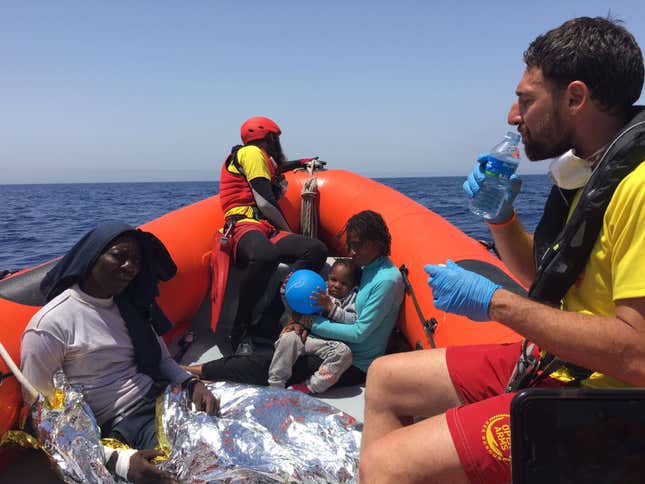 They start their shifts at 5am when the conditions are often freezing, shaking with cold and sometimes battle extremely heavy seas. "At around 6 am, the boats start coming," Albert says, "and they don't stop."
These shifts leave them physically and emotionally exhausted. The lifeguards face traumatic scenes on a daily basis have therefore recognized the need to debrief. In the past, few of them would have ever considered speaking to a mental health professional, but now now they take advantage of a roster of psychologists they can talk to via Skype about the confronting nature of their work.
Albert says that when people ask him why is he helping people he doesn't know, "my response is, 'They are drowning and I know what to do. I know how to save them. Wouldn't you be doing the same?" Albert asks. "It's only logical to do this."Despite the difficult conditions, Albert says the motivation behind their work in the Mediterranean is simple but powerful: They have the most important skill that matters—they know how to save people from drowning.
"[The best part] is when they arrive and we pull them from the water," he says. "They are hugging and crying and kissing us, and we feel lucky we get to see this moment." The worst is that they couldn't save more.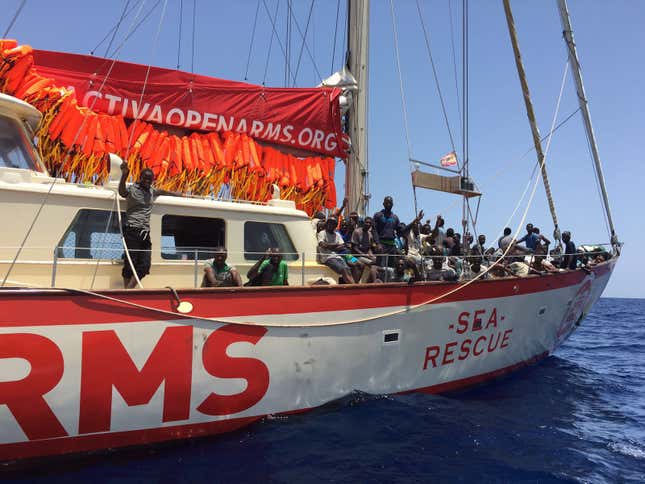 The lifeguards' efforts also offer an opportunity for self-reflection. If we look creatively at how we can apply our skillsets outside the traditional workplace, could we find more ways to help others?
By giving back to our communities, we increase our understanding of empathy. The capacity for empathy depends on constantly developing our personal, physiological, and social experiences. The lifeguards' work has connected them to an understanding that motivates many in service professions: an awareness that they are part of something bigger, of a greater vision.
The work in the Mediterranean has meant the Spanish lifeguards are forced to face moral questions they'd never experience in their normal day jobs. "When the boats flip, there can be up to 60 people in the water fighting to live. The moral question is who to save, who to help, who to go to first," Albert says. "It's very difficult to judge, but you have to try and talk to them. You have to focus. But we are trained for this sort of methodical work and we are learning more every day how to work through this. This work stretches us."
Now, Albert has challenged other countries to join them, particularly countries with rich lifeguard cultures, like the US or Australia.
"Calming down two people who are panicked at a beach in Badalona is one thing; calming down 20 people who are screaming and crying is nearly impossible," Albert says. "We lifeguards are only used to a few people in distress. We are talking about hundreds of people needing rescuing on masse. The more help, the better. Spread your experience and the skills."
"These people are like us," he says. "Just trying to keep their families alive. We cannot separate ourselves from them."