An incident involving Donald Trump's Twitter feed and Ford Motor Co. painfully illustrates the difficulty of having a head of state who is meant to be taken seriously, but not literally.
On Nov. 17 at 10pm ET, the US president-elect took to Twitter to claim that Bill Ford, chairman of the Detroit-based car maker, had agreed to keep "the Lincoln plant in Kentucky." The tweets indicated that Trump played a role in the decision, and that American jobs otherwise would have been sent to Mexico.
Only, Ford has never at any point announced plans to close the Kentucky plant, which employs 4,700 people.
Many news outlets took Trump's tweets at face value.

Others provided more context.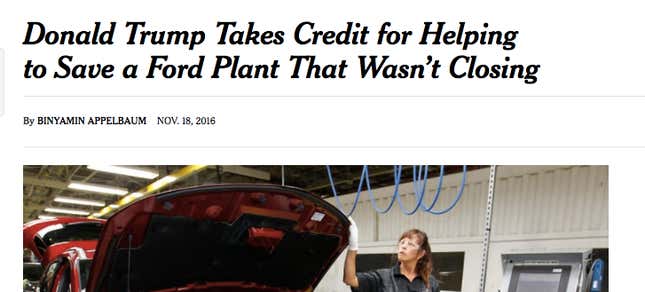 But look beyond the 140 characters of a tweet or the available space in a headline, and things really start to get murky.
Ford makes two vehicles at its assembly plant in Louisville, Kentucky: the Lincoln MKC and the Ford Escape. Last year, the automaker did say that it would move production of the Lincoln MKC, a luxury crossover SUV, out of the plant to make room to build more Escapes. It was unclear where the work would be moved to, but the company now confirms that an assembly plant in Cuautitlan, Mexico, likely would have absorbed the Lincoln MKC production.
The move wouldn't have hurt employees in Louisville, the United Automobile Workers union said in November 2015, because any jobs affected by the loss of the MKC would have been shifted over to the Escape production line. "Whatever happens in Louisville it will not lose employment. …They cannot make enough Escapes," UAW vice president Jimmy Settles told the Detroit Free Press last November.
Ford provided Quartz with the following statement on Nov. 17, after Trump's tweeting:
Today, we confirmed with the President-elect that our small Lincoln utility vehicle made at the Louisville Assembly Plant will stay in Kentucky. We are encouraged that President-elect Trump and the new Congress will pursue policies that will improve U.S. competitiveness and make it possible to keep production of this vehicle here in the United States.
We've reached out to both Ford and the UAW for more details, but right now it's unclear whether the change of heart will mean more jobs for Louisville, or any advantage for Kentucky.
So can Trump at least take credit for keeping the Lincoln MKC in Louisville?
The Wall Street Journal notes (paywall) that the car company "has been in contact with Mr. Trump's transition team over the past 10 days, and executives see the Lincoln move as a relatively painless but authentic way to give Mr. Trump a victory even before he moves into the White House." But we don't know exactly when or why Ford determined that the production of the Lincoln MKC would stay put. In other words, it's unclear whether Trump had any influence on Ford's decision.
What's clearer is that the media is going to have a difficult time adjusting to an American president who has regularly trafficked in exaggeration and shown little regard for specifics. (The comedian Stephen Colbert, who coined the term "truthiness" to describe arguments that feel right even when the facts don't fit, aptly describes Trump's unique read of the facts as "Trumpiness.")
Some outlets took it upon themselves to embellish beyond the content of Trump's tweets. The Washington Examiner, a conservative paper, praised Trump for something that neither Ford nor Trump had even mentioned: keeping jobs in the US.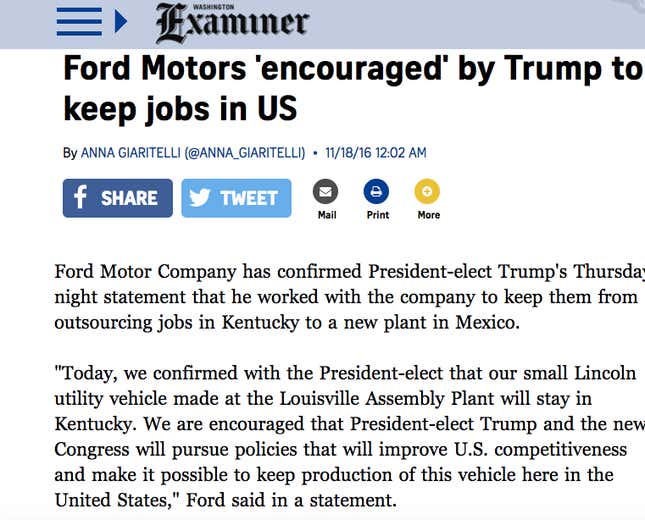 One of Trump's communications directors, Jessica Ditto, tweeted out the Examiner piece while praising Trump for "bringing back America's manufacturing-related jobs."
Varied interpretations of Trump's comments have also spread widely on Facebook, with some stories not showing the complete picture. A WAVE 3 News post on Facebook that followed Trump's error of conflating the production line with a "plant" received 1,456 shares at last count. But a subsequent post from the Louisville TV station questioning the content of Trump's tweets was shared only 35 times.
Many Trump supporters, meanwhile, are still trumpeting the situation as a triumph and congratulating him for doing something he didn't exactly do.
Did Trump indeed help keep the "plant" in Kentucky? Literally, no. And that lack precision only furthers the spread of "fake news" that unduly influences public opinion.