A powerful earthquake hit the coast of northern Japan on Tuesday morning, prompting the Japan Meteorological Agency to issue a tsunami advisory, warning of waves up to 3 meters (10 feet) high. A 60cm (2ft) tsunami wave has already reached Fukushima's Onahama Port, according to public broadcaster NHK.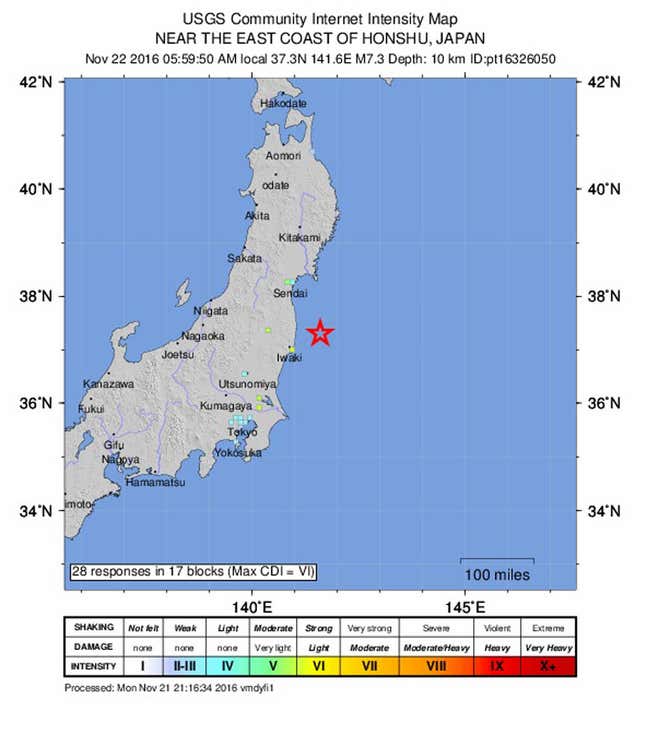 The earthquake struck at 6am local time off the coast of Fukushima. The U.S. Geological Survey initially recorded a magnitude of 7.3 for today's quake, but later downgraded it to 6.9.
In March 2011, a 9.1 magnitude earthquake and tsunami disaster in Fukushima killed thousands and destroyed a nuclear plant.  Earthquake magnitudes are measured on a logarithmic scale, so the 9.1 quake in 2011 released 1,995 times as much energy as today's 6.9 quake.
There are no reports of damage or injury reported as yet. Reuters reported that local television showed ships moving out from Fukushima harbors. Tokyo Electric Power Co is inspecting its nuclear plants in Fukushima, and Tohoku Electric Power Co said that its Obagawa nuclear plant had not suffered any damage.