The dating app Tinder brings two lonely hearts together based on their appearance. Alipay, China's most popular payments app, has taken things several steps further.
The wallet app, owned by Alibaba's financial spinoff Ant Financial, publicly launched a new social media service called "Circles" on Nov. 27. The "Circles" are social or interest groups that work like Instagram, with users sharing their photos or videos publicly with group members, with a big difference: In some of the most popular groups, only women can write posts and put up personal media.
All of Alipay's 400 million users can join "Circles" groups, which include one for college students, another for white collar workers, and a third for Chinese citizens living overseas. But as the "White Collar Diary" group shows, as a guy, I'm not allowed to post in it, no matter what my job is: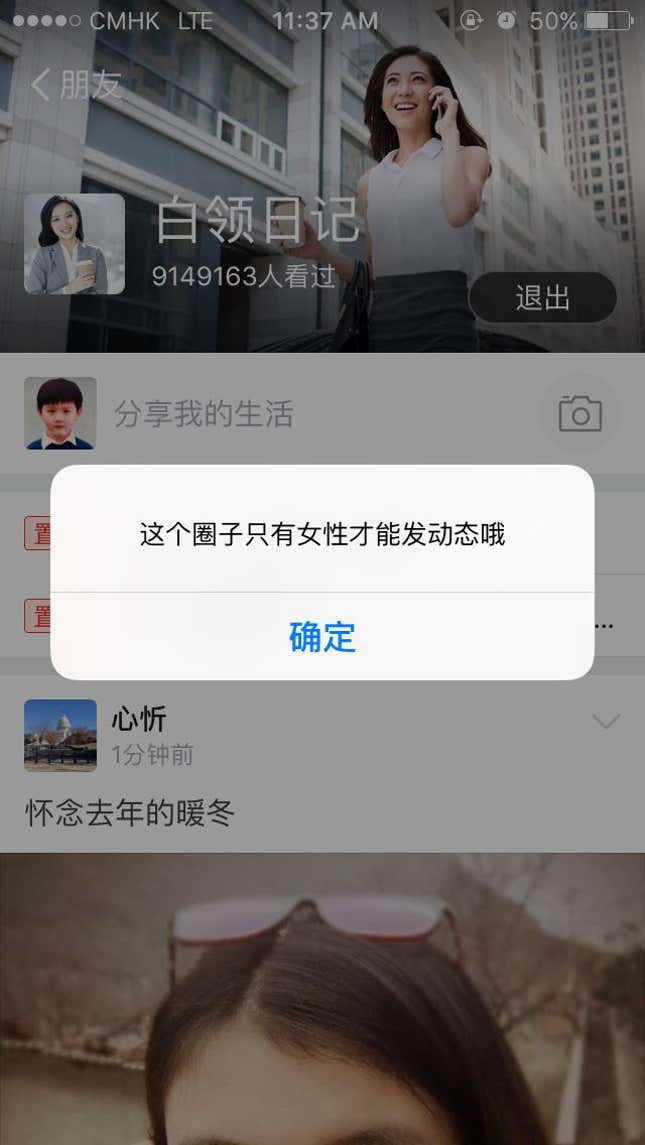 The college group "Campus Diary," which has been viewed by more than 14 million people within 24 hours of its launch, also allows only female users to post. Any users can "praise" or "tip" under their posts after joining the group, though. The "tip" function is basically a "like" button with cash attached. Users are sent to a transaction page to donate money—the default is less than 1 yuan (14 cents) but you can go as high as 200 yuan—to the author of the post.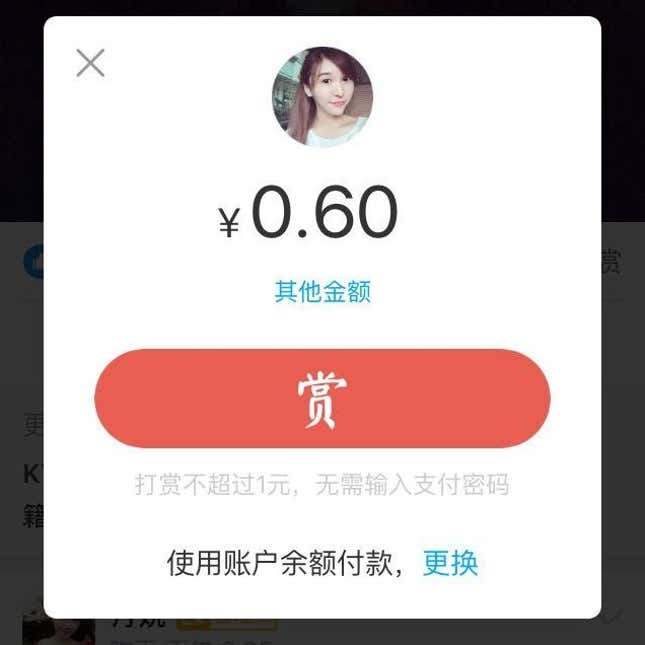 So what's drawing millions of Chinese users to Alipay's new service? The best answer seems to be sex. Photos of scantily clad women showing their cleavage—accompanied by text asking male users for tips, chats, or booty calls—flooded these groups within hours after its launch, Chinese tech media reported (link in Chinese).
Alipay said in a Nov. 28 statement on Weibo (link in Chinese, registration required) that the new service is still in the testing stage and vowed to crack down on "harmful" information. While some posts in "Circles" showed scantily clad women on Nov. 28, most are now safe for work, Quartz observed Nov. 29. Still, male commentators on the posts were definitely thinking about sex anyway, writing things like "Hook up?" underneath them.
Reaction to the new feature in China has been scathing. Alipay has turned into a brothel, Wang Sicong, internet celebrity and son of property tycoon Wang Jianlin, said on Weibo (link in Chinese, registration required). Wang also posted a picture captioned 支付鸨, or Zhifubao, a play on words using Alipay's Chinese name, which literally translates into "pay the pimp." The post has attracted more than 140,000 "likes."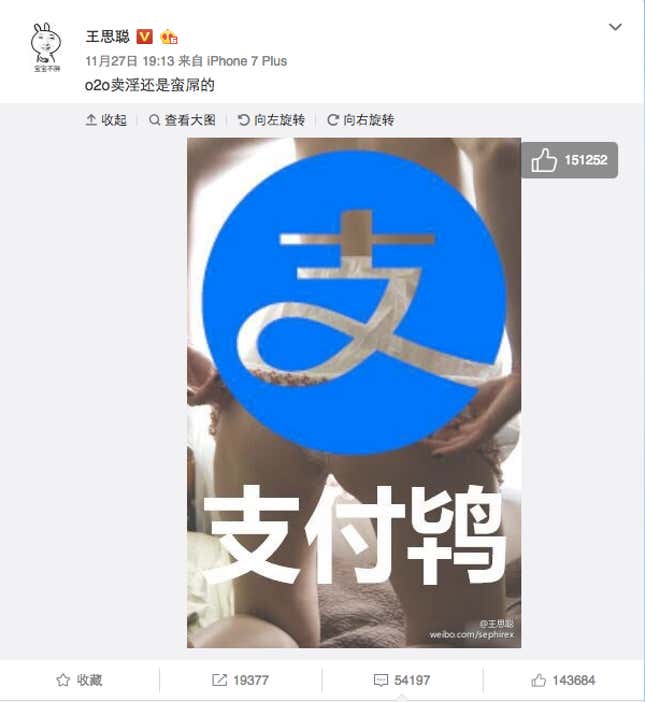 Wang's comments sound extreme, but there's some sense to them. Because all Alipay users are registered by their real name, there's no fake accounts soliciting tips or promising in-person meetings. Any total stranger can friend these female bloggers, and send private messages or transfer money directly to their Alipay accounts within seconds.
Ant Financial, which owns Alipay, told Quartz that over 100 social or interest groups covering areas from internet to reading to parenting are now being tested in the "Circles" service. These groups are run by Alipay's business partners and have their own rules regarding which users are authorized to posts or comments, a company spokesperson noted. On the evening of Nov. 28, Alipay introduced another 18 "Circles" groups, which don't have female-only rules, via its official account on messaging app WeChat.
The three controversial groups that only let women post also set a common threshold for commentators: Only those with "Sesame Credit scores" of 750 and above are allowed to write comments under the posts in the groups.
As Quartz reported previously, Sesame Credit is one of China's internet-based credit rating systems, which is licensed by the government, but run by Alipay. It is also essentially a loyalty program to online shopping giant Alibaba, because users' scores go up if they pay or transfer money via Alipay frequently.
The 750-score rule is also controversial, because it seems to limit commentators by income or spending power. On Nov. 27, "Alipay 750 scores" became a trending topic on Weibo, with many bloggers bragging about their high scores. On Nov. 28, the Ant Financial spokesperson said the company has since banned any group rules related to Sesame Credit in the "Circles" service.
On Nov. 29, Alipay made public on Weibo an internal company letter (link in Chinese) written by Ant Financial president Lucy Peng, who apologized for the "Circles" debacle.
"The past two days were the saddest moment since I came to Alipay seven years ago," Peng, also co-founder of Alibaba, wrote in the opening of the letter. She said those groups in "Circles" sent the wrong signal to users, and made her colleagues doubt the company's culture.
Peng vowed to shut down any "Circles" groups with suggestive messages and close user accounts for good once they post seductive images. The "White Collar Diary" and "Campus Diary" groups were no longer active on Nov. 29.
This post was updated with Alipay's latest response.