In the autumn of 2014, Emily Weiss, a 29-year-old New Yorker, published a post on her beloved beauty blog, Into the Gloss, announcing the launch of her new cosmetics line, Glossier.
"ZOMG!" wrote one commenter. "When are you shipping to Canada?!?!??!?!" Requests for the Netherlands, Brazil, Belgium, the UK, Australia, and Mexico soon followed, as did emphatic gratitude and emotional congratulations.
By the following year, Glossier had become a purveyor of soothing face mists and milky moisturizers with a cult following, and it reported revenues in "multiple millions."By July of 2016, the company had blown through annual sales projections for the year, and Weiss recently said she expects to see 600% sales growth before it ends. Glossier now has 55 employees in its growing Soho headquarters, and imminent plans to turn the space's penthouse into a store. The line has grown to include about 20 products, including Boy Brow and Haloscope, which regularly sell out and amass waiting lists in the thousands.
Yesterday (Nov. 30), Weiss published another post, this time announcing that the company had raised $24 million in Series B funding to support international growth, permanent retail space, product development across new categories, and technology.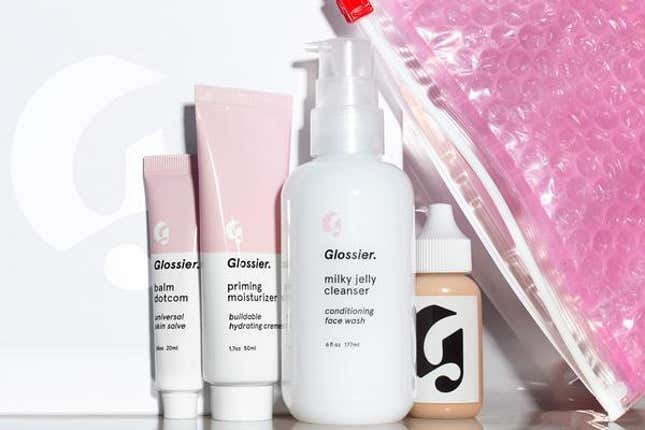 Weiss hasn't forgotten Glossier's roots as a blog, and it remains both a cosmetics company and a media brand—one with 337,000 followers on Instagram. Its intimate "Top Shelf" interviews on Into The Gloss reach about 1.5 million women monthly, offering girl-talk about the daily beauty routines of everyone from Selena Gomez to Arianna Huffington. ITG's chatty style has become distinctive enough to inspire a New Yorker parody chronicling the posthumous skin- and hair-care preferences of a long-dead Jim Morrison. ("I love, love, love a good face mask. My favorite thing is eating some peyote, cracking open 'Thus Spoke Zarathustra,' and putting on something super-hydrating.")
Weiss attributes her company's explosive growth and cultural clout to its hyper-engaged fanbase: an army of Glossier girls that follow the brand's every product announcement, Instagram post, Top Shelf interview, and event invitation, and echo the brand's message to their followers, on social media and in real life.
She estimates that Glossier owes 90% of its revenue to these fans. "It hasn't been through paid or built marketing spend," she said. "It's been mostly word-of-mouth."
In the age of online access and unending choice, customer engagement—that personal, emotional, loyalty-inspiring connection to a company—is increasingly important for a brand to rise above the fray. While legacy brands struggle to create this connection with millennials, Weiss seems to innately understand it.
"That power of the individual person—just the girl—is infinite," she said.
On a recent evening in the "Beyoncé" conference room of Glossier's Soho office, Weiss discussed how Glossier has harnessed that power, and how now—for the first time—the company is testing a representative program to start paying the most powerful of its Glossier girls.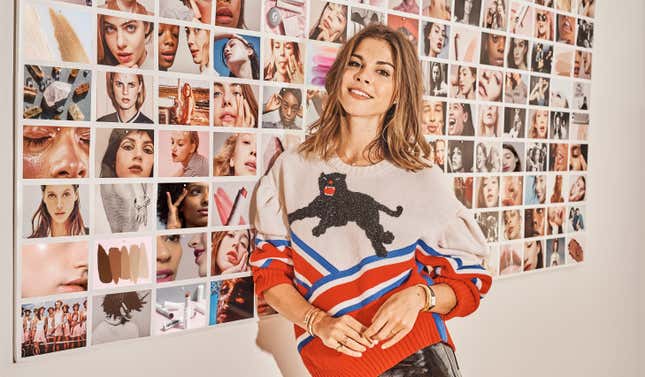 Every woman is an influencer
"What's very motivating to us is this idea of every single woman being an influencer," said Weiss, who talked fast and appeared pore-less after an overnight flight, her brown hair pulled back into a loop.
In the wider world of marketing, an influencer might be a Kardashian who charges thousands of dollars to broadcast a product to her millions of followers, or a fashion blogger who co-hosts an event with a brand.
At Glossier, the influencers are regular people—customers who engage with the brand on Instagram, Slack, and at pop-up events. And in the Glossier world, cosmetics are not just cosmetics: They're content. Weiss sees every product as an opportunity for engagement.
Take for example, the Mega Greens Galaxy Mask, a $22 pot of clay-based putty designed to detoxify one's pores. Soon after its release in 2015, a steady stream of selfies popped up on Instagram featuring women with their faces slathered in the stuff: opaque, creamy, and a little bit gritty. Some sipped wine or read books in the tub; others mugged in the mirror; and most carried the hashtag: #maskforce.
That intimacy of one's own bathroom combined with the girly, tongue-in-cheek humor was pure Glossier, reflecting the aesthetic of the brand's product and its editorial content.
"We're not going to make a commercial with wind-billowing satin, like a unicorn whispering luxury," said Weiss, referring to the tired tropes of cosmetics advertising.
Instead, as women posted their selfies, Glossier re-shared them to the brand's account with captions like "recent #maskforce inductee" and the 👽 emoji.
The social network: Into the Gloss
Of all Glossier's social platforms, the one that has most contributed to the brand's development is its editorial website, Into the Gloss. In 2010, before Glossier products were a glimmer in Weiss's eye, she launched Into the Gloss while working as a stylist's assistant at Vogue. (She had achieved brief reality-show fame when she appeared as a "super intern" from NYU on The Hills in 2007.) She filled the site with how-to's, product reviews, and, most importantly, interviews. The interviews featured admirable women—designers, models, artists, and fashion editors among them—dishing to Weiss about the details of their beauty routines, in their own bathrooms and in their own words.
By the time Weiss launched Glossier's first product collection in 2014, she already had an extensive archive and engaged audience—one might even call them a focus group—at her fingertips, thanks to Into the Gloss's community of subjects, readers, and commenters. (The name Glossier refers to the "dossier" of research amassed at Into the Gloss.)
Today, the editorial arm of Into the Gloss employs just three of the company's 55 full-time employees, and Glossier continues to cultivate its community across a variety of platforms.
Glossier's social team regularly re-shares photos from its Instagram followers, and replies to comments on the platform. Around 150 of the brand's most active consumers chat online using Glossier-provided, city-specific Slack channels. There, they plan events and serve as an immediately accessible focus group for quick feedback on topics ranging from online features to product development.
Weiss said she is constantly asked how she makes her customers "feel involved," and the answer is simple: "Involve her. Don't just make her feel involved," she said. "Reward her if she's involved. Get her involved and say thank you. Use that information, that feedback loop."
Long before Glossier launches a new product, Into the Gloss will publish an "open thread," soliciting advice on what its readers want. (Sample questions: "Which two creams could have a baby and produce your ideal moisturizer? What's the best song reference? Please say something by Boyz II Men…") When it has to compromise on those wishes—say, in the case of an unavoidable, less-than-desirable packaging choice—it will do so publicly:
"There's no real way to house the sumptuous texture we wanted in anything other than a jar," read a recent post about a forthcoming moisturizer, acknowledging many readers had requested a tube.
Glossier's new rep program: Mary Kay for the new millennium
Glossier includes its most engaged commenters and customers—many with their own personal beauty blogs—in special events, and referral programs with promotional codes to share discounts with their followers in exchange for store credit at Glossier. Now, the company is trying out a more formal arrangement, anointing eleven women as the company's formal representatives, with landing pages on Glossier's website. Each representative's Glossier page has a video introduction, and her top product picks.
"It's basically the referral program on steroids," Weiss said, emphasizing that the program is still in an early testing phase. "It comes back to making everyone an influencer…and so we're building a platform that enables that."
It's the first time Glossier is offering monetary compensation, in the form of a sales commission, to its most engaged customers. But Weiss isn't sure that money is the most meaningful reward.
"I would argue that there are things more important than money," she said. "It's about the ability to have a voice and the ability to be a thought-leader."
This distinguishes Glossier's approach from that of typical incentive-based programs such as Sephora's Beauty Insider, which keep shoppers coming back for those free gifts, but do little to expand the customer base.
Glossier's vice president of growth, Ali Weiss (no relation to Emily), said the goal is to help each representative create the engaging sort of content that has brought Glossier success, and help them grow their followings. Unlike the multilevel marketing schemes of Mary Kay or Avon (which have been called pyramid schemes), she said Glossier's rep program is not based on enlisting salespeople or racking up commissions.
The program is more about exchanging social capital than money, Ali Weiss said, adding that the Glossier girls do derive real value from their association with the brand, and vice versa. "They're rewarded by association with the brand, in sort of this intangible social currency," she said. "Follower count means so much to so many people in this world, and that's a huge part of what we think we're giving them."
And there are more tangible benefits on the horizon, too, Emily Weiss said. For instance, she would love to host the most valuable Glossier girls at a "Glossier Coachella," not unlike the "Camp Glossier" staff retreat the company held last summer.
Just imagine the Instagrams.