Chinese fans really went the extra mile for a teenage pop star's birthday.
Over the past few days, fans of Jackson Yi, a member of boy band TFBOYS, celebrated his 16th birthday. His fans in China declared their love in some of the following ways: partying on a cruise in Shanghai, buying a video ad in Times Square, and flying a hot air balloon over the River Thames and another cake-shaped one in New York.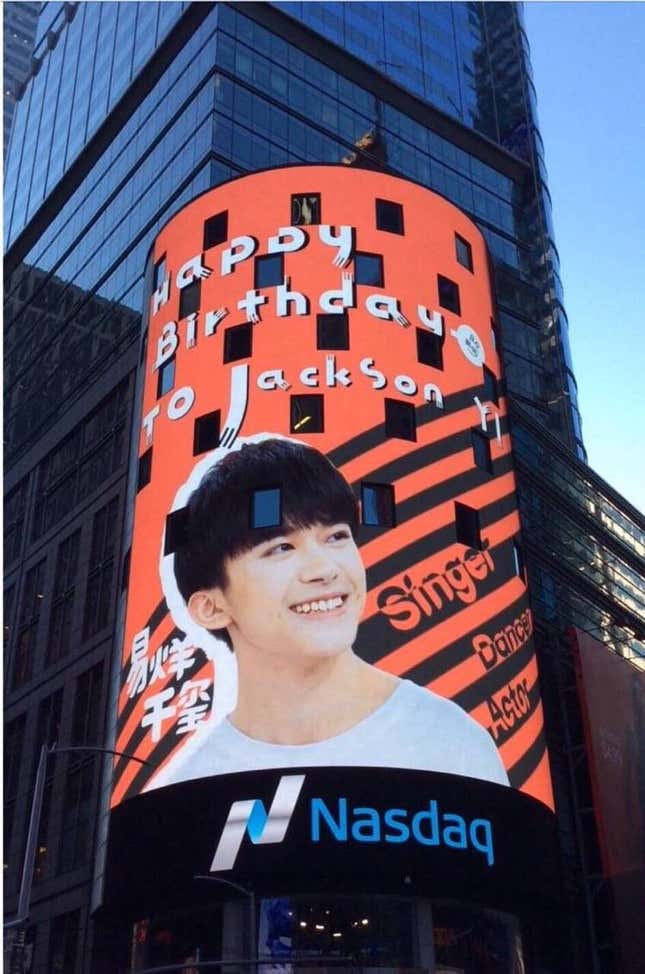 The most expensive gift is reportedly (link in Chinese) lifetime rights for Yi to stay in a country manor in the UK, complete with a rose garden.
"Today I'm so happy, hope you guys feel the same," Yi wrote on Nov. 28 to his 18 million followers on China's Twitter-esque Weibo site (link in Chinese, registration required), after wrapping up a birthday party with fans in the central Chinese city of Changsha. The post garnered more than 400,000 likes in 24 hours.
TFBOYS, or The Fighting Boys, debuted in 2013, and consists of Yi, 16 year-old Roy Wang, and 17 year-old Karry Wang. After performing at China's annual Lunar New Year television gala this year, the three teenagers are now household names in China.
Ahead of Nov. 28, fans also bought billboard ads for Yi at bus and train stations across the world in cities including Hong Kong, Taipei, Tokyo, and London, Chinese media reported (link in Chinese).
Fans taking out ads to celebrate their idols' birthdays or new album releases is commonplace in South Korea. In China, many of TFBOYS' fans are recent college graduates, who even compete among each other to see who can spend more on their idols, reported Chinese magazine Vista Story (link in Chinese). On Karry Wang's 17th birthday in September, his fans even bought a half-page ad in Iceland's leading newspaper Morgunblaðið, because Wang had mentioned that he wants to travel to the country. An advertising staffer with the newspaper told the Chinese magazine that they had never had such clients before, and said that the act was "just like performance art."