Cash is no longer king. It's expensive to produce and manage. It facilitates crime. And it enables tax evasion. By some estimates, cash can cost a country as much as 1.5% of GDP.
As digital payment technologies continue to improve, more and more economies are adopting a post-cash mindset. The central bank in Singapore, a state that leads the world in consumer digital payment adoption, advocates for a future as an "electronic payments society." In Sweden, many banks no longer bother keeping paper notes on hand; cash accounted for a paltry 20% of in-store transactions last year.
Emerging markets are joining the party too. India's prime minister is championing a cashless future with a ban on large notes. And in South Africa, a highly cash-oriented market, a race is underway to build the mobile payment infrastructure for tomorrow.
One of the leading contenders in South Africa is Masterpass, a global digital payment service from Mastercard. Masterpass is built to deliver safe, simple, and secure digital payments everywhere.
South Africa's unique mix of highly affluent customers and low wage workers presents unique challenges for companies like Mastercard: In order to reach a tipping point for user adoption, digital payment providers must be inclusive and serve all ends of the market.
"You can't really develop adoption and critical mass, unless you take everyone with you," says Mastercard South Africa division president Mark Elliott. "We've found in emerging markets that building acceptance and distribution among all kinds of merchants is key, from flea markets to coffee shops."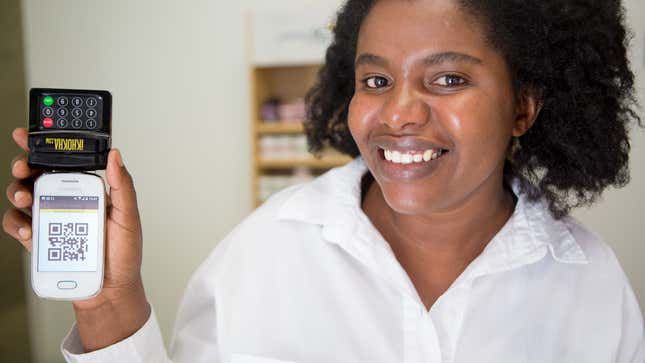 This inclusive approach extends to Mastercard's embrace of would-be competitors. They've championed interoperability within the digital ecosystem, and brought the industry together into one room with their Digital Indaba payments technology conference in Cape Town.
South African payment startup SnapScan, which has a network of more than 30,000 merchants across the country, has just integrated Masterpass acceptance throughout its system. Wider cooperation helps make the case to consumers to ditch cash, according to SnapScan's head of sales Rupert Sully. "Changing behavior in a market is an incredibly expensive proposition," explains Sully. "It requires finding usage cases with genuine value add."
Some of the specific use cases that are already finding traction in South Africa include topping up mobile phone data, and bypassing painfully long in-person queues to pay monthly utility bills. By building Masterpass directly into bank and partner apps, it can be adapted to unexpected and novel uses.
Thankfully the boom in mobile is already helping to change consumer behavior. And as mobile penetration continues to grow (two billion new devices will ship this year alone), millions more will gain access to digital payments on their phones.
This change can already be seen in action in South Africa's small townships, where entrepreneurs are using Masterpass smartphone payments to serve their local communities. And even when smartphones are out of range of high speed mobile networks, the backend of the payment app can employ more commonly available SMS technology to seamlessly complete transactions.
See how Masterpass can change the
game for a South African small business.
Speaking at the Mastercard Digital Indaba, top South African venture capitalist Michael Jordaan tied the evolution of payment to the broad global shift from scarcity to an abundance economy.
"Technology is a resource liberating force," remarked Jordaan. "The bank branch of the future is the smart phone in your hands." That same phone will be the future of our wallets too, as next-generation payment technologies like Masterpass help bring the era of cash to a close.
This article was produced on behalf of Mastercard by Quartz creative services and not by the Quartz editorial staff.