A man in the southern Chinese city of Shenzhen has raised nearly $400,000 for his daughter, who is suffering from leukemia, via WeChat, China's most popular messaging app. He is now under investigation by local authorities, because the amount far exceeds the cost of her treatment in China.
On Nov. 25, writer Luo Er published an article about his five-year-old daughter's sickness. The article, titled "Luo Yixiao, stay standing for me," is mostly written as a father's monologue (link in Chinese). "If you don't come home obediently, even if you are an angel, even if you get to heaven, and someday I see you in heaven, dad will ignore you!" the article says in an apparent attempt to chide her not to die.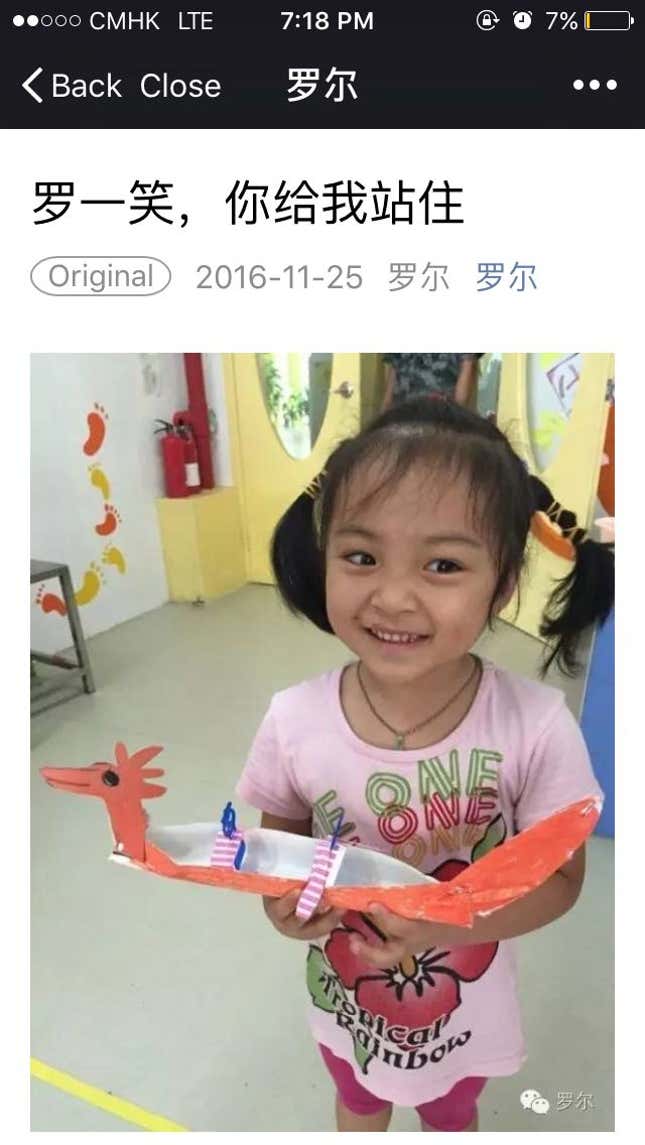 The article went viral on WeChat this week, attracting over 100,000 views as well as likes—the biggest number the app displays. More than 110,000 people rewarded Luo on the post through WeChat's tipping function, which allows users to give complete strangers money from their online wallets. On Dec. 1, clicking the tip button under Luo's post sends users to a page saying that the author has reached the limit of the amount of money he can receive.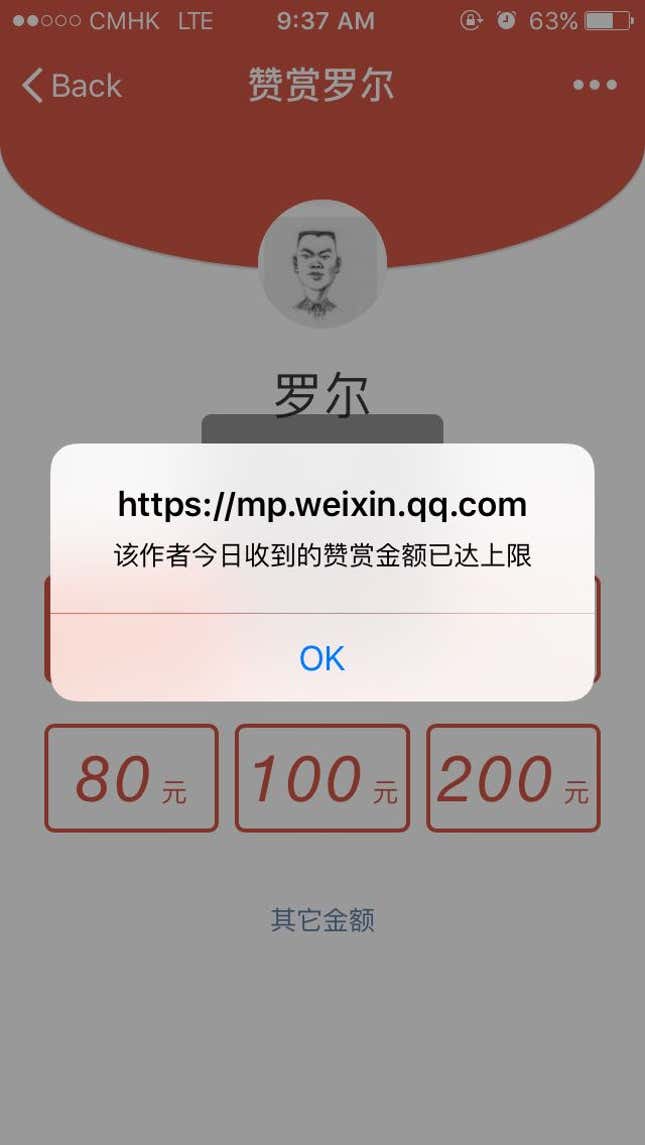 The huge amount of money raised by Luo is attracting some controversy. On Nov. 30, Luo announced (link in Chinese) through his friend's peer-to-peer lending company that he had raised 2.7 million yuan ($390,000) from WeChat users. He raised the money via two articles, the one posted by Luo and another posted by the company, Beijing-based Xiaotongren. Luo's personal post doesn't ask for money, but the one on Xiaotongren promises to donate money to Luo if users share its article.
Some internet users now say they think the campaign may be a marketing exercise or even a downright fraud. "If it was me, I'll never use this incident to push my kid in front of the public," one internet user wrote on China's Twitter-esque Weibo site (link in Chinese). Another said (link in Chinese), "I'll save my kindness for others who truly need it and don't write articles for marketing."
The Shenzhen hospital treating Luo's daughter confirmed on Nov. 30 (link in Chinese) that the five-year-old leukemia patient is now receiving the highest level of medical care, but said the cost of the treatment so far totals 200,000 yuan, with more than 82% of those expenses covered by government health insurance.
That means that Luo raised 75 times his spending on his daughter's treatment via WeChat. On Nov. 30, Shenzhen's civil affairs authority said it has launched an investigation (link in Chinese) into the case, without providing a reason.
Luo's family lives on his 4,000 yuan monthly salary from his magazine job, he told Chinese media (link in Chinese). He also owns three apartments worth more than one million yuan. But Luo said he cannot sell them to raise money for his daughter's treatment yet because he's still paying off the mortgages.
"My daughter is now struggling to live, and no one cares about whether my daughter is guaranteed [treatment], everyone only wonders if I'm a liar… why don't they have any sympathy?… I'm so desperate," Luo said amid tears (link in Chinese) on Nov. 30.
WeChat said in a statement (link in Chinese) that the biggest amount of tips a user can receive under one post is supposed to be 50,000 yuan, but the app malfunctioned when too many users tipped Luo after midnight on Nov. 30. Any amount of money beyond the 50,000 yuan limit is frozen for now.
Liu Xiafeng, head of the P2P company that helped Luo raise money, dismissed the idea (link in Chinese) that the campaign was a marketing strategy. On Dec. 1, Liu and Luo said in a statement (link in Chinese) that they will use all the donation to launch a leukemia foundation, and later apply money for Luo's daughter's treatment from the foundation "through legal means."
Still, China's netizens aren't convinced. "Only kids are innocent, only kids," one internet user commented under a WeChat post (link in Chinese) about the incident.
On the afternoon of Dec. 1, WeChat announced (link in Chinese) that it will return all the money raised to donors in three days, after reaching a consensus with Luo, Liu and the Shenzhen civil affairs authority.
This article was updated with the latest response from WeChat.