On Dec. 4, thousands of demonstrators gathered at a stadium to protest against the mistreatment of Myanmar's Rohingya, a minority Muslim group in the nation's western state of Rakhine.
The demonstration was held not in Myanmar itself, but in Malaysia's capital of Kuala Lumpur, led by Malaysian prime minister Najib Razak. "UN please do something. The world cannot sit by and watch genocide taking place," Najib told the crowd, which included Rohingya refugees.
It's unusual for ASEAN leaders to berate each other so openly, but the rally—and the rhetoric—points to the mounting international pressure on democracy icon Aung San Suu Kyi to take a tougher stance on the Rohingya crisis.
The situation for the much-maligned Muslim ethnic group in Myanmar's far west has worsened dramatically in recent months. Human rights groups say that thousands of Rohingya homes have been razed and women have been raped by the Myanmar military. The Myanmar government has denied that human rights violations have taken place in Rakhine. Thousands of Rohingya have already fled into neighboring Bangladesh since violence flared in October this year.
The Rohingya (pdf), who number some 800,000, are denied Myanmar citizenship and have had tense relations with the local Rakhine ethnic group for decades. Since violence erupted against them in 2012, tens of thousands have been displaced.
In an opinion piece published last week (paywall) in the Wall Street Journal, co-author José Ramos-Horta, former Timor-Leste president, Nobel laureate, and special UN envoy, said that the current situation in Rakhine carries "the hallmarks of past tragedies: Bosnia, Darfur, Kosovo, Rwanda."
Last week, a commission led by former UN secretary-general Kofi Annan arrived in Rakhine state to investigate violence committed against the Rohingya minority. Formed at the behest of the Myanmar government in August, the nine-member State Advisory Commission has been tasked with studying the Rohingya crisis and finding a "sustainable solution to the complicated issues in Rakhine State." It is due to submit a report on the situation, and offer its suggestions, within a year.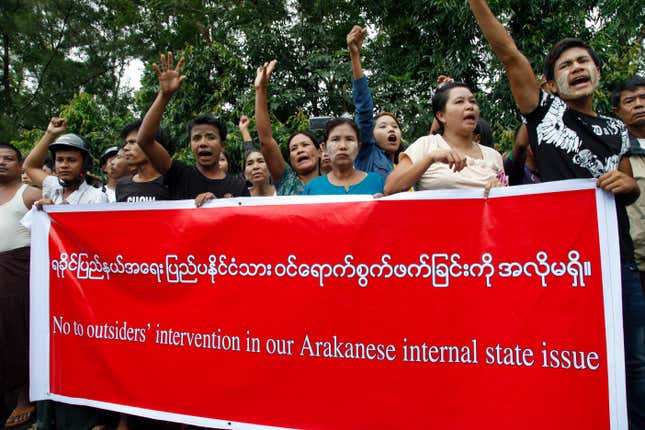 Suu Kyi, whose party in November 2015 won the first democratic elections in Myanmar since the military power ceded power to a civilian-led government, is the de facto leader of the country. Feted by the West for her decades-long resistance against Myanmar's junta—which saw The Lady placed under house arrest away from her British family for 15 years—her apparent lack of concern for the Rohingya's plight is drawing intense criticism.
Suu Kyi this week appointed a commission to investigate the claims of human rights abuses in Rakhine. The team is being led by Myint Swe, a key military figure who was instrumental in the 2007 crackdown on an uprising by Buddhist monks.
Suu Kyi's defense has been that it isn't just the Rohingya, but also the Buddhist Rakhine ethnic group who are victims of the unrest—a line that plays well to many in Myanmar as virulent anti-Muslim sentiment engulfs the Buddhist majority.
"I would appreciate it so much if the international community would help us to maintain peace and stability and to make progress in building better relations between the two communities instead of always drumming up calls for, well, for bigger fires of resentment, if you like," she told Channel News Asia during a visit to Singapore last week.
The irony is palpable, given Suu Kyi depended on the same international community to keep Myanmar's democratic movement alive during her years under house arrest.
Myanmar authorities have restricted access to international media, as well as the United Nations and international aid agencies, into Rakhine state, a decision that Suu Kyi also defended.
"We can't guarantee security everywhere, and we have to make sure that whatever we allow to happen officially guarantees absolute security, she told Channel News Asia on Dec. 2.
With most international observers shut out, the Tatmadaw (Myanmar's army) and other security forces have reportedly targeted Rohingya settlements in the restive region. Using satellite imagery, Human Rights Watch estimated that some 820 structures were destroyed across five Rohingya villages between Nov. 10 and Nov. 18.
Suu Kyi doesn't have a free hand in the matter. The 71-year-old is balancing the demands of the security-obsessed generals in the Tatmadaw; a Buddhist-majority electorate, many with a deep distrust of the Muslim Rohingya; and an international community that hopes Myanmar will adhere to most tenets of liberal Western democracy.
The larger problem, however, is that Suu Kyi doesn't seem to have a proper plan to resolve the long-running conflict. Her decision to appoint committees may well be a ploy to buy time, longtime Myanmar watcher and former BBC journalist Larry Jagan told Quartz last month.
"She understands the complexity of this matter—and the broader need for reconciliation in Rakhine state. At this point, provided there is no dramatic threat to peace and stability, moving slowly and carefully is probably the best strategy. While putting the issue in the hands of the Kofi Annan commission appears in part a delaying tactic, she hopes that a fresh outside view might help come up with a concrete strategy to at least improve communal relations in Rakhine."
But the recent violence in the region, which kicked off after insurgents attacked security forces in early October along Myanmar's border with Bangladesh, has complicated matters. It has also reduced the elbow room that Suu Kyi and the Annan-led committee initially had as they attempted to resolve the situation.
At the same time, pressure is building from nearby Muslim-majority countries to resolve the situation. Large-scale protests have taken place in Indonesia, in addition to the ones in Malaysia.
But Suu Kyi seems to be doubling down on her hardline position.
Suu Kyi is due to meet with the Annan commission this week.