Facebook has caught flak lately for driving traffic to websites that publish fake or hyperpartisan news. To tackle the false information epidemic, the company has banned fake news publishers from its ad network and is working to integrate a slew of new initiatives, including using machine learning and working with fact-checking organizations, to tackle the problem.
In the meantime, users can start doing their part to curb the distribution of false information. Here's how to report a fake news link when you see one:
1. Reporting a post is a three-step process on Facebook: First, click on the drop-down menu on the top right corner of the post you want to flag and choose "Report post."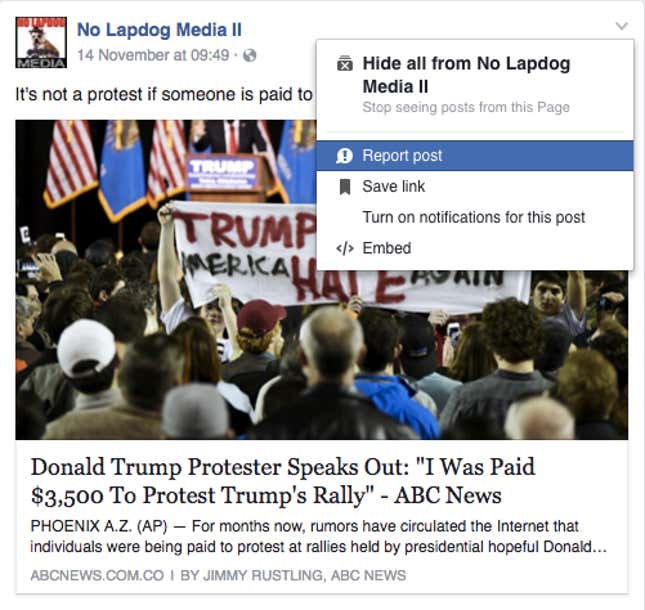 2. A second menu will pop up with options for you to describe what's going on. Select "I think it shouldn't be on Facebook" and click the "continue" button.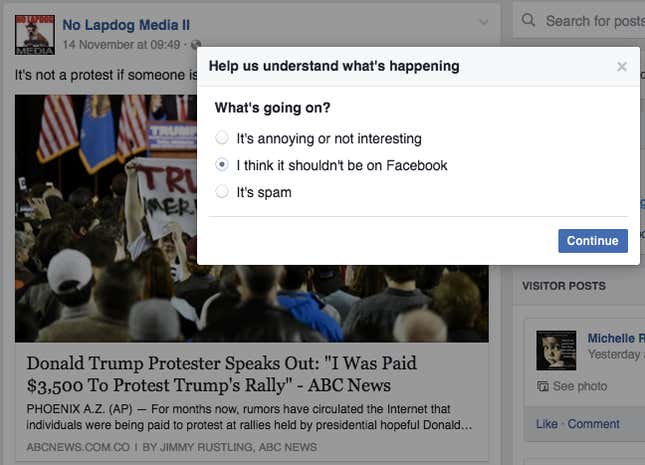 3. Lastly, Facebook will ask you "What's wrong with this post?" and you can flag a range of issues, including pornography, racism, buying and selling of drugs and guns, and so on. There, you can pick "It's a false news story." Click "continue."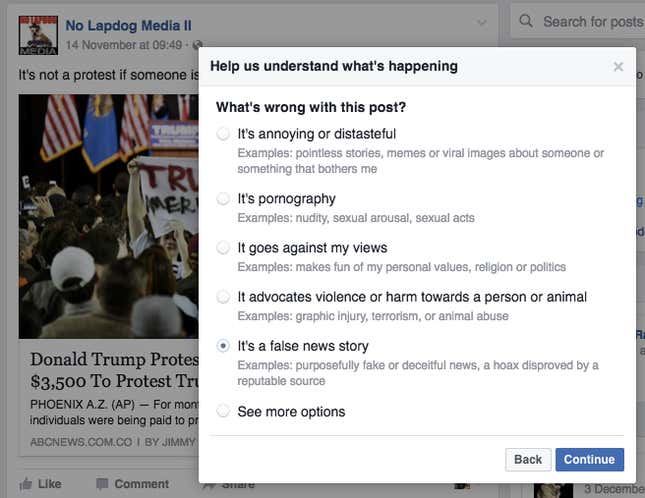 Facebook also gives users the option to either hide all content from the person or the page that posted the false link or block them altogether. Facebook did not respond to Quartz's request for comment on whether doing so would have any impact on the outlet's ability to reach other Facebook users.
When many people flag a post as false, its circulation on the site will eventually decline, the company said in a blog post introducing the ability to report false stories in January 2015. "Posts that receive lots of reports will be annotated with a message warning people that many others on Facebook have reported it," it explained, but it did not elaborate on how many people must report a post for it to be flagged, or to what extent the prevalence of a post is altered by these reports.
Of course, for Facebook users to participate in the process of flagging and helping eliminate fake news, we need to educate ourselves about how to spot news that's fake or hyperpartisan. Facebook describes a false news story as "purposefully fake or deceitful news," or a "hoax disproved by a reliable source."
Media literacy is key. A group of Stanford University studies have found that school children are weak when it comes to discerning real news from fake news or advertising. And the spread of fake news being re-shared across the internet (and even, horrifyingly, acted upon) indicates adults aren't much better at it.
Universities now offer media literacy courses, but for the rest of us, here are some tips to get started on your own:
Check the source—is it a legitimate and established news organization that you have heard of? This public Google Doc, created by an associate professor of communication and media at Merrimack College, Massachusetts, lists a growing collection of news sites as false, misleading, clickbait-y, or satirical. It's a good starting point, but of course there are plenty of others out there too.
Does the article make sense, or do the claims in it seem outlandish? If they strain credibility, make extra sure to research them elsewhere. Does it draw from credible sources and include the voices of people with real authority or expertise? Are other media backing up the claims being made?
Of course, if you have any doubt about an article's veracity, do not share it. Once you've established that it's problematic, report it, and encourage others to do the same.