On Sunday (Dec. 4) night, president-elect Donald J. Trump took to Twitter to accuse China of devaluing its currency—even though it has been doing exactly the opposite of what he claims. In less than 24 hours, the Chinese yuan plummeted about 10% against the dollar—at least according to Google Finance and popular currency portal XE.com.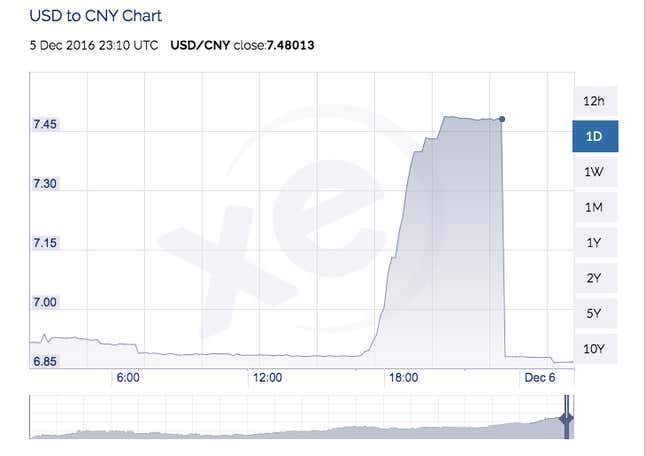 On Monday (Dec. 5) afternoon, the USD/CNY exchange rate was quoted at 7.48 on XE.com for a few hours, but then recovered to 6.88 at around 6pm EST time, a normal level that was reported by other major financial data providers during that period. But the exchange rate on Google stayed at the same level on Monday evening.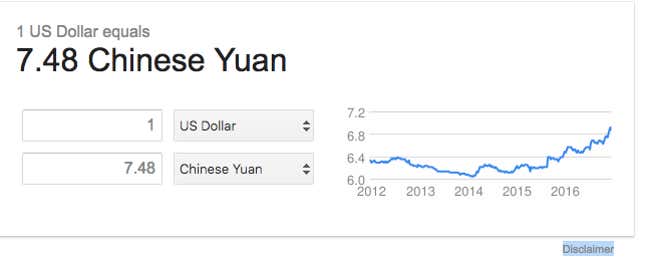 At 7.48, the Chinese currency would be at its weakest level since the 2008 financial crisis, and Trump's theory about Beijing artificially making its goods cheaper to boost exports could be true. But it's not.
The discrepancy was most likely caused by London-based broker ICAP, which was quoting a price for the yuan that was out of line with quotes by other brokers. And as one Twitter user noted, the CNY rate quoted by ICAP was also wildly out of line with the freely-traded offshore yuan, known as CNH, which usually trades within close range of the onshore CNY rate:
Google Finance and XE.com may have used the erroneous data provided by ICAP. If so, it would not be the first time the two messed up its rates. In December, the two sites overvalued the Bahraini currency against the dollar by at least 40%, spreading panic in the little Persian Gulf nation.
A spokesperson for ICAP told Quartz that the broker erroneously quoted the USD/CNY exchange rate due to "the inaccuracy of a third party feed," but has later corrected the price.
Google and XE.com didn't immediately reply to Quartz's inquiry.
This post was updated with ICAP's response.