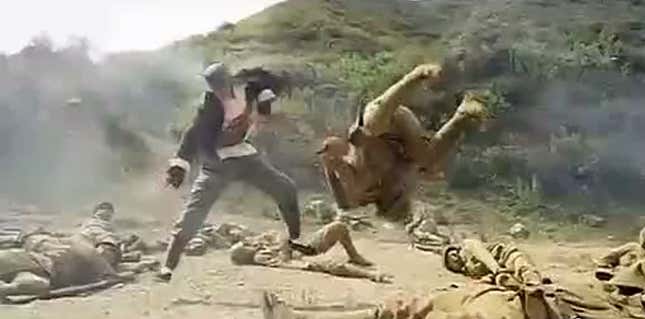 World War II would have ended much faster if Japanese soldiers actually died like Shi Zhongpeng, an extra at the Hengdian film studios in Zhejiang who met his end in spectacular style over 200 times last year for Chinese TV. Sadly for Mr Shi, not everybody finds his deaths entertaining.
With modern-day tensions with Japan running high, Chinese audiences have a seemingly bottomless appetite for war—specifically the Sino-Japanese War of 1937-1945, which provided the subject matter for 70 of the 200 primetime dramas on major TV networks last year. Especially popular are the dramas that resemble B-movie gorefests, featuring Chinese heroes killing an entire company of Japanese soldiers, three arrows at a time, or a lone Chinese soldier ripping a Japanese soldier in two with just his bare hands.
Now China's television regulator is cracking down on studios after a wave of derision on social networking sites like Weibo, claiming that the war should be treated more seriously.
"The anti-Japan war is a great act of heroism performed by the Chinese people against the invaders, and is a valuable resource for film and television creativity," said Wang Weiping, a watchdog official. "Recently some of this creativity has shown a lack of seriousness, creating lots of nonsense, not respecting history and being overly entertaining which has had a bad effect on society which must be corrected," he said.