Every year, many Americans go to great lengths to get into the Christmas spirit. They carry trees into their homes, climb up onto various objects to hang strings of lights, and spend hours carefully wrapping gifts.
But sometimes the Christmas spirit backfires. A man is poked in the eye by a rogue pine needle. A woman hanging decorations falls off of her desk and onto her face. Another woman slices her finger with scissors while wrapping gifts.
Those aren't hypotheticals; they're real injuries documented by the US Consumer Product Safety Commission (CPSC). The CPSC tracks emergency room visits at about 100 hospitals each year, and between 2011 and 2015 documented more than 1,700 Christmas-related injuries.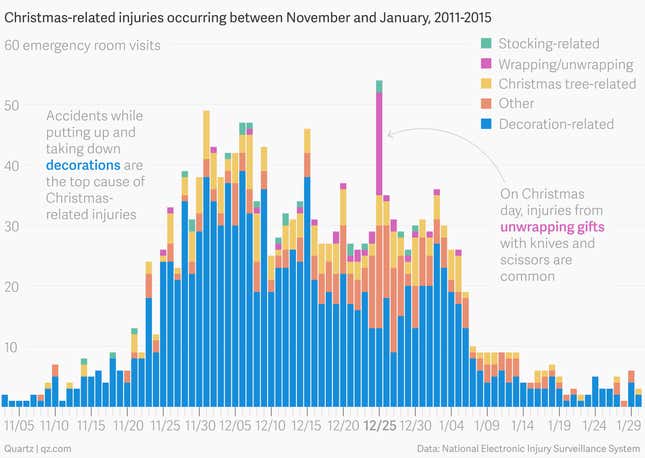 All but 500 of the 1,700 injuries we found in the CPSC data were related to decorations. Some were injuries sustained while hanging up or taking down decorations; others were lacerations caused by broken ornamental bulbs.
The CPSC dataset includes brief, anonymous descriptions of each hospital visit. Here are the actual notes for some of the decoration-related mishaps, lightly edited for clarity:
33-YEAR-OLD MALE STANDING ON A STOOL HANGING CHRISTMAS LIGHT WHEN FELL BACKWARDS STRIKING HEAD ONTO A TV STAND

43-YEAR-OLD FEMALE ELECTRIC SHOCK-GRABBED A METAL POLE WHILE REMOVING CHRISTMAS LIGHTS AT HOME

27-YEAR-OLD FEMALE CHRISTMAS ORNAMENT BROKE AT HOME SHE THOUGHT IT WAS ALL CLEANED UP WHEN SHE STEPPED ON A PIECE OF IT
The schlepping and maintenance of Christmas trees also accounted for a high number of injuries:
28-YEAR-OLD MALE WAS TRIMMING THE CHRISTMAS TREE WITH CHAINSAW AND SLIPPED CUTTING WRIST

30-YEAR-OLD MALE WAS TRIMMING HIS CHRISTMAS TREE AT HOME WITH POCKET RAZOR KNIFE FROM WORK WHEN RAZOR SLIPPED WHEN CUTTING BRANCH

44-YEAR-OLD FEMALE WAS TRYING TO THROW OUT A CHRISTMAS TREE, WAS UNABLE TO GET THE TREE INTO THE BIN, IT CAUSED HER TO FALL
Some patients had also made the mistake of using sharp objects to open their gifts on Christmas day:
19-YEAR-OLD MALE LACERATED THUMB WITH KNIFE WHILE OPENING A CHRISTMAS PRESENT
Adults hardly have a monopoly on Christmas injuries. A disproportionate number of patients were young children, most of whom had swallowed small ornaments. Some kids also had run-ins with stockings, or heavy metal stocking holders.
But otherwise most injuries fell within the parental age group of 25 to 55. At least some of those patients were hurt while just spreading good cheer:
43-YEAR-OLD FEMALE STATES SHE WAS DANCING CHRISTMAS MORNING AND TWISTED HER LEFT ANKLE

28-YEAR-OLD MALE WAS FINISHING UP A CHRISTMAS PROJECT AND INJURED FINGER USING A NAIL GUN

47-YEAR-OLD FEMALE HAS LOWER ARM PAIN AFTER RINGING BELLS FOR CHRISTMAS
Overall—whether by chainsaw, knife, or broken bulb—the most common Christmas-related injuries were lacerations, followed by strains and sprains:
If there's any lesson to be learned here, it's that Christmas is terribly dangerous, but its risks can be mitigated. Hang your lights lower. Buy a tree that actually fits in the front door. Keep small ornaments out of reach of small children. Keep scissors out of unwrapping. And when you're doing your Christmas-morning dance, watch out for rolled ankles.