On average, women get paid 18% less than men in the UK. That may still sound like a lot but it's the lowest since records began in 1997. Back then, the pay gap was 27.5%, according to the Office for National Statistics (ONS). Even as broad advances have been made to close the gap, across different occupations the difference changes widely. For example, women who are construction and building trades supervisors get paid 45% less than men.
The ONS has created a nifty interactive of chart of the wage gap in hundreds of occupations that allows you to search for your job—or any job sector—and compare full- and part-time workers. The data comes from the UK agency's annual survey of hours and earnings, which uses tax records and strips out the pay of the very highest earners and overtime pay to give a better gauge of typical earnings. The gender pay gap is calculated as the difference between average hourly earnings of men and women, as a proportion of average hourly earnings of men's earnings.
Here's a snapshot.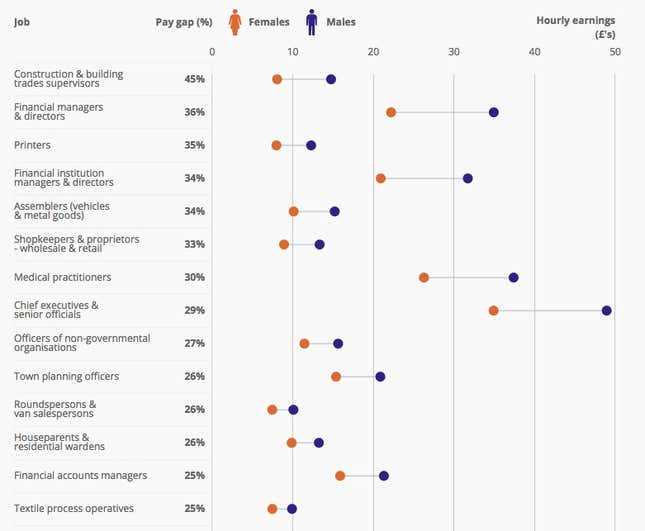 Globally, it could take 170 years to close the pay gap, according to the World Economic Forum. In the UK, the ONS says some of the reasons for the disparity include that more women are working in lower-paid job sectors and in general, are under-represented in senior roles. Also more women tend to work part-time—41% compared to 12% of men— which usually means a lower rate of pay.
There are some jobs where women get paid more than men—legal secretaries, counselors, and fitness instructors among them. For part-time employment only the pay gap is -6%, showing that women get paid more, though this does little to close the overall gap as the pay tends to be less.