If you've recently bought one of Apple's newest laptops, the MacBook or the MacBook Pro, you might be a little concerned by its lack of ports. The new models only have a few USB-C ports, meaning all of the accessories, SD cards, external hard drives and monitors you've accrued over the years won't work with your new laptop without a series of adapters, or a USB hub or two.
Instead of dealing with this dongle nightmare and relegating your old laptop to an eternity in a drawer, why not put it to some use? You can keep your new machine lean for working on the go, and leave your old laptop at home, along with all the accessories you don't use that often, but still need. Here are a few simple steps to revive your old Mac, turning it into a port-filled desktop:
Get a nice monitor. I picked up this 23-inch HP monitor for about $130 on Amazon that looks rather complimentary to the style of Apple's laptops over the last few years. It shipped with an HDMI cable bundled-in, but make sure to pick one up if the monitor you want doesn't. If you're after a larger screen, Wirecutter recommends the 27-inch Dell UltraSharp U2715H monitor for $420.
Buy a stand. Free up the space on your desk by mounting your old laptop in a vertical stand, which you can stash behind your new monitor. Apple has the Twelve South BookArc stand for $50 on its website, but I picked up the UPPERCASE Kradl for $40 on Amazon, or you could try make your own for a few dollars if you're feeling crafty.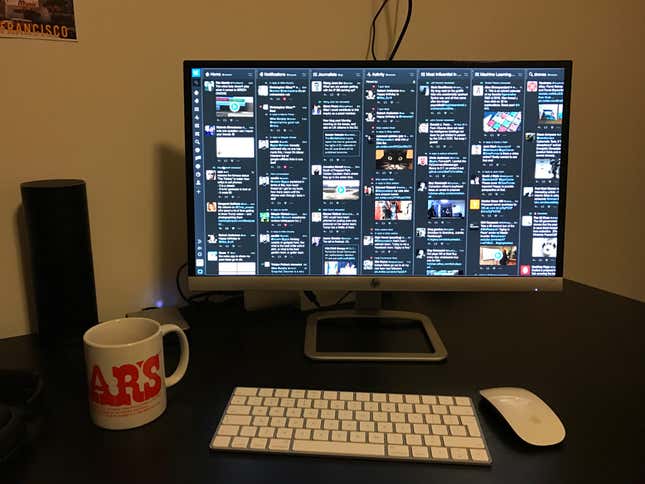 Clean out your Mac. A lot of digital junk can build up over the years. Apple's latest operating system, macOS Sierra, has a function called Optimized Storage that allows the system to better keep track of large files and folders that you don't check that often or don't have much use for. You can access it by heading to  > About This Mac > Storage. Click on the "Manage" button and you'll find a series of suggestions and options to manage the files on your computer. You'll likely find there's a lot of junk that you don't need. My four-year-old Mac had nearly 70 GB of downloads, cached images, programs, and emails from accounts I no longer use sitting around, ready to delete. Make sure to check in on this function every so often to keep your older machine lean.
Uninstall and reinstall. Some programs, such as Spotify and Twitter's TweetDeck build up caches of data of saved images, data and other information that you don't need. Uninstalling these programs can free up some space, and then can be installed fresh. Spotify had 3 GB of cache that I was able to remove just by deleting and reinstalling the program.
Back up to the cloud. If you want to pay for cloud storage like Apple's iCloud, you can move all your photos and videos off your machine and onto the cloud. You'll also be able to view your photos on any Apple device you own, even if they're not stored on that machine. But if you are a bit of a shutterbug and you've taken a lot of snaps over the years, Apples's offerings get expensive quickly: 1 TB of space costs $10 per month, and 2 TB costs $20 per month. Over a year, that would easily cover the cost of getting an external hard drive. Speaking of which:
Get an external hard drive. If you don't already have one you should probably pick one up, even if you do nothing else on this list. It's always good to back up your data. A 3 TB hard drive can run you roughly $80—less than the cost of a year of Apple's storage—or you can pick up a 5 TB hard drive for $160.
Don't forget any extras. To make this desktop setup complete, you'll need a keyboard and a mouse. To keep some of the ports on your Mac free, invest in some wireless accessories. Apple's options are expensive, but durable. Otherwise, there are lots of cheaper options available, such as Microsoft's $20 Bluetooth mouse, Logitech's inexplicably solar-powered $40 wireless keyboard, or Anker's basic-but-serviceable $20 wireless keyboard.