US president-elect Donald Trump recently delayed a press conference that was intended to explain how he will untangle himself from his sprawling business interests around the world. If he's worried about appearances though, he might also want to check out the way Russian president Vladimir Putin looks at ExxonMobil CEO Rex Tillerson, Trump's recently announced pick for US secretary of state, the nation's highest diplomatic post.
Putin often looks stern or serious in photos, but when he's around Tillerson, things change, and other adjectives pop to mind, like giddy, admiring, appreciative, and interested. The photo up top was taken in Sochi, Russia in August 2011, during a signing ceremony for an arctic oil exploration deal between ExxonMobil and Russian oil giant Rosneft. Below are other images of their encounters.
This photo was taken in 2012, during a meeting between the two men in Moscow: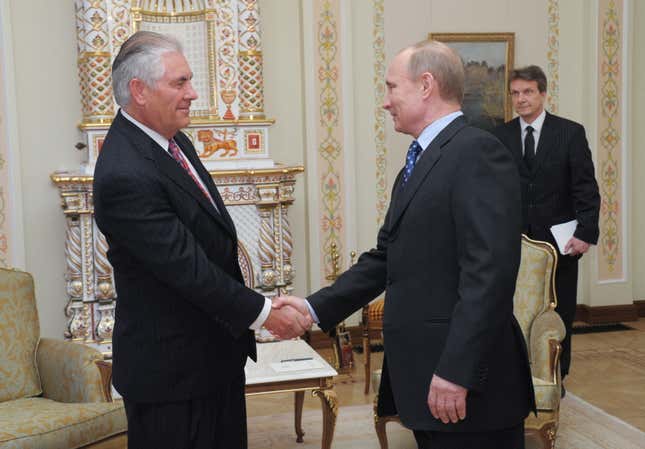 Here they are in June 2012 at a ceremony for the signing of an agreement between Rosneft and ExxonMobil for a project to extract hard-to-access reserves in western Siberia: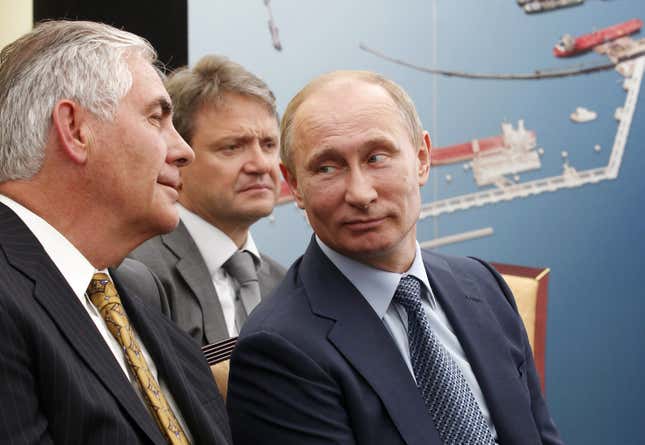 When they met in Moscow in April 2012, Putin looked keenly interested during his discussions with Tillerson: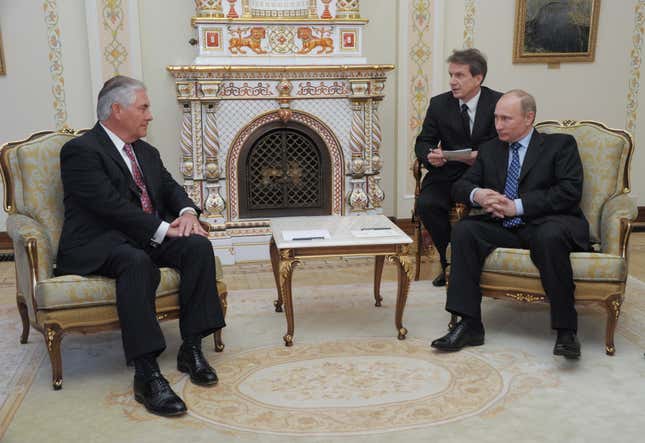 At an economic forum in St. Petersburg in June 2012, Putin even granted Tillerson Russia's Order of Friendship, one of the highest honors a foreigner may be awarded from the nation.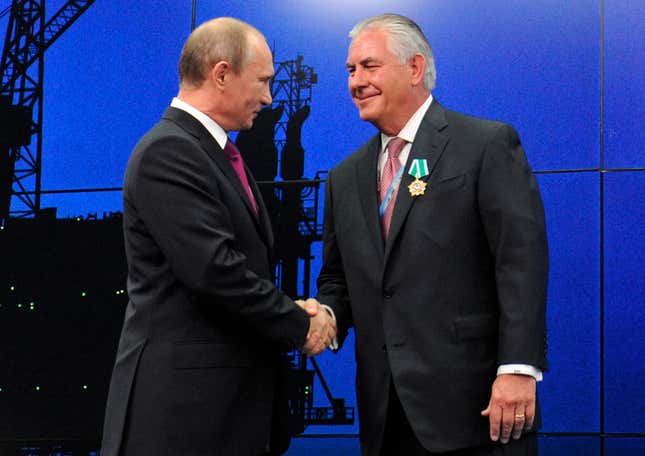 Sure you can find photos of Putin smiling around other political and business leaders, but those are often just polite smiles. Tillerson seems to be an American Putin really connects with on some level. Of course, it helps that Tillerson leads ExxonMobil, which has the technical expertise to efficiently extract oil from hard-to-reach places in Russia. (Update: On Jan. 3, Tillerson and the company reached an agreement under which they'll sever all ties so he can "comply with conflict-of-interest requirements associated with his nomination as secretary of state.)
The oil giant could extract much more oil in Putin's country if it were not for US and EU economic sanctions enacted after Russia's annexation of Crimea a few years ago. Those sanctions, for example, blocked a 2011 deal (paywall) giving Exxon access to Russia's arctic resources—a deal involving hundreds of billions of dollars. 
Tillerson has shares in ExxonMobil worth more than $150 million (paywall), and many of them won't vest for at least a decade. Those shares would likely go up with the lifting of sanctions—putting Tillerson and Putin, at least on this issue, on the same team.
Luckily for them, they seem to have a great relationship.