Introducing the TasteMakers: as a key part of the partnership, Michelin has handpicked 60 of the most innovative restaurants in the Michelin Guide Great Britain and Ireland 2017. Known collectively as the INFINITI TasteMakers, each of these restaurants shares INFINITI's passion for creativity, perfection, and progressive-thinking—and Anglo in London is one of this select few. 
Ready to experience a true fusion of innovation? Now's your chance to get a taste of the innovative worlds of INFINITI and the Michelin Guide for yourself. For those that book a test drive with the cutting-edge INFINITI Q60, we're offering a meal for two at one of 60 specifically chosen restaurants. Ready? Book a test drive. 
When luxury carmaker INFINITI and the Michelin Guide came together to celebrate the launch of the new INFINITI Q60 sports coupe, their goal was simple: to deliver a genuine fusion of innovation that reflects their shared values. The Club met Matt Weaver, EMEA INFINITI design director, and Mark Jarvis, chef director of London's Anglo restaurant to find out more.
But where do you start when creating a dish that no one's ever tasted before—or designing a car that is like no other?
Weaver believes in finding and implementing the new and unexpected. Thanks to his INFINITI design studio being in the heart of London, influences from the worlds of fashion to architecture are at his doorstep—and are evident in the cars Weaver's team creates.
Jarvis is on the same track. He's constantly taking in the world around him, using every detail as potential inspiration for something new. It's an innate curiosity that led to him bringing new techniques he saw on a trip to Asia back to his own restaurant in Farringdon.
Intrigued by street vendors adding smoke to food by cooking in pans over barbecues, he experimented with it as soon as he got home—resulting in a pork, whey, miso dish which combines a unique fusion of flavours perfectly.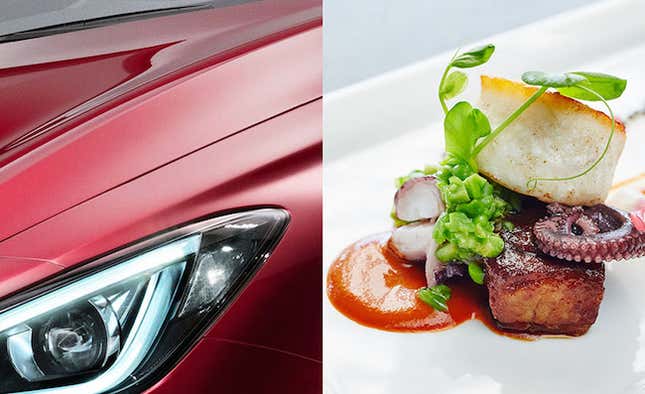 The way that Jarvis and Weaver create, craft, and hone their creations is constantly changing. But should technology drive their thinking?
Jarvis thinks not. Ever since he launched Anglo in early 2016, there has been an influx of new processes, methods, and techniques in the restaurant industry. It's easy to think that if you don't implement these quickly, you'll be left behind—but Jarvis believes everything should have a purpose. So although kitchen technology, such as the water bath, is used to create his duck tartare, it's there to enhance the taste, rather than as a gimmick that steals the limelight.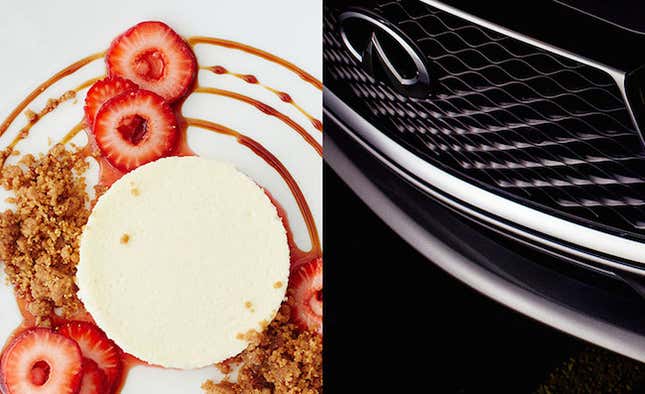 Growing up, Jarvis's dad was an engineer, building tools for a big company. Jarvis would watch in amazement at his dad's thought patterns, gripped by how he'd use basic tools to fix things with such precision and attention to detail. It was here Jarvis learnt a respect for craftsmanship, and there's obvious influence on his cooking today.
A passion for perfection is also mirrored in the way that Weaver and his team work on every car they design, not just the INFINITI Q60. Every stitch, every curve, every reflection is meticulously created, assessed, and tuned. Technology excites him. It makes processes quicker and more efficient. It opens up new ways to make the customer feel something different.
The seats in the latest INFINITI are based on 'Zero Gravity' seat technology, which he believes connect you to the road like no other. But the drive itself—much like the flavours of a well-presented dish—is where the true essence of the car comes through. In the INFINITI Q60, performance is channelled to the driver through a direct adaptive steering system that INFINITI refers to as a world first. Its purpose, says Weaver, is to enhance the driver experience, rather than to take over.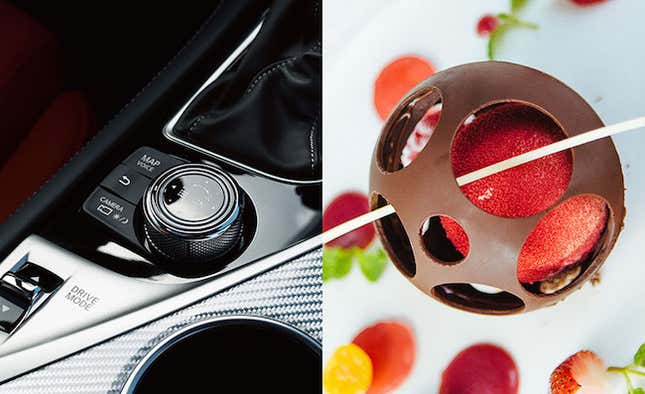 Ultimately, then, Weaver shares Jarvis's thinking—technology shouldn't drive what you do, it should serve to empower you.
Another challenge that Jarvis and Weaver share is that the first impression can't just be good—it has to be completely eye-catching.
When it comes to giving his dishes the wow factor, Jarvis keeps things natural. That doesn't mean they're not refined—far from it. It means each plate of food is completely unique.
He believes constraining people's creativity is one of the greatest sins, which is why he gives his team freedom to express themselves and to put their own stamp on each dish. It has led to creations like his aforementioned duck tartare, an experience that's as much about the stunning presentation as it is about the exquisite flavours on show.
Weaver sees remarkable similarities. Despite his thoughts on the advancement of technology, the human aspect is integral to Weaver's design ethos. 'The hand of the artist' is something he wants people to feel in the design of every INFINITI.
His team worked together to take their different interpretations of the jaw-dropping performance of the INFINITI Q60 and translated those into the final striking design. The focus was on detail—in the form of aggressive creases and deep curves—that would stir genuine emotion. The result is a car that move you like no other.
Introducing the TasteMaker collection: a selection of the 60 most innovative restaurants in the Michelin Guide Great Britain and Ireland 2017 in celebration of the new INFINITI Q60. Each of these restaurant's shares INFINITI's passion for creativity, perfection, and progressive thinking. To find out more, explore the INFINITI TasteMakers now. 
This article was produced by INFINITI and not by the Quartz editorial staff.