How does it feel when the world's richest man is your secret Santa?
"Flabbergasted" is how Aerrix, a Reddit user who got a gigantic box of gifts from Bill Gates last week described it.
Since 2009, Reddit's gift exchange has brought holiday cheer to strangers' doorsteps. Last year, over 120,000 people from 150 countries joined in the world's largest secret Santa exchange, which matches participants through a "giant daisy chain." Each Santa is given a person's username so they can scour through the profile to find the perfect gift. There is no fee to take part, but the guidelines recommend spending at least $20 on your gift.
Over the years, celebrities have taken to surprising Reddit users. In 2013, actor-turned-politician Arnold Schwarzenegger gave a lucky Redditer a hand-drawn an image of a cat along with a donation in her name to an after-school program. NBA star Shaquille O' Neal gave a framed and autographed photo of himself, along with a Star Wars book and postcards. This year, Snoop Dogg gave his secret Santa recipient a slew of goodies, including a drone.
But the forum's secret Santa MVP, year after year, is Bill Gates. This year was the Microsoft co-founder's fourth year playing Santa, and his gifts have ranged from a golden-horned helmet to an Xbox system. (A representative of Gates confirmed that he sent the secret Santa package to Aerrix and to other Reddit users in past years.)
Here's a look back at the presents he has sent his lucky recipients:
2016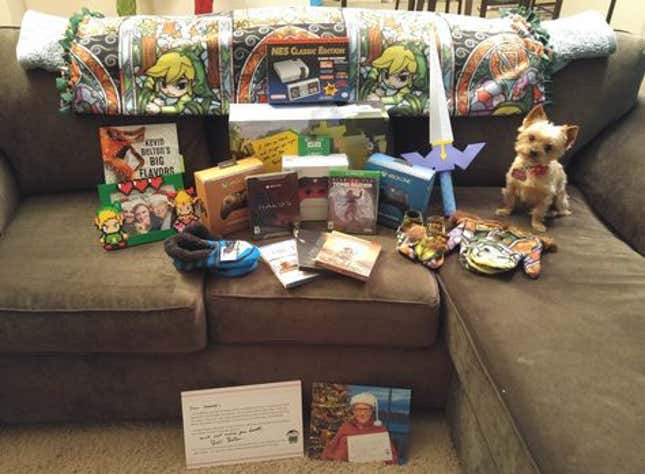 The centerpiece of the gigantic box of gifts that Reddit user Aerrix found when she returned from a trip to Target Dec. 16 was an Xbox One Minecraft edition—manufactured by Microsoft—along with three special-edition wireless controllers to go with it. A handwritten note read, "I love my XBOX and thought you might like one too," Aerrix reported in a exultant post on Reddit's gifts forum.
Gates also bought her a Nintendo entertainment system classic edition, a pair of slippers, a Zelda tie blanket, matching Zelda mittens for her and her dog, and a handful of DVDs, including The Martian and The End of the Tour.
Gates (or someone on his staff) appears to have put some thought into the presents. Taking note of the user's Louisiana background, he also threw in a Cajun cookbook with the message: "Aerrix, Since you're originally from Louisiana and miss your Uncle's Cajun cooking, I thought you might enjoy trying some of the recipes from this cookbook."
The billionaire also donated to code.org in Aerrix's name, "to give more students the chance to learn computer science," she said.
2015
In 2015, Gates donated to an organization called Malaria No More, which is dedicated to wiping out the disease, in the name of Reddit user NayaTheNinja (who described herself as "a swim coach from the Northwest") after learning about her trip to Zambia from her activity on Reddit.
The avid hiker also received a brand new tent, a Patagonia duffel bag for her climbing gear, and an outdoor chair. Gates rounded out the package with a book on how things work, "ranging from microwaves to nuclear bombs," and even sent her a link to a Spotify playlist.
2014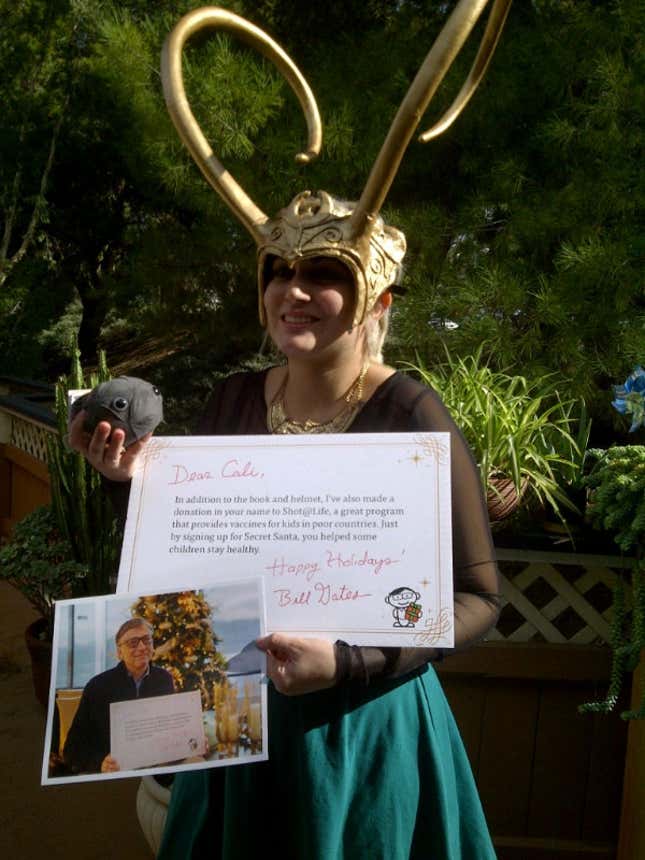 During Gates' second year as Santa, he bought user calid7 a horned helmet like that of the Marvel character Loki and a coffee table book filled with photographs of Africa, which he autographed.
Calid7 wrote: "The most important part is, He also made a donation in my name to Shot@Life a great program that provides vaccines for kids in poor countries which is SO amazing and i can't even begin to describe how incredible it makes me feel knowing that he made this donation in my name!"
2013
In his first stint at Santa, Gates was a little more restrained in his gift-giving. He overnighted a 7-pound package to the user NY1227, containing a toy cow.
A note explained that he had made a donation to Heifer International, a charity that "gives families in need the right tools—such as animals, seeds, clean water, safe stoves or a chance for girls to go to school." He also gave her a travel book, Journeys of a Lifetime, with a note signed by him.
There was one item on NY1227's wish list that Gates cheekily ignored: A tablet made by Gates' Silicon Valley rival, Apple. "Sorry for the apple ipad on my wishlist," NY1227 wrote in her thank-you post. "That was really awkward."