For decades, the dominant image of organized crime in Latin America has been the drug cartel. But in recent years, for an increasing number of narcotrafficking groups—as well as right-wing paramilitary militias, and left-wing insurgents—illegal gold mining has become the real moneymaker.
Until the beginning of this decade, the nexus between wildcat illegal mining and criminal groups wasn't considered an issue of state importance. The problem was first brought to public attention in 2011, when a report by the Colombian Security Service warned the government that 50% of the mines in the country were illegal and that armed groups dominated many of the mines. As investigations and exposés followed, the public began to see that how extensive the illicit mining business was; now, it is believed to be worth more than drug trafficking.
According to a 2015 United Nations World Drug Report (pdf), Colombia's drug cartels make $1 to $1.5 billion a year in wholesale proceeds from both heroin and cocaine, whereas illegally mined gold earned smugglers in the country between $1.9 and $2.6 billion a year. The story is similar in Peru: the value of illegal gold exports, approximately $2.6 billion a year (pdf), now exceeds the value of cocaine trade—$1 to 1.5 billion annually—by a wide margin.
Although it's hard to quantify illegal production, several assessments, including a recent report (pdf) by the Global Initiative Against Transnational Organised Crime (GIATOC), show that in both Colombia and Venezuela, two of the world's richest gold-bearing areas, nearly 90% of gold is mined illicitly, while in Ecuador the rate is around 80%.
Livia Wagner, a private sector adviser to the GIATOC and the author of the report, says the scale of the problem is staggering. "It's appalling when you go to these illegal mines and see all the negative impacts on the environment and on the people," she says.
This modern-day gold rush has been fueled primarily by surging demand and subsequent skyrocketing prices over the last 15 years. Gold has emerged as one of the best options to store value and even generate returns on investments in an era marked by a loose monetary policy in the developed world and a loss of faith in fiat currencies like the US dollar. The price of gold peaked in October 2012, when a kilo was worth $57,000. Today, although prices have fallen considerably, a kilo of gold still sells for $37,000—compared to, say, the $1,000-2,000 per kilo wholesale price of freebase cocaine.
The real price of gold
Despite the fact that it has been mined for centuries, gold is an extremely rare commodity on Earth. It's estimated that only 161,000 tons of gold have been pulled from the ground in all of history—barely enough to fill two Olympic-size swimming pools. Most was mined over the past 50 years—annual global gold production has doubled in time, going from approximately 1,500 tons per year to nearly 3,000 tons per year. According to the World Gold Council, almost three-quarters of all Earth's gold deposits have already been exhausted, and new discoveries are rare.
Some of the largest remaining gold deposits in the world are in Latin America—which makes the mineral a critical piece of the economies of many Latin American countries. In many parts of this region, it's the only source of livelihood for locals without higher education.
But in recent years, much of that value has shifted from the Latin American states to the criminal groups in their borders. Between the increasing value of gold and the challenges posed by the US's "War On Drugs," many armed and terrorist groups were pushed to the easy decision: move from drug trafficking to illegal mining. Because gold-rich spots tend to be in remote and hard-to-access areas it was easy for the cartels to sneak in under the watch of local militaries.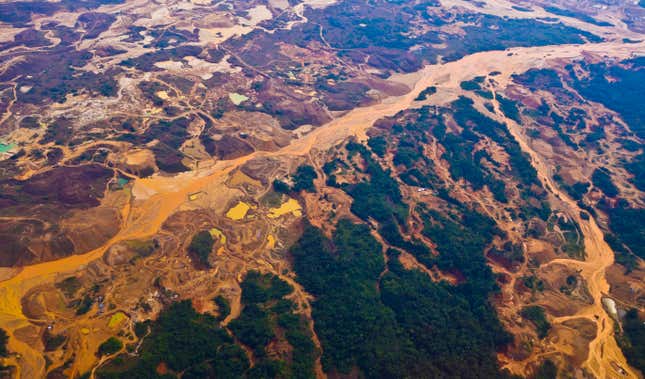 There's one other key factor that made gold mining so easy for illegal groups in Latin America to take over: In most gold-rich countries—like the US, China, South Africa, Australia, and Canada—gold mining is carried out by large, multinational companies that use advanced technology to extract gold in large-scale mines. But in Latin America, it's mostly artisanal, small-scale mining. Some of the small mines have existed for decades, echoes of frenzies that stretch back centuries to the plundering by Spanish conquistadors in search of fabled gold deposits.
Although small-scale and informal mining isn't inherently illegal, the sector is largely informal and unregulated in Latin America, and so particularly vulnerable to criminal infiltration. New mines emerge on almost a weekly basis. In 2014, some 17,000 mines—employing approximately 50,000 people—were believed to operating without titles and environmental licenses in Colombia, while in Brazil, the 11th biggest gold producer in the world, some 75,000 miners operate illegally within the Brazilian Amazon basin alone. In Colombia, the FARC, the leftist guerrilla group that just signed a landmark peace deal with the government, managed to get up 20% of its funding through illegal gold mining (pdf), with the 34th Front earning over $1 million per month alone.
Illicit gold mining is also among the easiest and most profitable way to launder money. The nature and size of the market—highly reliant on cash payments—and the fact that gold can be traded anonymously and transactions are difficult to trace and verify, make it particularly enticing to organized crime groups, providing them a mechanism to convert illicit cash into a stable, anonymous, and easily exchangeable asset to reinvest.
Human and environmental toll
Besides funding criminal activity, illegal gold mining has taken a serious toll on the environment in Latin America. The region has some of the most biodiverse areas in the world, and many are threatened by illegal small-scale mining—which is far more destructive than corporate mining. While big companies tend to concentrate on areas with rich underground veins of gold, illegal small-scale miners usually move quickly across vast amounts of territory. They cut down broad swaths of jungle, and sift through tons of topsoil to find flecks of gold, leaving behind what looks like a lunarscape.
Between 2001 and 2013, approximately 168,000 hectares of forest were cleared just for small-scale gold mining, the size of greater London. Other significant losses occurred in the moist forest ecoregion of Guyana, the Southwest Amazon moist forest of Peru, the Tapajós-Xingú moist forest of Brazil, and the Magdalena Valley-Urabá of Colombia. Columbia lost over 5% of its forests between 2000 and 2015, according to the UN Food and Agriculture Organization (pdf).
Last year, a research team from the DC-based Carnegie Institution for Science carried out an assessment (pdf) of the Madre de Dios region of southeastern Peru's Amazon Basin, using a combination of satellites, aircraft, and researchers in the field. The study found that illegal gold mining destroys 5-10 hectares of national protected rainforest each day. "We were shocked," says Greg Asner, the project leader. "We're all used to deforestation as a serious issue. But this is the complete removal of the ecosystem down to the soil layer."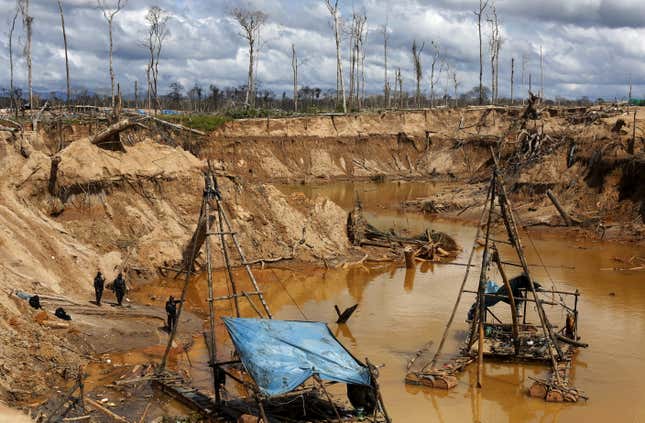 Miners in lawless backlands are also dangerously polluting rivers and water basins, posing health risks for communities near and far. After the gold is mined, it must be separated from the material that bears it. In informal and illegal mining, powdered gold ore is combined with mercury to create a mixture that workers burn—the mercury then evaporates, leaving just solid gold. This process, often performed without safety equipment, is driving mercury levels in many lakes and rivers in the region up to 34 times the safe limit. By analyzing hair samples, another Carnegie study found that 78% of people in Madre de Dios had three times the usual concentration of mercury in their bodies. Some were more than 27 times over the international limit set by the World Health Organization.
Globally, artisanal and small-scale gold mining is the largest source of anthropogenic mercury pollution in waterways—at least 1,000 metric tons per year, according to UN estimates (pdf). Artisanal and small-scale gold mining is believed to release about 800 metric tons of mercury into waterways and land per year; in Madre de Dios alone an estimated 30 to 40 metric tons of mercury are dumped into the environment annually. This practice poisons fish and can cause permanent health problems to humans living as far as 400 km downstream. Those areas, robbed of all topsoil and loaded with mercury, could take decades to recover, experts say.
The proliferation of artisanal mining operations across Latin America is taking a remarkable human toll. As mines are generally found in areas without real government authority, workers are extremely vulnerable to forced labor and debt bondage. The work itself is dirty, dangerous, and difficult, making it unattractive to all but the most desperate. Victims of displacement, minorities, and individuals who lack identity documents often work in mines due to a lack of alternative employment options.
That's just the men. The women are prohibited from carrying out underground work—so instead, they're subject to human trafficking and sexual exploitation. Criminal miners use fake job offers promising high wages to lure girls into working in brothels in the mining towns. A striking example is La Rinconada, a Peruvian mining center near the Bolivian border. Police there estimate over 4,500 girls have been trafficked for sexual exploitation in bars frequented by miners.
Then there's the fact that nearly a third of the 45,000 people working in illegal gold mining in Bolivia are children. A few years ago, the Bolivian National Ombudsman, Rolando Villena, alleged that children could be bought for between $3 and $7 (link in Spanish) in the mining region of Potosí.
Illegal miners have also exploited local tribes people. In 2012, the case of the indigenous Yanomami tribe made headlines, as some members of their community were found with slave numbers tattooed on their shoulders.
The weak government response
Over the last two years, local governments have dramatically increased the number of operations aimed at stemming illegal mining. The military in Peru, Colombia, and Brazil have razed dozens of mining camps, and authorities have restricted the sale of diesel and gasoline in areas at risk in an effort to stymie operations.
However, the strength of the criminal groups and their willingness to corrupt local officials—through bribery or intimidation—make the battle difficult. In addition, wildcat mining operations facing trouble in one sport are quick to relocate to other secluded regions. So far, most efforts at wiping out illegal mining have yielded limited real results.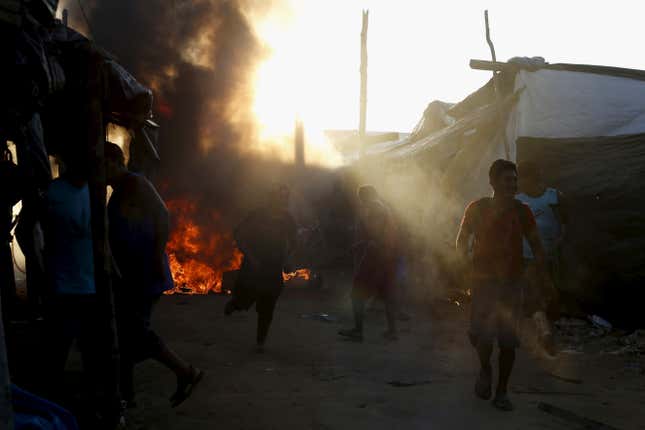 There's another key element of gold mining to the general public: illegal miners can earn $30 to $75 a day. That's not enough to get rich, but far more than an uneducated adult could earn farming in the surrounding highlands—and some local politicians have alleged that governments may not really be interested in shutting down illegal mining because it's providing jobs. In Peru, for instance, some politicians publicly claimed that the miners should be allowed to earn a living, arguing everyone has "the right to make end meets."
"The fight against illegal mining makes no sense," Luis Pardo, director of the think tank Colombia Punto Medio, told Newsweek. "First of all, you bomb an excavator. They will throw the guy that operates the machine in jail—a poor guy who lives in the region and tries to make ends meet." But Pardo, speaking with Newsweek about the broader issue of deforestation caused by illegal mining, did offer a solution: the government should go after the people behind the mining operations rather than the miners or camps. "The day the government really wants to end illegal mining, they have to go after the ones who invest in illegal mining."
Editor's note: This story has been updated to properly attribute Luis Pardo's quotes to Newsweek, where they originally appeared, in an article by Bram Ebus titled "Illegal Gold Mining in Colombia is Destroying the Rainforest"