Just caught up on Scandal and absolutely must talk to someone about the mid-season finale? Can't contain your excitement for the upcoming season of The Bachelor, but don't have friends who watch?
Well, good news. US telecom AT&T has a new AI-powered bot named Atticus that will never tire of talking about your favorite shows. The chatbot, which works within Facebook's Messenger app, was built to talk about TV.
It asks trivia questions ("Which couple [from The Bachelor] currently has their own reality show?") and shares fun facts ("The murder house from season one [of American Horror Story] is the Alpha Delta frat house from Buffy the Vampire Slayer") about popular TV shows including that show and The Bachelor.
It seems to be most knowledgeable about broadcast TV fare like Scandal, Empire, The Is Us, and Pretty Little Liars, as well as AT&T originals like Kingdom and the sports talk show Undeniable with Joe Buck. And it can chat about reruns of The Office, for some reason. (The show ended three years ago and appears to be the only cancelled program Atticus is aware of.)
However, major current TV shows like Game of Thrones, Westworld, and The Walking Dead seem to stump the bot, as does anything from streamers like Netflix and Amazon Prime.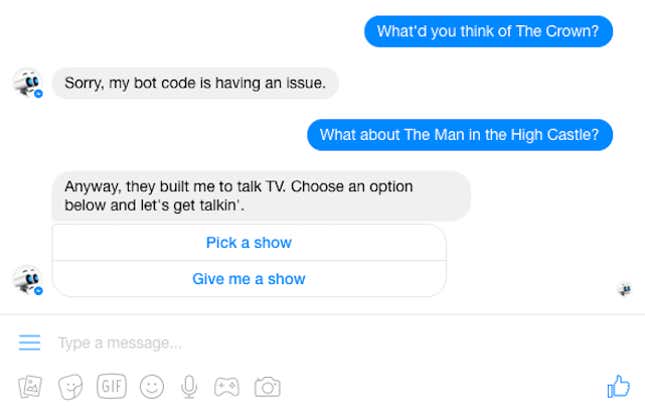 In fact, it's confused by all typed messages. Users instead have to select from pre-written responses that Atticus was programmed to understand (which is not dissimilar to Quartz's news app). Here's what happens when you type a response: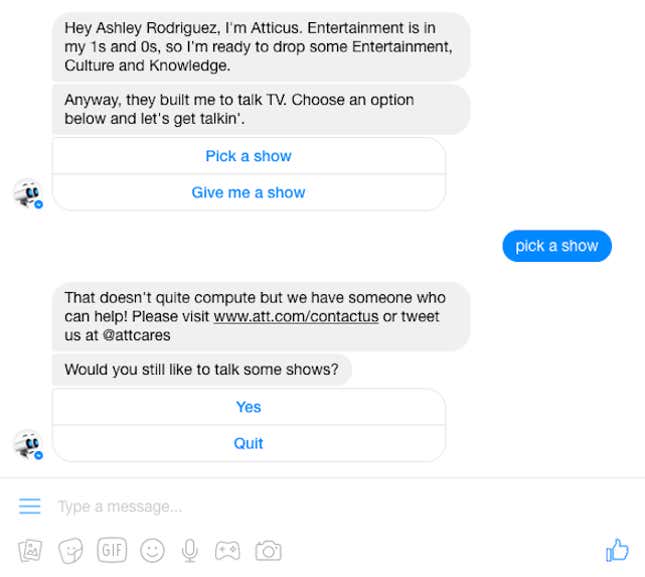 AT&T's enthusiastic-but-buggy entertainment chatbot comes a month after the launch of its streaming-video platform, DirecTV Now, which features live and on-demand TV bundles. The telecom giant has been positioning itself as an entertainment company with the new service, and through recent deals like its DirecTV acquisition and pending agreement to buy Time Warner, as growth lags in the US wireless market.