Yunha Kim built the meditation app Simple Habit after experiencing the grinding pressure of building and selling her first startup Locket (a smartphone lock-screen app) in 2015.
"I was so stressed at my previous startup that I started meditating five to eight times a day…and became a power user of some of the [meditation] apps out there," Kim wrote by email. "After a few weeks, I started wanting to find different teachers, meditation techniques, meditation themes." After searching Google and YouTube didn't cut it, she started working on Simple Habit, a curated library of the short meditations from leading teachers described as the Netflix of meditation and mindfulness.
Kim expected Simple Habit's demographic would be all urban professionals in their 20s. But, she says, high school students, artists, surgeons, and even farmers comprise more than a third of Simple Habit's 150,000 users that have joined in the last six months.
Simple Habit and other meditation businesses are at the heart of one of Silicon Valley's latest investment theses: by marketing and selling meditation, they can eventually make finding zen an American habit. 
We're already halfway there: Meditation has gone mainstream, and is practiced by 18 million Americans, reports a 2015 US National Institutes of Health study, rivaling the popularity of the $16 billion yoga industry in the US. 
But the adoption of new products and behaviors in America rarely happens by accident. They're driven, in large part, by corporate marketing campaigns. You can thank Pepsodent for your daily habit of brushing your teeth, the DeBeers mining company for diamond engagement rings, and the American Tobacco Company for turning cigarettes into "Torches of Freedom" and finally convincing women to smoke in the 1920s.
Just as Nike popularized running and Peposdent normalized daily brushing, "we want to do the same for mindfulness" Kim writes. "We want to see a world where mindfulness is available to everyone as a daily routine."
Investors have lined up to fund the effort. Y Combinator, the Silicon Valley seed fund backing Airbnb and Dropbox, invested in Simple Habit this year. More than $30 million in venture dollars has flowed to at least 100 smartphone apps that act as meditation coaches in your pocket such as Calm, Headspace, and Lucid. Far more has gone into meditation-related businesses across other sectors, reports analytics and data visualization firm Quid, which documented $260 million worth of investment in 142 firms ranging from social networks to tracking devices since 2012.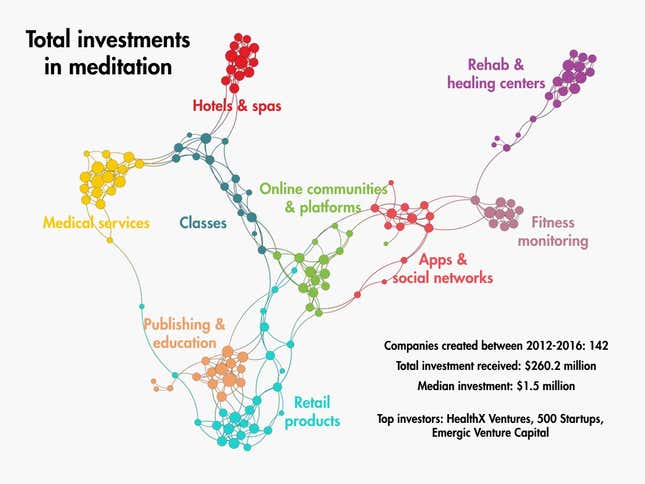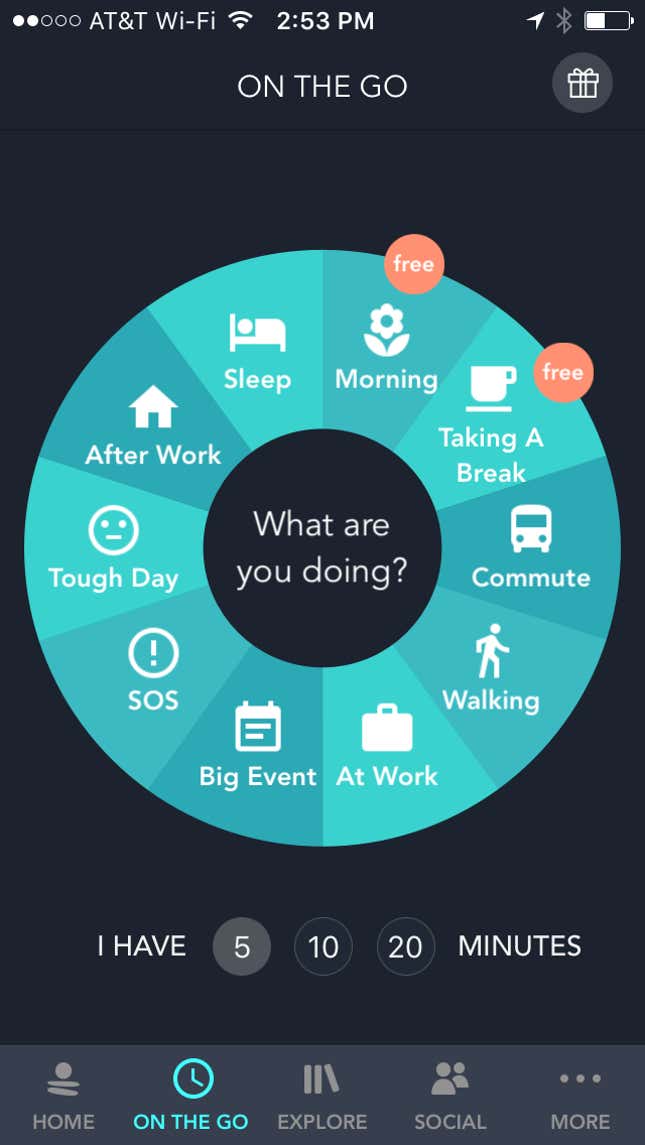 Simple Habit aims to adapt traditional meditation to modern American lifestyles. The app's design reflects many of Kim's own needs: an intuitive interface, a diverse selection of teachers, and convenient times suited for breaks in a busy professional's day. Users pick five, 10, or 20 minute options for each session, and choose teachers from around the world. A subscription costs $11.99 per month (or $108 per year).
Buddhism's method of mastering the self and reaching enlightenment, first studied by traditional scholars and practitioners throughout history, is now firmly in the realm of hard science. Since 2012, researchers have published more more than 45,000 journal articles and academic works on the impact of meditation and mindfulness, according to Google Scholar. Scientists have found meditation appears to increase empathy, make our brains more efficient, alter the expression of our genes, battle respiratory infections, and confer benefits long after a meditative session has ended.
Silicon Valley seems increasingly receptive to that message. Steve Jobs was a devoted Zen practitioner and disappeared to wilderness meditation retreats at regular intervals. Google's "Search Inside Yourself" class series gives Googlers a contemplative break. Salesforce CEO Marc Benioff, Twitter CEO Jack Dorsey, and Google co-founder Sergey Brin all meditate (and encourage their employees to as well). 
Of course, meditation is often the antithesis of stressed-out striving that fuels places like Silicon Valley. It is not a competition, or a game, or even a goal. It's the cessation of thoughts to simply be present, and attain a clearer picture of reality.
Companies that encourage their employees to meditate may have their best interests in mind, or their eye on increasing productivity to increase their bottom lines. Be warned: meditation is not going to help you gas productivity for a quarterly return," writes Kenneth Folk, one of the most prominent meditation instructors in Silicon Valley:
I think it would be wonderful if meditation boosted productivity. I just don't have any reason to believe that it does so with any consistency,For some people, the enhanced focus and creativity that often comes from training the mind through meditation might translate into Getting Shit Done. For others, greater intimacy with their bodies and the inner workings of their minds might result in Getting Less Shit Done as they reconsider what is most important in their lives. Having discussed this with a fair number of meditators over the last 30 years or so, my sense is that one outcome is about as likely as the other.