A portable karaoke microphone invented by a former primary school teacher has become a must-have toy for sing-along fans in Hong Kong and mainland China. Now its creator hopes to see the gadget spread across the globe.
Developed by a Shenzhen-based company called Tosing, the "karaoke magic machine" is a seemingly simple combination of microphone and loudspeaker. When connected via bluetooth to a computer or a smartphone, it's possible to both play music via the wireless mic and sing along with help from its echo function—anywhere.
The enormous popularity of this karaoke mic across mainland China as well as Hong Kong—some three million units have been sold since 2015—didn't just rescue its creator You Guangguo from 8 million yuan ($1.2 million) in debt. It also made his dream come true.
"My singing is terrible. The worse you sing, the more you want to sing without pressure, but you are too embarrassed to sing at karaoke in front of your friends," the 41-year-old You told Quartz. "Then I had a thought: Can I have a mic that allows me to sing wherever I want? How can I achieve that? These questions stemmed in my head for a long time."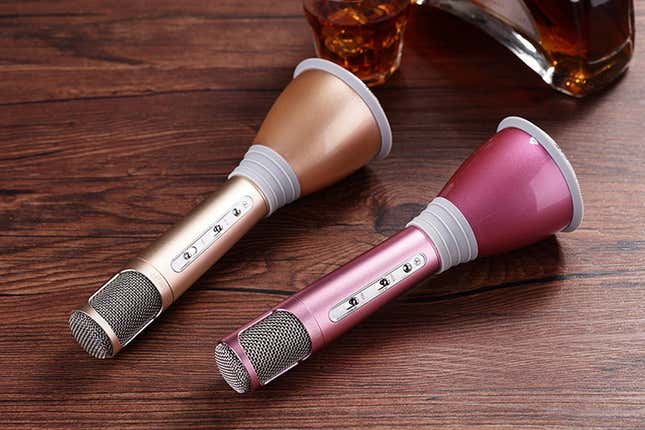 The birth of the magic mic
Born into a family of farmers, You became a primary school teacher in his hometown Wenzhou, in southeastern China's Zhejiang province, earning a monthly salary of 4,000 yuan ($576). After 15 years of teaching, You decided to make a career change and went to Shenzhen to become a businessman. Eight years on, he had failed to establish a new life and racked up a mountain of debt. But You didn't give up.
In the middle of the 2000s, when MP3 players had become popular and mobile phones began to be able to store MP3 files, he saw an opportunity.
"I started talking to engineers to see if it is possible to add karaoke function to mobile phones or MP3 players. Could we make karaoke personal and portable?" he recalled. But engineers told him that karaoke on mobile phones was not technologically viable despite repeated trials.
It wasn't until 2009 that You's engineers finally found a way to make it work. The very first version of the portable karaoke mic was born in 2010. The small mic could be attached to an MP3 player, but you could only hear your singing amplified and accompanied by music with earphones on.
"It was a very small mic and it did not have a loudspeaker attached," said You. "It was not ideal. We wanted our voice heard when we sang."
Then You and his engineers began to develop a microphone with a speaker attached. "It was much more difficult than we thought," he said. "The biggest problem is the feedback. When a mic was too close to a loudspeaker, there was a squeaky sound. We had to find a way that could cancel out the feedback."
By the end of 2014, the technical problem was resolved.
The result was the K068, the model that became a hit  in China after its launch in 2015. But it took a while for it to land Hong Kong.
It wasn't until Cantopop star Joey Yung uploaded a video (see above) of herself singing karaoke with the K068 to YouTube in August that the mic became a hit. It was widely available at gadget shops in Hong Kong, selling for somewhere between HK$200 and HK$400 ($26 and $52). Suddenly, everyone could sing karaoke wherever they wanted.
You says four more powerful versions are now available. Besides mainland China, Hong Kong and Taiwan, the mic is also available in Southeast Asia, Japan and South Korea. His next big dream is to make the mic available in Europe and America, while also developing a mic supported by artificial intelligence that can help its owner sing better.
"We want to head to a direction where the mic can become a personalized item and everyone can own one, just like a smartphone," said You.
The karaoke enthusiasts
Au Lai-chong, a financial professional from Hong Kong, is a karaoke enthusiast. Going to karaoke clubs where she and her friends could sing their hearts out in individual private rooms has been part of her social routine since her school days.
"I sing a variety of songs, not only the sad Cantopop love songs," said Au, who is in her late 30s. "I like singing songs that are emotional and have a broader vocal range, such as those by G.E.M. [a Hong Kong Chinese singer]. I also like songs that have meaningful lyrics, like those by Kay Tse, which often address social issues."
Having seen Joey Yung's video on YouTube, Au was intrigued by the karaoke mic. "My younger sister and I together bought two mics. Then my mother saw us play and she bought another one too," Au said.
The great thing about the mic, Au said, is that users can download a karaoke app with hundreds and even thousands of songs and lyrics, with singing cues to use with it. Her favourite karaoke app is Tian Lai K Ge, developed in mainland China.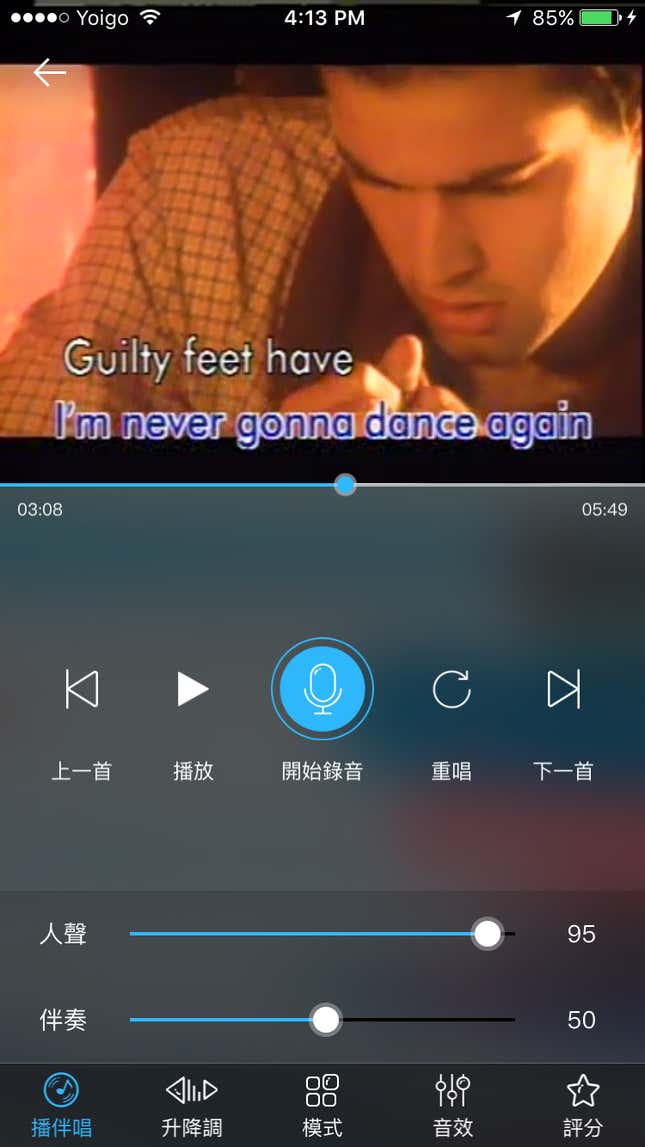 "I like singing, but you need a bunch of people to go to karaoke boxes with, and I'm not a hardcore fan enough to go to karaoke boxes alone," said Au. With the app, "I would sing alone."
These karaoke apps are more than just about the songs. They are a social media platform in themselves. Singers can record their singing and upload their clips to get rated by fellow singers.
"I don't upload my singing. I only sing with friends," said Au. "You seem to be open-minded and free on these social media platforms but you don't have a real relationship with other people. It's only a constructed image of you, or a part of you. Singing with this mic isn't about making myself famous or seeking recognition from other people."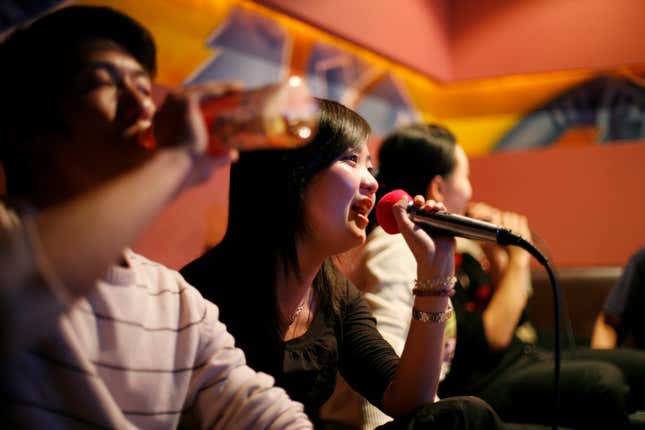 Changing karaoke culture from social to solo
The karaoke storm originated in Japan—the word means "empty orchestra"—and swept across Asia in the 1980s and 1990s.
Hong Kong's vibrant Canto-pop culture helped its popularity here. Super stars from Alan Tam, Leslie Cheung and Anita Mui to Jacky Cheung and Faye Wong often had blockbuster shows, selling 9.2 million albums a year in 1996 and generating HK$1.9 billion ($245 million) of sales in 1995. These superstars were cultural icons who gained vast popularity not only in Hong Kong but also across Asia, creating a body of local hits people could sing to.
Au recalled the days when karaoke meant going on a stage to perform, picking songs from a songbook, and giving the waiter the song number so the song could be played. "Going solo on stage could be quite intimidating," said Au.
Au much preferred going to the karaoke parlors that became popular in the 1990s with a group of friends and renting a private room to sing, drink and eat.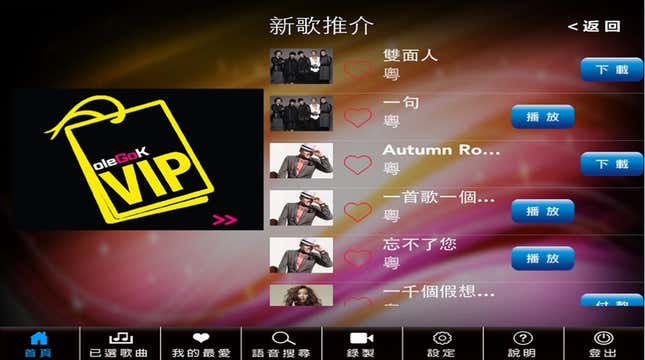 Stephen Shiu, CEO of the Hong Kong-listed HMV Digital China Group, says karaoke is shifting from a group form of entertainment to a personal hobby.
"We used to watch a film or a TV show together, but now you watch it alone on your devices. Karaoke is the same. The launch of this mic makes karaoke personalized," said Shiu.
Shiu said he isn't a karaoke fan, but he saw a business opportunity. In autumn 2016, HMV Digital China Group invested more than HK$10 million ($1.3 million) in developing a karaoke app called oleGoK containing more than 20,000 Cantopop, Western pop and K-pop songs, available via various paid subscriptions plans ranging from HK$48 to HK$78 per month ($6 to $10). It is much cheaper than going to a karaoke night out in Hong Kong, which could cost anything between HK$300 to HK$500 ($39 to $64). To boost the launch, the group even offered 500,000 Tosing karaoke mics to subscribers for free.
"When you sing, you are a performer, and you hope to earn recognition. It is also an emotional release. It is something that everyone enjoys," said Shiu. "Our app offers more songs that any karaoke chains around town. It makes singing karaoke very easy. I don't sing karaoke but I do enjoy this karaoke mic. It meets the human needs."
The rights issue
The soaring popularity of karaoke apps has given rise to legal concerns among music copyright owners.
Stephen Shiu said that many karaoke apps available, especially those developed in mainland China, don't have licenses from right owners to put their songs out there. And some Chinese apps are not available in Hong Kong because they block IP addresses from outside the mainland, he said.
"That's why we invested more than HK$10 million in developing this app. It's not so much about the technology but the license fees for copyright owners," Shiu said.
But Shiu has no plans to make the HMV oleGoK app available in mainland China. "It's not that I don't want to do business in China but it's not possible. There are too many copycats and the rights are a huge issue," he said. "But we have plans to go beyond Hong Kong, such as Taiwan, Singapore and Malaysia, where you can find large Chinese-speaking communities."
Candy Lam, regional counsel for industry association IFPI (International Federation of the Phonographic Industry), says the group is monitoring karaoke apps for infringements, and possible administrative and criminal complaints to Chinese authorities.

"We are very concerned about the prevalence of such karaoke apps as they not only infringe on the rights of music labels, but they also harm the business of and create unfair competition with legitimate karaoke outlets," she said.
Tosing's You Guangguo is well aware of the issue. "Users must sing songs legally. It is their responsibility," said You, noting that Tosing has recently signed a partnership deal with Tencent's Quan Min K Ge, which requires signing in with Chinese social media accounts on QQ or WeChat. "This karaoke app has already licensed the music from copyright owners," he said.

With that partnership, You is optimistic about the future for his karaoke microphones. "Humans are lonely creatures, but they need to express their emotions. When you are alone, singing is the best way to express your emotions. It's a therapy for yourself," You said.