Singin' in the Rain actress Debbie Reynolds, 84, passed away from a stroke yesterday, a day after her daughter, Star Wars actress Carrie Fisher, passed away at age 60 from cardiac arrest on Dec. 29.
As the daughter of singer Eddie Fisher and Reynolds, Fisher was born into Hollywood celebrity. Reynolds was already famous after starring in the 1953 Singin' in the Rain classic when her daughter was born, but became a divorced working mother when Fisher left her for good friend Elizabeth Taylor in 1958 in a highly publicized scandal.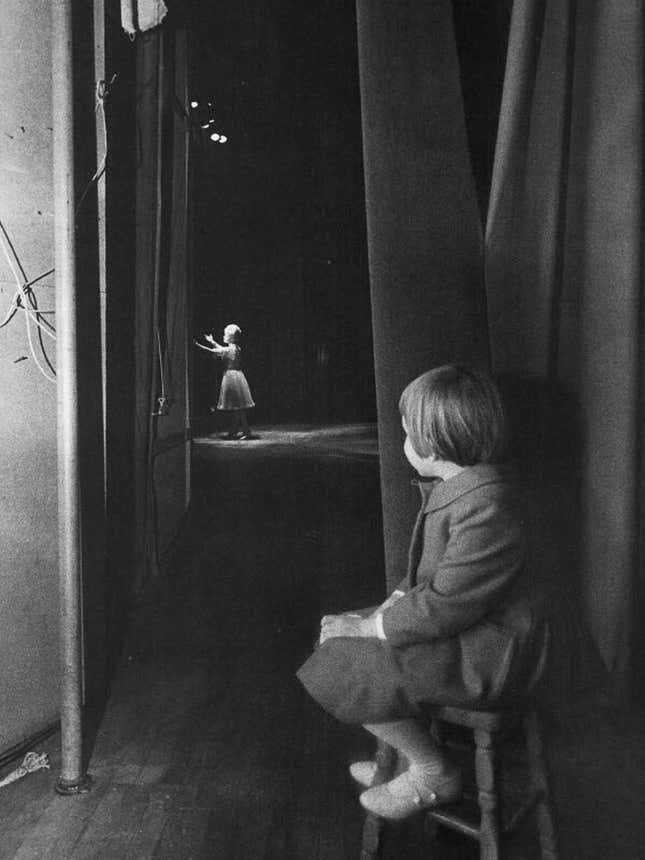 Lawrence Schiller's 1963 photo summarizes Fisher's early years alongside her working mother: The six-year old sits on a stool, with her hands on her knees, behind the stage curtains of the Las Vegas Riviera Hotel, where Reynolds performed two times a night. Like many children of working mothers, Fisher spent more than a few moments of her childhood at her mother's workplaces, often appearing with her in public.
The photo shows Reynolds from her daughter's point of view. Instead of being in the audience, young Fisher quietly watched her mother's glamorous stage persona from backstage, her face turned away from the camera. Two years after Schiller captured the moment, Reynolds won an Oscar for her lead role in The Unsinkable Molly Brown.
Fourteen years later, Fisher walked on set herself as Princess Leia in the 1977 Star Wars movie, becoming an acclaimed actress in her own right. "I was trained in celebrity, so I did the only thing I knew. I went into the family business," Fisher said in a 1983 interview with Rolling Stone Magazine.