Taipei, Taiwan
Thirty years ago, Taiwan was under martial law. Today, it is inching towards becoming the first place in Asia to legalize same-sex marriage. A draft bill is on its way to the legislature and could become law in the next few months.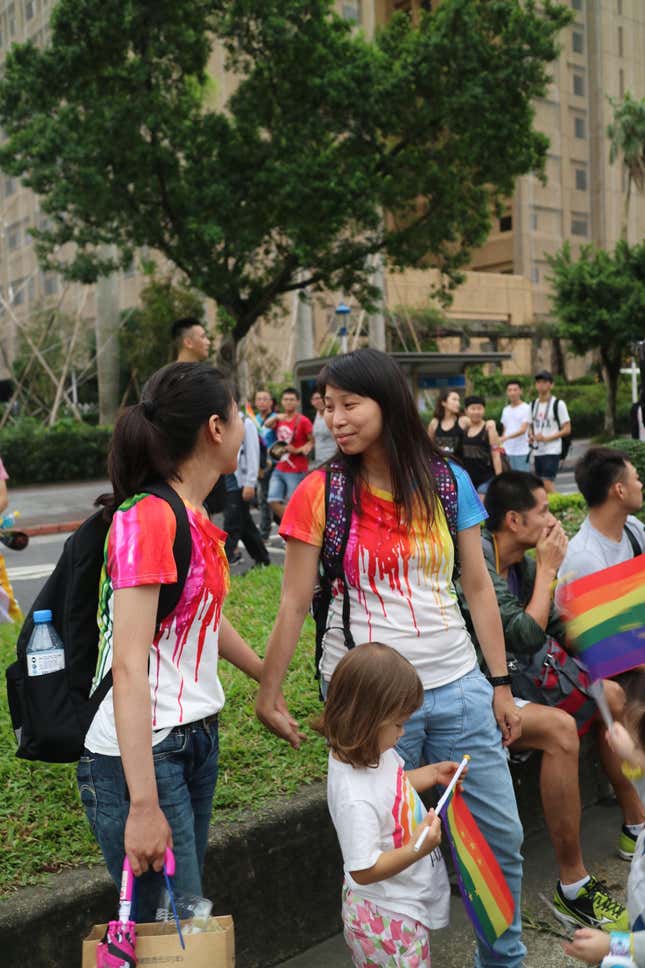 That's not to say the move is uncontroversial. Polls put support and opposition to same-sex marriage at about 50%-50%. For months, hundreds of thousands of Taiwanese have aired their views online and at large-scale rallies across Taiwan. Blowback against the island's increasingly vocal gay community has been a reminder that much of Taiwan is still a socially conservative Chinese society.
Yet the vociferous debate itself shows Taiwan to be much more open to discussing sexuality than many of its neighbors.
Same-sex marriage has been discussed on and off in the past decade, but proposals never got far. The issue regained momentum in 2016 in part after Jacques Picoux, a French-born resident of Taiwan, apparently committed suicide in October. He had reportedly become depressed after his Taiwanese partner of 35 years died of cancer and Picoux had been forbidden from taking part in medical decisions towards the end of his life.
Taiwan already hosts Asia's largest gay pride parade and is seen to be the most LGBT-friendly place in the region. Picoux's death sparked a renewed debate over the need to legalize same-sex marriage. President Tsai Ing-wen had also publicly supported it during her campaign in 2015.
But marriage equality is by no means a done deal yet. A draft bill passed a committee hearing in the legislature on Dec. 26, which means that a firm proposal will be presented to lawmakers sometime in the spring, and voted on later this year. Supporters and opponents will spend the next few months heavily lobbying lawmakers to vote their way.
"This is a really important achievement in Asian history," said Jovi Wu, 37, who has a four-year-old daughter through an artificial insemination process done in Thailand. She spends much of her time posting arguments about same-sex marriage online. "It's a long battle. I don't want to just defeat [those who are against it], but I want to convince them that this is about love."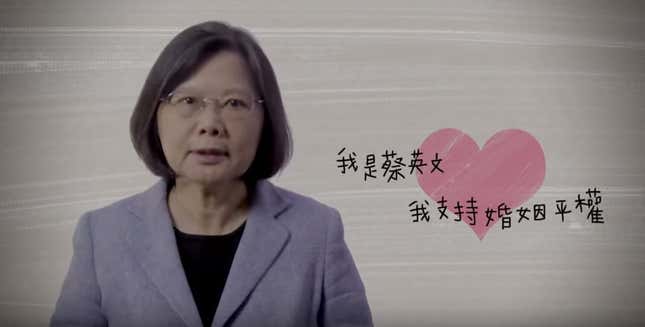 How Taiwan became Asia's LGBT "paradise"
LGBT rights are relatively strong in Taiwan in large part because the island has a vibrant civil society. Taiwanese endured almost four decades of rule by the repressive Kuomintang party, under which thousands disappeared, were imprisoned, or were murdered in a period known as the "White Terror." Causes ranging from women's rights to opposition to nuclear power blossomed in the 1980s as democratization set in, and exploded with the lifting of martial law in 1987. "Taiwan society will not allow Taiwan to go backwards to the days of the KMT," says Chen Mei-hua, a women's rights activist and sociologist at National Sun Yat-Sen University in Kaohsiung.
The current ruling party, the DPP, spearheaded opposition to the KMT. At its core was a group of lawyers, many of whom later became prominent politicians, including two presidents. This year's marriage equality bill was submitted by Yu Mei-nu, a DPP lawmaker and human rights lawyer who defended the first openly gay man (link in Chinese) in Taiwan when he tried to sue for marriage equality in 1986.
Education is another reason for Taiwan's progressive atmosphere. In 2004 it passed the Gender Equity Education Act, requiring schools to teach gender equality and diversity. That was a response to the death, still unsolved, of a junior-high student, Yeh Yung-chih, whose body was found in the bathroom in his school in 2000. Yeh was known to have been bullied for displaying "feminine" tendencies, and his story remains a rallying cry for LGBT people in Taiwan.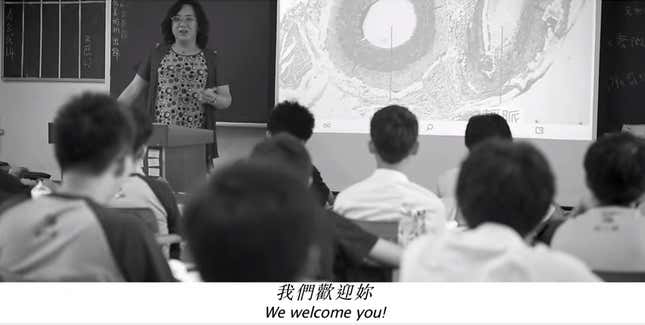 The results of the 2004 law are on display today in the education system. One of Taiwan's best-known LGBT activists, 52-year-old Tseng Kai-hsin, is a transgender high-school teacher in Taichung, Taiwan's second-largest city, who frequently appears in the media. Last month, some of Taichung's city government buildings flew rainbow flags in support of marriage equality. In November, a junior high school in Taipei became the first in Taiwan to install a unisex bathroom—and 21 other schools have applied to do so. That same month, the Taipei city ministry of education said it is encouraging schools (link in Chinese) to build unisex bathrooms in order to help "foster respect and equality between the sexes."
Finally, some attribute Taiwan's progressive attitudes to its racial diversity, its relatively small Christian population, and a tradition of religious tolerance. Buddhism, which does not have teachings about homosexuality, also remains an important religion in Taiwan, and in 2012 a same-sex couple tied the knot in a Buddhist ceremony.
An example to the neighbors

If Taiwan legalizes same-sex marriage, it would be well ahead of other countries in the Asia-Pacific region—including even Australia, where same-sex civil partnerships are recognized but full-blown marriage remains stalled by political squabbles.
In Singapore, sexual acts between two men are still a crime. While Taiwan has had a pride parade every year since 2003, Singapore's much smaller equivalent, the Pink Dot gathering, was put under pressure last year when the government prevented foreign companies such as Goldman Sachs and Facebook from sponsoring it. In recent years, tensions have grown (paywall) between LGBT people and Singapore's conservative Christians and Muslims; Christians have rallied opponents of homosexuality to wear white during Pink Dot to support "traditional" family values.
In South Korea, too, the power of the Christian population makes LGBT rights taboo. And in Hong Kong, where sodomy laws—a British colonial legacy—were repealed only in 1991, same-sex marriage isn't anywhere on the political agenda. HSBC recently came in for heavy criticism from anti-gay groups when it installed two rainbow-colored lions at the entrance to its Hong Kong headquarters. Even in Japan, two wards of Tokyo, Shibuya and Setagaya, became the first in the country to issue same-sex partnership papers to couples only last year.
Campaigns against the "rainbow terror"
But the opposition to gay marriage in Taiwan is still strong. Christians, despite being few, have been especially vocal. A Presbyterian minister in Kaohsiung told the Taipei Times that most Presbyterian churches are against same-sex marriage, and that their views represent those belonging to a "silent majority." An employee at a missionary school said she resigned from her job at the school because she was asked to stop posting in support of same-sex marriage on Facebook.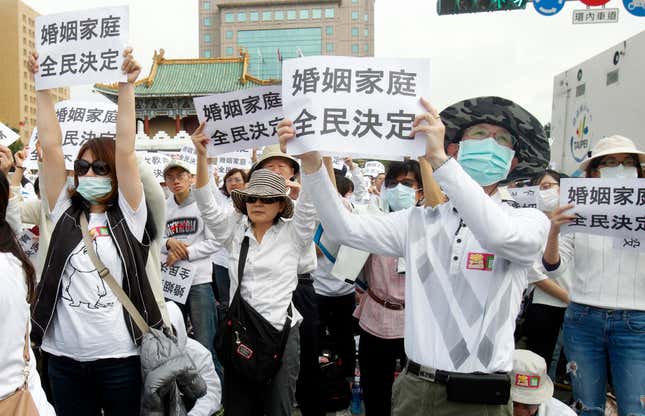 Though large turnouts for Taiwan's LGBT pride and pro-marriage equality rallies have grabbed global headlines, anti-marriage equality groups have stepped up their efforts in recent weeks too. On Facebook, opponents circulate posts that warn of catastrophic consequences if marriage equality is legalized, and accuse the LGBT community of spreading "rainbow terror."
One conservative group warned (link in Chinese) that the number of homosexuals would "double, just like what happened in Massachusetts." Another said that treating same-sex marriage as a human right would mean that people who practice "incest" and "bestiality" (link in Chinese) could also ask to have their human rights recognized. And conservative activists invited Katy Faust, an American raised by lesbian parents who later converted to Christianity, to speak:
The campaign did produce at least one moment of surreal levity (link in Chinese). At a public hearing in the legislature, a representative of the Family Guardian Coalition asked whether, once same-sex marriage is legalized, it would be "possible in the future to marry a ferris wheel." Miramar Ferris Wheel, a popular attraction in Taipei, responded in a statement that it had never heard of humans marrying ferris wheels, but that if any gay couples wanted to propose at the wheel, it would be very happy to receive them.
An uphill battle
Jason Hsu, a 38 year-old lawmaker from the KMT who proposed one of the same-sex marriage bills, said the battle will be tough over the next few months. Significant opposition in both the KMT and DPP remains, and some lawmakers might propose a separate "civil partnership law" as a compromise—a move that LGBT activists oppose because it gives them "equal but separate" status.
And what of president Tsai?
At a New Year's Eve press conference, Tsai said the same-sex marriage debate is a "test (of) the sophistication of Taiwanese society." But much to the community's chagrin, she has not spoken out directly in support of marriage equality recently, despite supporting it strongly during her presidential campaign. Some believe she wants to appear neutral in the face of the divides within her own party—or, given her reputation as a negotiator and compromiser, to try to find a middle way. The openness and vibrancy of Taiwan's debate over same-sex marriage may be a sign of political sophistication, but it has nevertheless left an island deeply divided.
Echo Huang contributed reporting.