As seconds tick to 2017, an estimated 1 billion people around the world will be watching a crystal ball on top of an abandoned building in New York City's Times Square. What began as a publicity stunt to promote the New York Times back in 1907 has become the iconic marker of each new year celebration since.
As an alternative to the hazardous fireworks that the Times launched from atop its headquarters building, the newspaper's electrician, Walter F. Palmer, suggested lowering a bright ball down a flagpole. The idea was inspired by the maritime time-signaling device that helps sailors synchronize their chronometers.
The six-ton Centennial Ball, as it's known, hovers 470 feet in the air, measures about 12 feet in diameter, and is weighed down by 2,688 Waterford crystal triangles. Each triangle is fabricated by artisans in Waterford City, Ireland, and etched with a unique design that represents a sentiment for the coming year.
The crystals are cut thick enough to be weatherproof—resilient to any wind, rain, or temperature fluctuations. Each year, a few days before the ball drop ceremony, 288 of the triangles are replaced with the thematic design.
Waterford's 2017 sentiment, unveiled at a Dec. 27 ceremony in Times Square by Waterford master artisan Tom Brennan, is a timely one. The theme: The gift of kindness. Brennan says the theme was not specifically intended as a response to recent political developments around the world, but take from it what you will.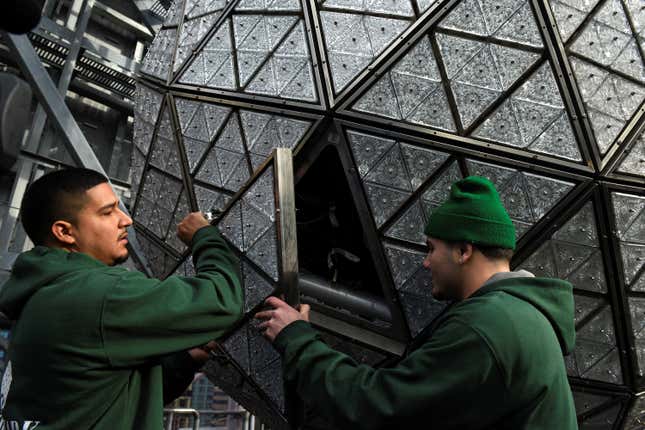 Those wanting to inspect or own a replica of a the ball's facet can buy them as Christmas ornaments or look for them in museums where Waterford donates the previous years' crystal. A 2002 "Hope for Healing" themed crystal, for example, is now displayed at the National September 11 Memorial & Museum.
This year's ceremony is expected to draw 2 million people to Times Square. Many millions more will be watching at home or at New Year's Eve parties around the planet.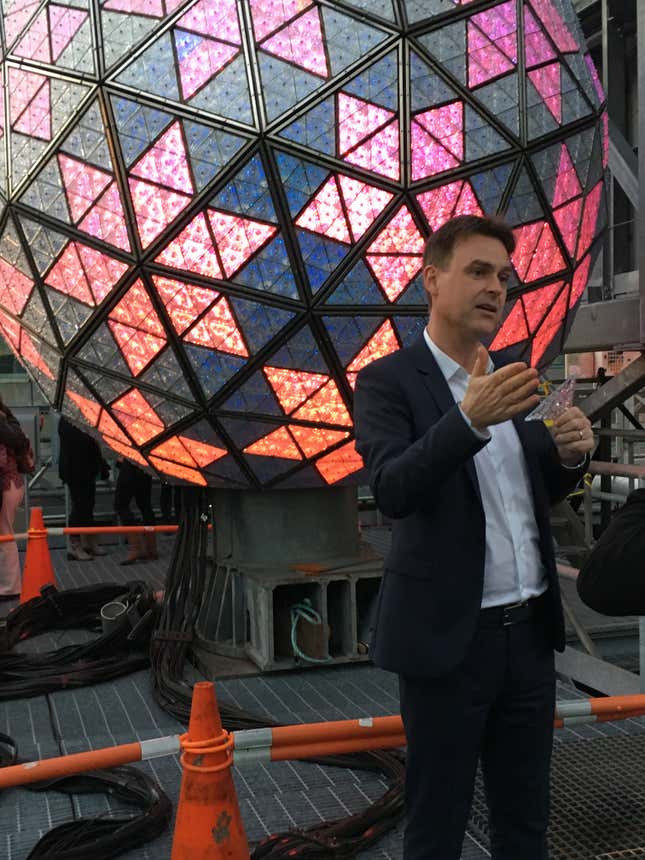 "It's amazing that 14% of the world will be watching this," beams Brennan. "Ireland has given the world many gifts and traditions, but I think Waterford crystal is Ireland's greatest export to the world and the United States."
But Waterford today is not pure Irish. Last May, Finnish company Fiskars—best known for those iconic scissors with orange handles—acquired the 233-year-old company in a bid to expand its global presence. Fiskars CEO Kari Kauniskangas is joining in the Times Square festivities and was scheduled to ring the Nasdaq stock market's closing bell on Dec. 30 to signal the last trading day of 2016.