Tennis superstar Serena Williams, one of the greatest athletes of our time, is getting married.
But instead of tweeting out the good news to her 7.5 million followers or posting it on Facebook for her 5 million fans, she made a poetic announcement about her engagement to the Reddit thread I said yes:
I came home

A little late

Someone had a bag packed for me

And a carriage awaited
Destination: Rome

To escort me to my very own "charming"

Back to where our stars first collided

And now it was full circle
At the same table we first met by chance

This time he made it not by chance

But by choice

Down on one knee
He said 4 words

And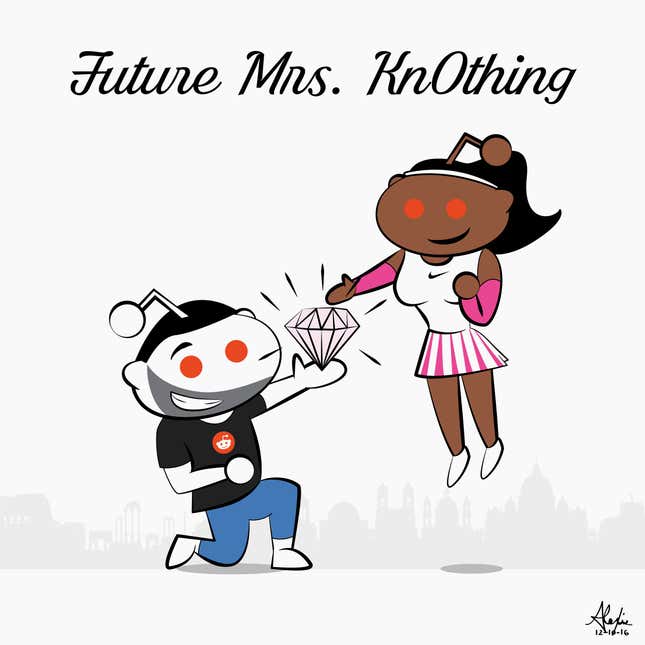 Her fiancé is Reddit co-founder Alexis Ohanian, who responded to the announcement on the thread, saying, "And you made me the happiest man on the planet." He illustrated the moment with Snoo versions of himself and Williams. (For the uninitiated, a snoo is Reddit's alien mascot with an antenna coming out of the middle of their head and orange eyes—like the site's logo.)
The 35-year-old US Open champion and the 33-year-old "mayor of the internet" were first reported to be dating in October 2015.
Her engagement announcement is Williams' only post so far on "the front page of the internet." (Whether you find her announcement romantic or cheesy, at least she chose the right platform: Last year, when actress Miranda Kerr got engaged to Snapchat's Evan Spiegel, she made the awkward mistake of breaking the news on the competing social media platform Instagram.)
While most of the response has been congratulatory, some people pointed out that that Williams, an inspiring African-American icon, is marrying a white tech bro—and one who co-founded a site that has become notorious for fostering racism and misogyny. Ohanian has not condoned these aspects of Reddit, and he has worked with many charities, including the social investment organization Kiva and the nonprofit Black Girls Code. Unlike other Silicon Valley leaders, with ambitious promises of making the world a better place, the Brooklyn-born techie's motto is to "make the world suck less."
But others have condemned the outcry, instead touting the match as a win for racial harmony.
Williams, who has faced outright racism and sexism as one of the world's top athletes, also drew some trolls' wrath with her personal announcement. Twitter users suggested that Williams found herself a "rich white guy" to marry—a ridiculous suggestion. Ohanian may be a tech star with a slew of investments, but the sporting legend has him beat: Ohanian's net worth is reportedly $4.5 million, while Williams' is $150 million.