Switzerland's majestic, snow-capped Alps are not quite capped with snow this year. The country has just reported experiencing its driest December since record-taking began in 1864, with only two millimeters (approximately 0.07 inches) of rainfall in the month. The average precipitation for December is usually around 90 millimetres (3.54 inches).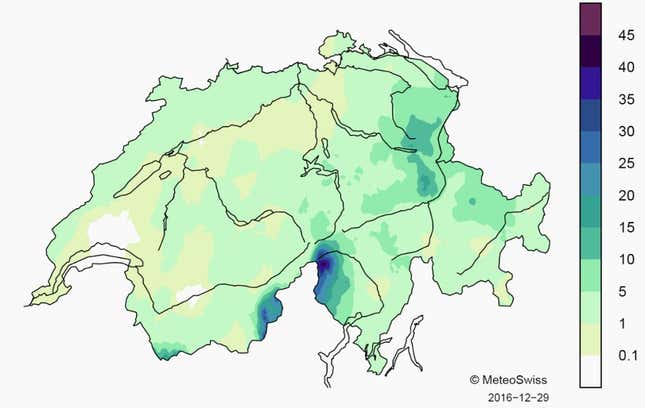 This exceptionally dry December comes only a year after Switzerland experienced its warmest December. The Alpine nation ended 2015 at 3.4 °C (5.5 °F) above its long-term historical average for the month.
The last time there was this little snow in December was in 1963, when precipitation stood at 4.8 millimetres (0.19 inches), according to the government meteorology office MeteoSuisse (link in Swiss). This last month was the third driest on record after September 1865, which got 1.7 millimetres (0.066 inches) of rain, and April 1893, which got 1.1 millimetres (0.04).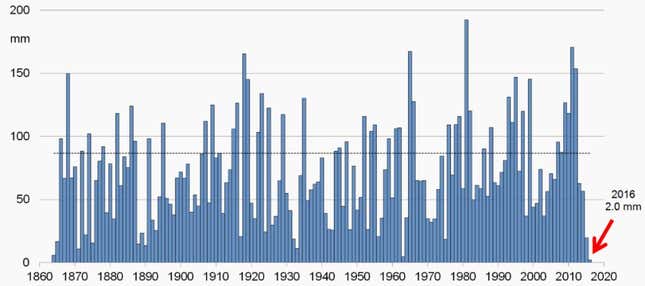 Many places in the western parts of the country received no snow or rain at all over December. The upshot is that skiers have not had a good start to the season, which starts late November and lasts till early April.
The Swiss tourism industry generates some CHF 30 billion ($29 billion) annually. Though it's not yet clear how much impact the lack of snow will have, it could be as high as hundreds of millions of dollars.
The long-term trends for the ski industry aren't any better. A study published in September found that Switzerland has 40 fewer snow days a season compared to the 1970s. Ski resorts at both low and high altitudes saw snow arrive, on average, 12 days later and disappear 25 days earlier in 2015 than in 1970.