Making our stuff smarter is still a work in progress: Smart toys can spy on kids' conversations, the Internet of Things is susceptible to botnet attacks, and hacking a pacemaker is scarily possible. Smart devices can also make for pretty dumb inventions. Do you really need to check email on your ring finger, or get berated by your forgotten umbrella? Instead of a bottle-opener that texts your friends whenever you open a beer, how about just getting a beer… together?
Nowhere are such smart devices on greater display than at the annual Consumer Electronics show in Las Vegas. In the real world, we can ask Alexa to tell us the weather or order us an Uber, but in CES-world, our self-shopping refrigerators will be friends with our self-driving cars by springtime.
Here are just a few of the "smartest" product debuts from CES 2017:
Kérastase Hair Coach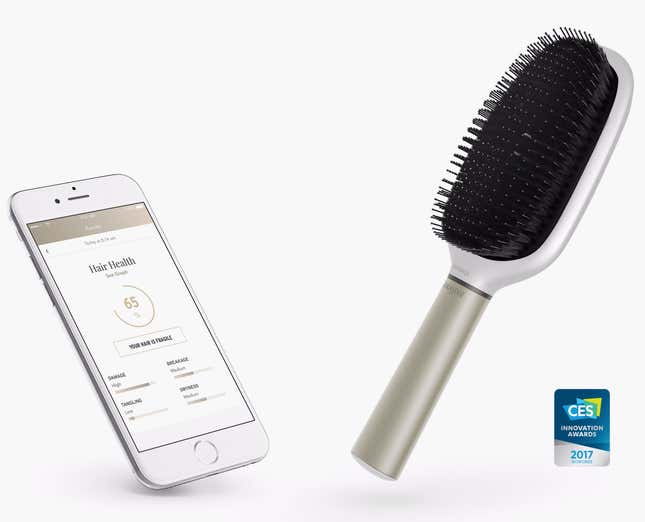 This $200 smart brush from L'Oreal and Nokia uses a gyroscope to assess brushing speeds, an accelerometer to count brushstrokes, and a microphone to "capture the hair's soundwaves." It then sends information about hair health to your phone—there's an app that tracks your "hair score"—and employs haptic vibrations to guide and improve brushing techniques. The app also doles out product recommendations.
An app that states the physically obvious—dry scalp, dandruff, hair loss—isn't much improvement over a regular mirror. And a brush bearing bad news (you're balding!) seems like a mean gift for your self-esteem. Here's what would be smart: A brush that washes, dries, and brushes our hair for us.
Sleep Number 360
Sleep is important—at least that's what Arianna Huffington keeps telling us. Cue the Sleep Number 360 smart bed, which offers customizable sleeping experiences that are trackable on (of course) a smartphone app. Among other things, the mattress changes its form to adapt to nighttime tossing and turning, tilts the body to reduce snoring, and provides a real-time "sleep IQ" score. The bed will even gently warm your feet as you count those late-night sheep.
But smart sleepers beware: Although the 360's official prices aren't listed yet, Sleep Number's other smart mattresses range from $800 to $7,099 for a queen size. That's just the price you pay to live the life of a very tired king.
U Shower system
Moen's U shower system is the perfect way to get "just one more minute" in bed. It lets you connect up to four water outlets—regular shower head, body spray, tub faucet, or overhead rain shower—to a smartphone app, through which you can start and stop your shower, preset the water temperature, and get notified when it's time to step in. The luxury of turning on a shower remotely will cost you a whopping $1,160 for two outlets, or $2,200 for four. Between that and the (admittedly slim) possibility of having your water-temperature targeted by a very bored hacker, do yourself a favor and just turn on your own shower.
LoveBox
French messaging startup LoveBox has created the perfect hybrid of a cell phone, a pager, and a Magic 8 Ball. The small wooden box connects to your smartphone (yes, there's an app), and a heart on its side spins to notify you when a message has arrived. The text itself appears on a mirror-like surface wen you pop the lid. And…that's it. For $120, you can have a beechwood container do what your iPhone screen is already doing for free.
Smarter FridgeCam
The price tag on a connected refrigerator can run into the thousands of dollars—Smarter offers a $150 solution by simply photographing what's inside your (dumb) fridge before the door shuts. That way when you're out grocery shopping, you can check the Smarter FridgeCam app to figure out what you need. Of course, you'll need separate cameras to catch anything in the doors, and the frugal forgetful shopper could just take a photo with their smartphone before heading to the supermarket.
Ara Toothbrush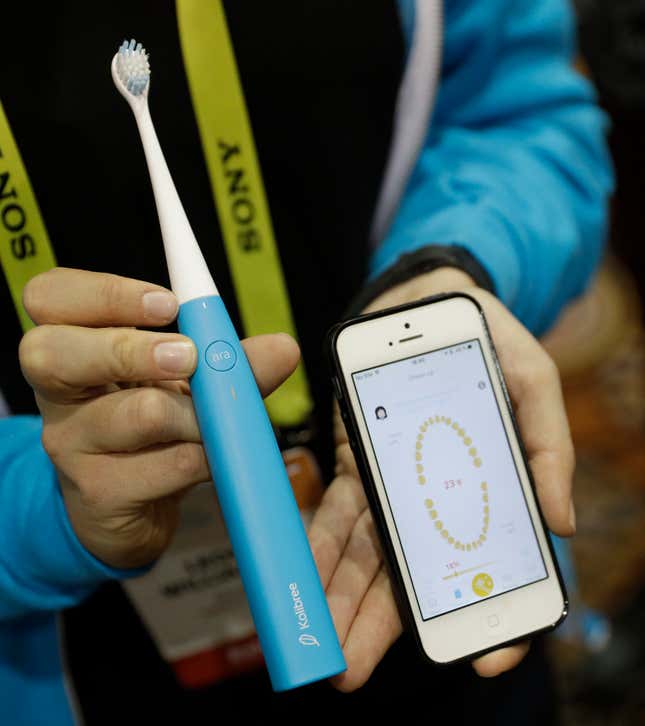 Kolibree's $129 Ara toothbrush—$79 if you pre-order now!—uses "proprietary technology and patented [machine to machine] technology to provide a personalized, interactive tooth brushing experience for children and adults." In practical terms, that means it's tracking your brushing (when, where, and for how long) and sharing that information with your smartphone. The app also features a mobile game ("Go Pirate") to entice toothbrush-wary kids, offline functionality and syncing, and weekly email reports about your brushing.
"Some days grown-ups are too busy or not in the mood to pull out a smartphone whenever it's time to brush their teeth," Kolibree writes in a press release. …Some days?
Essential Vibrating Connected Jeans
Spinali Design's vibrating hotpants (they also come in shorts, regular jeans, capris, and a skirt) feature sensors on the belt that get hooked up via Bluetooth to a smartphone app. For now, the smart jeans are just wearable GPS: They can guide you through directions by vibrating on the right or left side. But the French company has ambitious plans to integrate "security alerts, home support, [and] geolocation of your children." Spinali has previously made connected bikinis that notify the wearer if they've been out in the sun too long. Also known as: sunburn.