It is easy enough to see why Donald Trump recruited ExxonMobil CEO Rex Tillerson to be his secretary of state. If big corporate bosses and dealmakers are your cup of tea, and you can hire the head of what is, historically speaking, probably the most economically consequential company in the world, you do.
What has Tillerson interested in the job is another matter. A terse and deliberate engineer, Tillerson, 64, has never sought the limelight. He clashes stylistically and temperamentally with the US president elect. And his Senate confirmation hearings, to begin Jan. 11, seem likely to be among the most rancorous of Trump's cabinet picks.
Tillerson, who left Exxon on Dec. 31 after 41 years, has already dispensed with one of the most contentious of the Senate's potential objections to his nomination: his financial links with his former employer. To avoid any conflict of interest, the company on Jan. 3 announced an arrangement in which all of Tillerson's Exxon stock and stock awards—roughly $180 million worth—will be sold and channeled into a trust, if he is confirmed.
But that doesn't address the other big issue senators will be questioning Tillerson on, and that is his relationship with Russian president Vladimir Putin. Tillerson did big oil deals with Putin over the years, and the two have been photographed in what appear to be mutually admiring poses.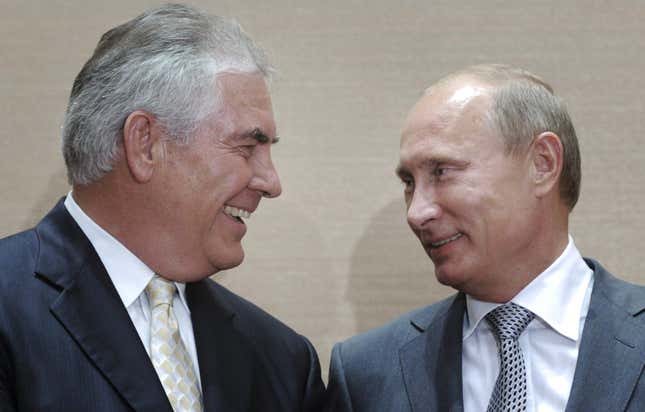 Given the rancor over what US intelligence agencies say was Russia's massive cyber-hacking of the presidential campaign, the senators will prod Tillerson on whether he shares Trump's benign attitude about Putin and Russia itself. If he seems as credulous as the president-elect, there could be even greater tension in the committee room.
To allay fears that he might be a stooge for Putin, Exxon, or both, Tillerson will have to show a grasp that Russia is a US rival—its primary rival, according to US intelligence agencies—and that Putin's aim appears to be to unravel the US-led system of global security.
Perhaps senators will also ask Tillerson why he wants the job.
Tillerson will be conservative and pragmatic
A meticulous preparer in the tradition of every Exxon executive before him, Tillerson, as a cabinet member, would be methodical to a T, taking no step before it is studied to death. In the likelihood that he carries Exxon's methods over to State, possibly staffing up his senior ranks with current or former company hands, he will discourage improvisation and champion the scripted management of strategic and diplomatic affairs.
On the job, he would likely find the shoot-from-the-hip Trump disrupting the works with very unExxon-like, hunch-based tweets. Such whimsy is in large part why American bosses have generally avoided high-level politics, in which no one calls all or most of the shots. They tend to prefer to exercise influence behind the scenes using cash, lobbying, and other elbow-twisting tactics.
Tillerson would have reached Exxon's mandatory retirement age of 65 this March. A cabinet appointment would allow him to stay deep in the game. But even to the ego-driven—which the typical oilman certainly is—the advantages of jumping personally into a very messy fray have not seemed obvious. One wonders how long Tillerson will be contented working for the notoriously unruly, unread, and uncouth president-elect.
Of course, Tillerson's unexpected recruitment into politics could not be more propitious for Exxon itself. At once, the company's view of the US and the world will be physically represented at the highest levels of political power. How that translates into corporate advantage will unfold quickly should Tillerson be confirmed by the Senate.
There is no evidence of corporate opportunism on Tillerson's or anyone else's part, but senators are likely to plumb the apparent stroke of luck for the company: When president Barack Obama imposed sanctions on Russia, he inadvertently inflicted a blow on Exxon, too, suspending a colossal deal to drill for oil in the Russian Arctic and Siberia. Tillerson had expected the new relationship with Russia to drive company growth for decades, and as if to underscore that potential, Exxon and state-controlled Rosneft announced the discovery of a 2.7-billion-barrel Arctic field just as the sanctions were taking effect. But no one could say how long the sanctions would remain in place, forcing Tillerson to scramble and patch the chasmal hole left in Exxon's base of oil reserves.
Which is what seems likely to invite the suspicions of senators of both parties. In one of the industry's greatest times of uncertainty, it is Russian reserves—and Tillerson's chances to parlay his bond with Putin into a reasonable thaw with Moscow—that could stabilize Exxon.
A looming question for the senators will be: When Tillerson is chatting up Putin ostensibly in support of American national interests, to what degree will the potential jackpot to accrue to his friends at Exxon, and a desire therefore not to upset Russia's leader, be part of his calculus?