Republican leaders were making a solemn pledge to repeal Obamacare during a press conference on Capitol Hill Jan. 4, when House Speaker Paul Ryan made a slip of tongue that sent the group erupting in laughter.
Ryan was passionately saying that "We know that things are only getting worse under Obamacare," shortly before he almost called vice president-elect Mike Pence "vice president-elect Trump," to introduce Pence to the audience.
His fellow Republicans apparently found the gaffe hilarious. When Reuters photographer Jonathan Ernst captured this moment, Ryan is grimacing at his own mistake, as Pence laughs candidly.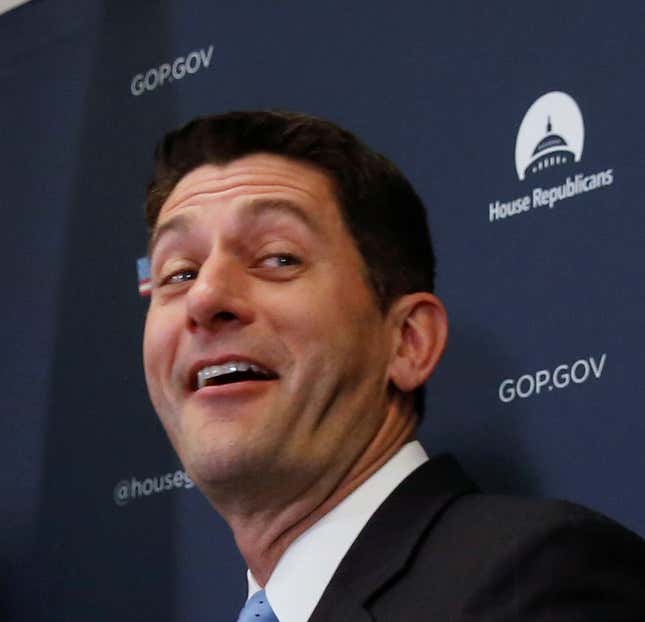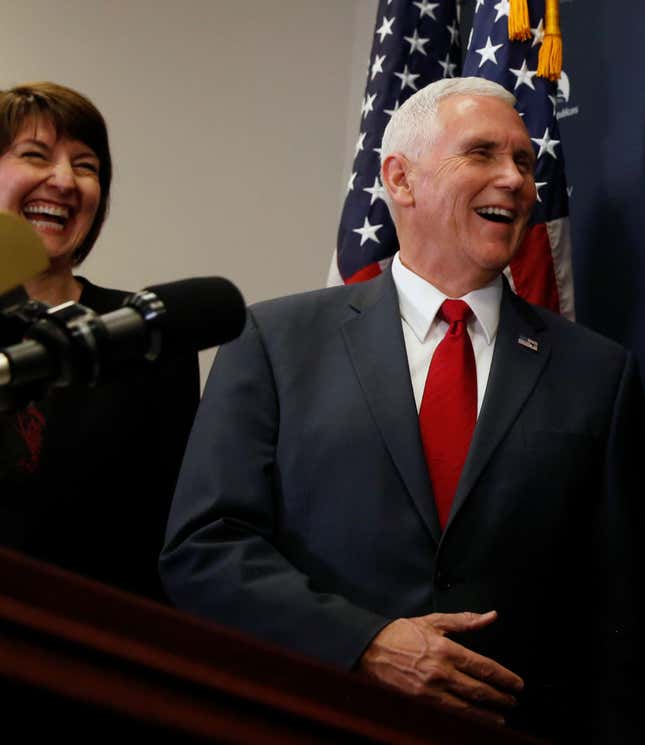 In far left side of the image, Cathy McMorris Rodgers grins widely, while Senate majority leader Kevin McCarthy, on the second right, claps and laughs at Ryan. In the foreground, Steve Scalise is apparently doubling over with laughter.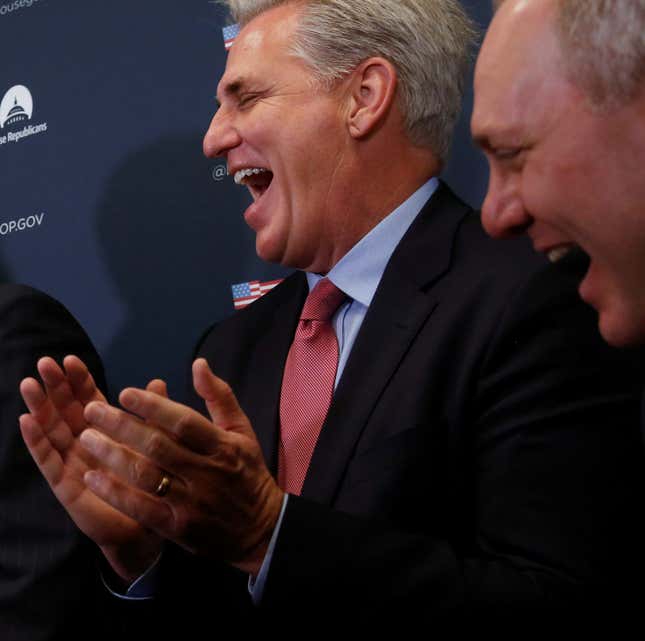 From the video of the speech, the amusement seems brief, but the captured moment makes the Republicans seem as if they were laughing more uncontrollably than they really did. Their reaction could have us believe that Ryan just burned a Democrat leader, rather than committing a harmless slip of the tongue.
The photo demands comparison to its historical equivalent: CBS News anchor Walter Cronkite was caught laughing hysterically with former president Ronald Reagan and his staffers by TIME photographer Diana Walker in 1981 at a joke that the politicians in the photo refused to disclose, and therefore remains a mystery. The photo has since been immortalized as an internet meme:
In the 2017 version of this politicians-laughing photo, we could perhaps imagine Mike Pence saying, "My respect for Paul Ryan is boundless," while the rest of the room bursts into laughter.
Repealing Obamacare seems to routinely crack up Republicans, as another laughing Ryan photo shows. The photo below was originally taken Jan. 7, 2016 by Getty Images photographer Chip Somodevilla, after Republican members of Congress signed legislation to repeal the law and to defund Planned Parenthood:
The Pence/Trump confusion doesn't top Ryan's most notorious gaffe, when he said: "We are not going to give up on destroying the healthcare system."