Right now, a "Make America Great Again" hat will set you back $25 on the official merchandise site for president-elect Donald Trump. Vendors on Taobao—the Chinese online marketplace run by e-commerce giant Alibaba—will sell you one for as little as $0.50.
This is exactly the kind of Chinese intellectual property violation that Trump decried on the campaign trail. With good reason, it seems: Two weeks ago, the US government accused put Taobao back on its "Notorious Markets" list for rampant counterfeiting.
But if this came up when the president-elect met with Jack Ma, the head of Alibaba, at Trump Tower earlier today, neither said.
"It was a great meeting," Trump said in a press conference after the meeting. "Jack and I are going to do some great things." He praised Ma as "a great, great entrepreneur, one of the best in the world."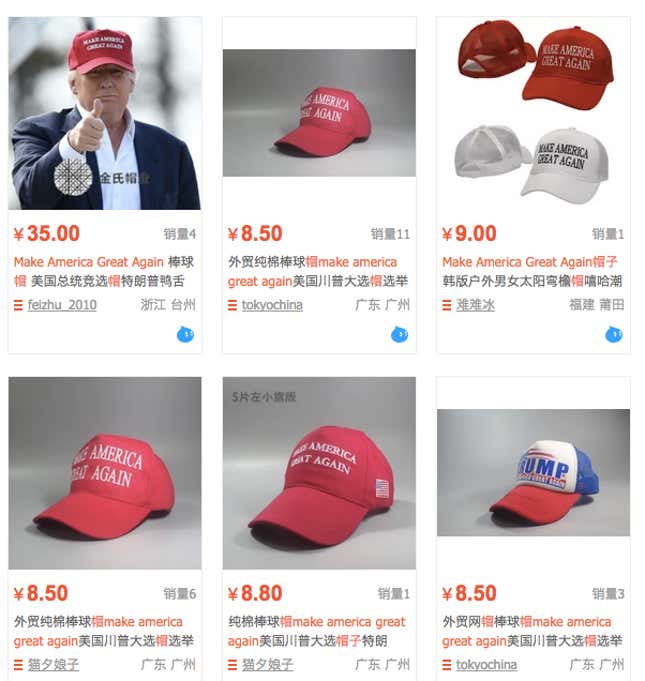 Instead of counterfeiting, the headline-grabbing topic was Ma's vow to create 1 million American jobs over the next five years. The "Alibaba job boom," is how Sean Spicer, Trump's pick for press secretary, dubbed it.
The meeting makes Trump look good—like his much-vaunted negotiation skills forced "China" to come to the table and invest in American prosperity. "Yet again, President-elect Donald Trump started another day by creating millions of jobs for Americans," crowed Townhall, a pro-Trump news site.
But this was already in the making: Ma unveiled a similar-sounding US job-creation plan in June 2015, at an event in New York. He claimed at the time that all these new jobs would come from the full-time employment of small businesses—particularly farmers and boutique clothing designers—selling to Chinese customers via Alibaba's e-commerce platforms.
As for Alibaba, its shares jumped 1% on the news of the Trump meeting. Ma's meeting with Trump also was some free lobbying with the US government, on which the company has spent $2.4 million since 2012 (paywall).
And Alibaba could definitely benefit from a warmer relationship with the US government. One priority is getting Taobao off the US government's Notorious Markets list; though the list doesn't directly penalize companies, it damages their credibility. There's also the investigation by US Securities and Exchange Commission into whether Alibaba's accounting is violating federal laws. It's worth noting that Trump's nominee to head the SEC, Jay Clayton, led Alibaba's record-breaking $24-billion IPO on NYSE in 2014, as a lawyer at Sullivan & Cromwell LLP representing the IPO's underwriters.