American Apparel has a new owner that isn't American at all.
Gildan Activewear won the Jan. 9 bankruptcy auction for the beleaguered company, once a favorite of young shoppers that over the past few years has collapsed under the weight of scandals, lawsuits, the firing of founder Dov Charney, and shifting consumer tastes.
Gildan is a Canadian wholesaling giant known for making the blank t-shirts other brands often use for printing—Kanye West's pricey "Life of Pablo" tour t-shirts, for example. The $88 million acquisition, which is pending the approval by the bankruptcy court in New York, should be completed by early February, according to Gildan (pdf).
The deal closes a long, trying chapter for American Apparel, which has dealt with multiple changes in management and two bankruptcies in just a few years. But this isn't the end of the brand itself, at least not entirely.
"That's what we're buying," Gildan spokesman Garry Bell says. "We're buying the brand, and some manufacturing assets." Gildan will acquire American Apparel's trademark, patents, and other intellectual property, as well as a good portion of the production and distribution equipment at American Apparel's facilities in Los Angeles.
The deal did not, however, include American Apparel's retail stores. Gildan is predominately a wholesaler, and its main interest is folding American Apparel into its existing operations. "The value here for Gildan at $88 million is in acquiring a brand where we see a very quick, synergistic fit with our printwear business," Bell explains.
Gildan has given American Apparel a 100-day license to continue operating its stores and e-commerce site. After that it appears they will close. American Apparel is not commenting at the moment.
American Apparel's core DNA could be in for some change too. Under Dov Charney (a Canadian by birth), it centered on high-quality basics and oversexed advertising, but on also the promise that the clothes were made sweatshop-free in Los Angeles. Gildan had the option to take over the leases at the company's two factories and its distribution center in California, but decided not to. At the moment it's weighing where to produce the clothing, though Bell adds they could return to those factories in the future.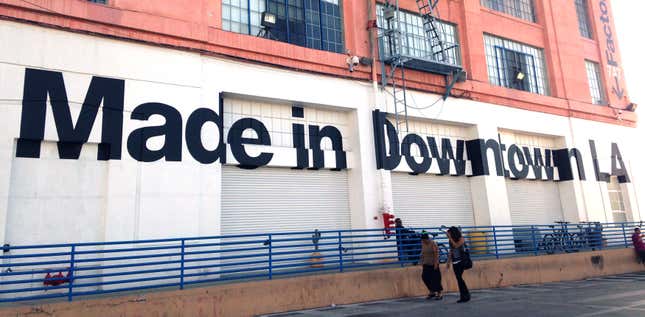 Gildan has been accused of exploiting garment workers in the past, and charged with running the sort of sweatshop that American Apparel stood against.
Bell rejects the notion that Gildan's values don't align with American Apparel's. He points out that Gildan has made the Dow Jones Sustainability Index four years in a row, and that last year its factories underwent 300 audits, including visits by independent auditors. "We've spent 15 years building a very, very robust [corporate social responsibility] program," he says.
Like American Apparel, Gildan is a vertically integrated manufacturer. For more than 90% of the products it sells, it does everything from spinning raw material into yarn through finally cutting and sewing finished garments. It owns and operates facilities in Honduras, Dominican Republic, and Bangladesh.
Bells says the company may be able to use its expertise in manufacturing and operations to "bring value to this brand that maybe the current and past management might have struggled with." It's the product people love, he explains, whether for the fabrics and designs, or even the marketing. Gildan's job now is to figure out what to do with all of that.