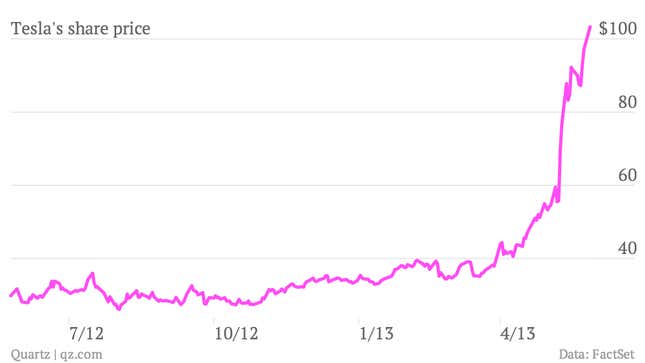 Are you one of those investors shorting Tesla Motors? Best to stay in bed today. The Silicon Valley electric carmaker's shares zoomed past $100 this morning for the first time as Tesla rides a wave of good news.
Even the bankruptcy of electric car infrastructure company Better Place on Sunday didn't put a damper on investor enthusiasm as Tesla's stock hit $104.63. With a market cap of $12 billion, the company is worth about one-quarter of General Motors.  A bit frothy for a decade-old company that sells just one model.
Tesla shares have been on a tear of late in the wake of the company's first profitable quarter, a billion-dollar stock and debt offering and the repayment of a $451.8 million federal loan that helped finance production of its Model S luxury sports sedan. In the first quarter, the Model S outsold by wide margins the Mercedes S Class, the BMW 7 Series and the Audi A8 in the US. And Tesla chief executive Elon Musk's reaffirmation that the company intends to make a long-range electric car for the price of a $30,000 Nissan Leaf reassured investors that Tesla aims to move into the mass market.
But what goes up can come down, and Tesla's stock has been volatile since the company's 2010 initial public offering. Those wild swings have attracted short sellers—investors who borrow stocks to sell and then buy back later in the hope that the price will have dropped in the meantime. That hasn't been working out too well.
Musk, whose musings on Twitter have helped fuel Tesla mania, has been uncharacteristically mute of late about the company's plans, instead posting a series of tweets on climate change. "Had a minor operation, so am in bed in meds. Probably shouldn't be tweeting," he wrote on Friday.