The Trump Organization's partners around the world have been seen as potential conflicts of interest ever since Donald Trump announced he was running for US president. With his inauguration just days away, more attention is being paid to these conflicts, and the head of the Office of Government Ethics insists that Trump must sell off his business in order to be an ethical president.
One of the most most glaring conflicts is set to open up this quarter: Trump Tower Manila, a 57-floor skyscraper inside Century City, in a gentrifying area of Manila's business district. It's a joint project with Century Properties Group, Inc. (CPGI), a Filipino real estate development company owned by Jose E.B. Antonio, who is also a special trade envoy to the United States. If the partnership between Trump and Antonio is structured like many of his other business deals, with Trump licensing his name in exchange for ongoing payments, Trump will essentially be on the payroll of a member of controversial Philippines president Rodrigo Duterte's government.
While Trump has vowed to turn over the running of his business to his two sons, ethics experts say that isn't enough to prevent potential conflicts of interest. Only by completely selling off his business will Trump match the ethics standards set by other presidents, and required of other employees of the executive branch of the US government.
During a visit to the building's sales office in December, Joy Isla, a "presentation specialist" for CPGI, said the showroom apartments had already been dismantled because most of the project had sold out. Most of the buyers are investors or expats from countries like Japan and Singapore or Filipinos who work and live abroad, she said.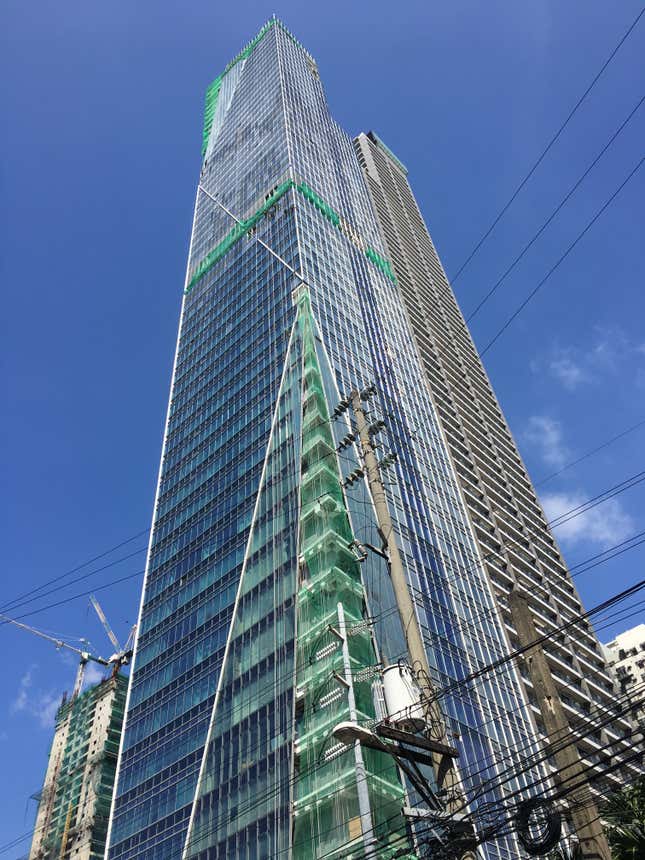 The glass building, set to be the tallest residential skyscraper in the Philippines, is attractively set inside the Century City "micro city," essentially a neighborhood created by a private real estate companies to set their developments apart from grittier parts of Manila, the densely populated capital city of the Philippines. Inside Century City are five residential buildings, a high-end mall, and a medical center.
Just 600 meters away, however, is P. Burgos St., a red light district home to budget hotels and nightclubs like "Bottoms bar" and "Mixed Nuts Ladyboy Bar." The "Ringside Bar" features greased-up women wrestling and midgets boxing.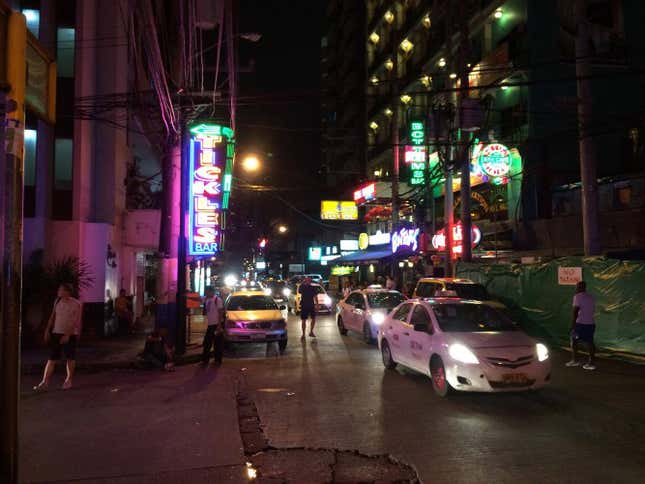 Trump Tower Manila is marketed as a luxury development. Its official website describes the experience of entering the building as an accomplishment in itself. "You have arrived in a truly elegant and privileged new lifestyle," it says. Building amenities will include a pool that overlooks the city skyline, a fitness center, a spa, and common areas furnished with pieces by Hermès.

In a video narrated by Trump's daughter Ivanka, she and her brothers explain that the development will "exude luxury."
Even in Manila, the Trump brand is aiming for a distinctly New York vibe. Apartment styles are named after popular neighborhoods: "Downtown Soho," "Fifth Avenue," and "Park Avenue." Buyers can pick from seven floor plans ranging from a 1-bedroom suite to a 4-bedroom unit with 4 bathrooms, 3 with a dedicated walk-in closet.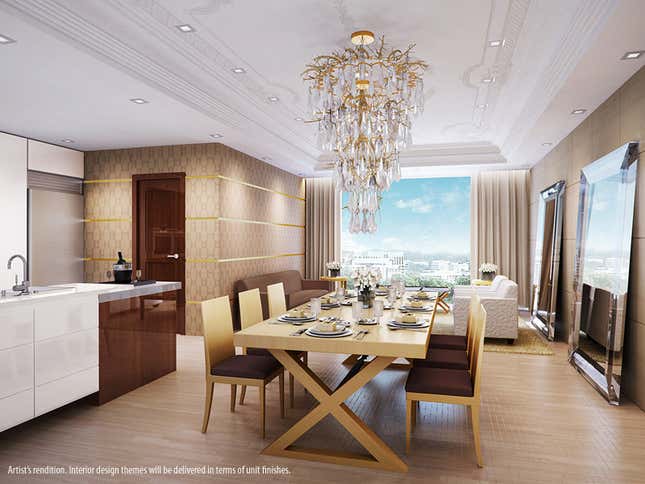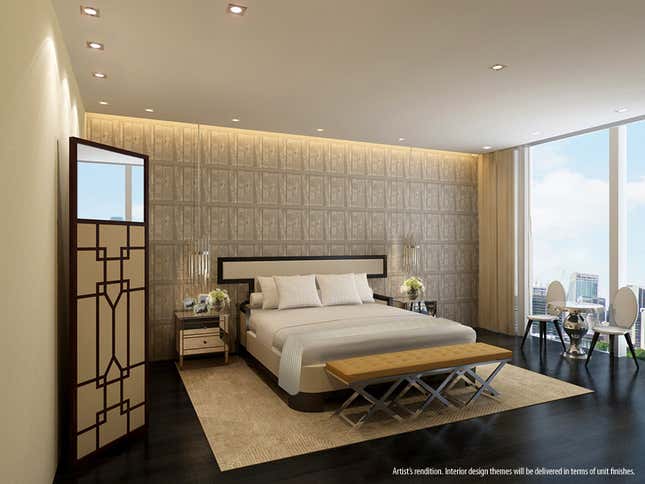 Units cost anywhere from 400,000 to 450,000 pesos per square meter ($8,029 to $9,032)—or about $450,000 for the smallest one bedroom apartment. That's an especially large sum in the Philippines where the average family income is at 22,000 pesos ($441) per month.